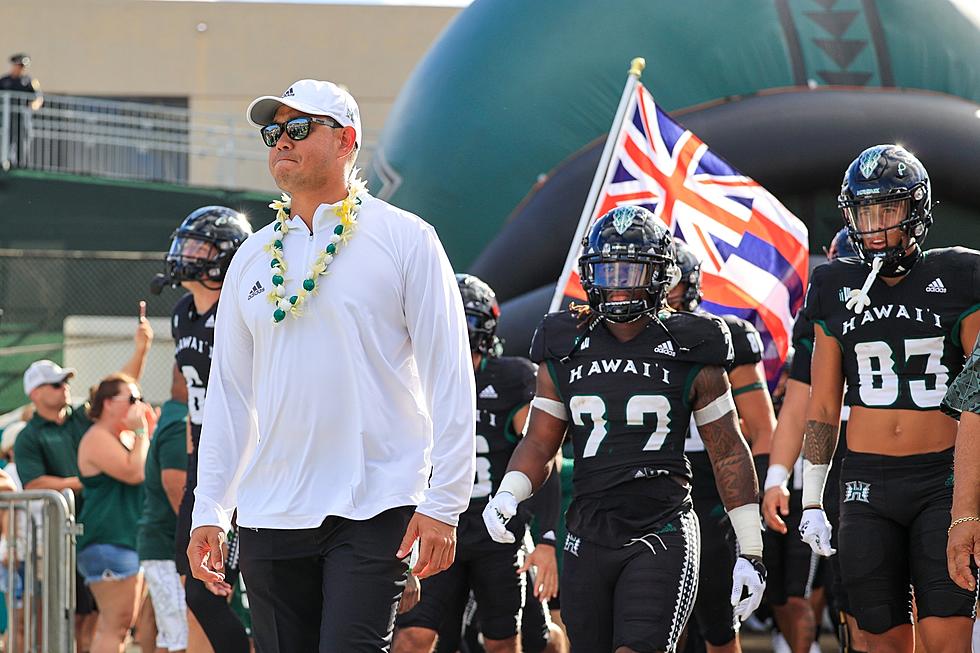 Around The MTN: 'Bows Give Vandy All it Can Handle in Nashville
HONOLULU, HI - AUGUST 27: Head coach Timmy Chang of the Hawaii Rainbow Warriors leads his team out of the locker room before the NCAA football game against the Vanderbilt Commodores at the Clarance T.C. Ching Athletic Complex on August 27, 2022 in Honolulu, Hawaii. (Photo by Darryl Oumi/Getty Images)
* Mountain West Conference press release
LARAMIE -- San Diego State had its hands full with visiting Ohio Saturday inside a sparsely-populated Snapdragon Stadium, eventually holding on for the 20-13 victory over the Bobcats.
That was the good news for the Mountain West.
The Bad?
San Jose State, despite trailing by just seven at the half, gave up 35 second-half points in a 56-28 loss to No. 6 USC Saturday night in the Los Angeles Coliseum. Chevan Cordeiro threw for 198 yards and three touchdowns against the Trojans and Quali Conley eclipsed the 100-yard mark on the ground on just six carries.
Hawaii traveled more than 4,300 miles and across seven time zones to tangle with Vanderbilt. Brayden Schager connected on 27-of-35 throws for 351 yards and three touchdowns in the Rainbow Warriors' 35-28 loss in Nashville. The junior signal caller also tossed two interceptions, including a costly one in the end zone.
The other nine Mountain West programs will kickoff the season this week:
After three Mountain West teams got their seasons under way in Week 0 to kick off the 25th season of Mountain West football, a full slate of 12 contests is on tap for this weekend, starting with Hawai'i hosting Stanford on Friday at 5 p.m. HT.

Ten games follow on Saturday, with five teams facing ranked foes. Preseason MW favorite Boise State visits No. 11/10 Washington to get its season under way, while the MW will get its second look at No. 6/6 USC when it hosts Nevada. New Mexico visits No. 25/23 Texas A&M, while Wyoming hosts No. 24/RV Texas Tech and Utah State visits No. RV/25 Iowa.

Also on tap, defending MW champion Fresno State, which has won nine consecutive games, visits Purdue on Saturday. The Bulldogs' last loss came on Oct. 8, 2022, at Boise State. This is the longest win streak by a MW team since San José State won nine straight from 2019 to 2020.

Four other MW squads are home Saturday. Colorado State welcomes Washington State, while Air Force (vs. Robert Morris), UNLV (vs. Bryant) and San Diego State (vs. Idaho State) host FCS opponents.

San José State caps a busy MW weekend when it hosts No. 18/18 Oregon State on Sunday. The Spartans will be facing their second straight ranked Pac-12 opponent, as they opened the campaign against No. 6/6 USC in Week 0. Preseason MW Offensive Player of the Year Chevan Cordeiro went 21-for-38 for 198 yards and three TDs in the 56-28 loss to the Trojans, while wide receiver Nick Nash was on the receiving end of all three TDs and had a career-best 89 receiving yards en route to earning MW Offensive Player of the Week honors.

San Diego State won its Week 0 game against Ohio, 20-13. The Aztecs picked up two MW weekly honors for their efforts, with linebacker Cody Moon claiming Defensive Player of the Week accolades after turning in 12 tackles (seven solo) and kicker/punter Jack Browning, the reigning and preseason MW Special Teams Player of the Year, earning the weekly honor on special teams after kicking a pair of field goals and handling punting and kickoff duties.

Hawai'i gave Vanderbilt everything it could handle in a 35-28 setback in Week 0, with quarterback Brayden Schager going 27-for-35 for 351 yards and three touchdowns. Wide receiver Pofele Ashlock had seven catches for a game-high 127 yards and a TD in his collegiate debut en route to earning MW Freshman of the Week distinction.

Three Mountain West programs are receiving votes in the preseason AFCA Coaches Poll, including Fresno State (19 points), Boise State (18) and Air Force (6). Boise State (17) is also receiving votes in the Associated Press Top 25.

Mountain West squads have a total of 11 games scheduled against teams ranked in the preseason AFCA and/or AP top-25 polls this season.

Boise State is the preseason favorite to win the Mountain West in 2023, marking the 16th straight season that the Broncos have been picked to claim either a conference or division crown, including every year since joining the MW in 2011. The Broncos earned 28 of 37 first-place votes to top the preseason poll with 433 points.

Wyoming junior placekicker John Hoyland earned preseason second-team All-America honors from the Associated Press, The Sporting News and Athlon Sports and third-team honors from Phil Steele.

In addition to being the preseason MW Offensive Player of the Year, San José State quarterback Chevan Cordeiro is on the preseason watch lists for several national awards, including: the Maxwell Award (player of the year), Walter Camp Award (most outstanding player), Davey O'Brien Award (best quarterback), Manning Award (best quarterback) and Polynesian College Football Player of the Year.

Boise State has two of the four MW players on the watch list for the Maxwell Award in quarterback Taylen Green and running back George Holani. Green, the 2022 MW Freshman of the Year, is also on the watch lists for the Walter Camp, Davey O'Brien and Earl Campbell Tyler Rose awards, while Holani is on the watch lists for the Doak Walker Award (best running back), Paul Hornung Award (most versatile player) and the Polynesian College Football Player of the Year Award.

Joining Green, Holani and Cordeiro on the Maxwell Award watch list is Colorado State wide receiver Tory Horton.

Wyoming linebacker Easton Gibbs, the MW Preseason Defensive Player of the Year, is on the preseason watch lists for the Bronko Nagurski (outstanding defensive player), Bednarik (defensive player of the year) and Butkus (best linebacker) awards.

In addition to Gibbs, Air Force safety Trey Taylor, Boise State linebacker DJ Schramm, Colorado State safety Jack Howell and Fresno State linebacker Levelle Bailey are on both the Bronko Nagurski and Bednarik watch lists. San Diego State linebacker Cody Moon joins them on the Nagurski watch list.

The Mountain West leads all 10 FBS conferences with six of the 30 selections to the watch list for the Lou Groza Award, which honors the nation's top placekicker. The MW's nominees include: Air Force's Matthew Dapore, Boise State's Jonah Dalmas, Hawai'i's Matthew Shipley, Nevada's Brandon Talton, San Diego State's Jack Browning and Wyoming's John Hoyland.

Nevada senior place-kicker Brandon Talton enters his fifth season as the Mountain West's career leader in field goals made with 68. He needs five more to become the Wolf Pack's career leader.

UNLV appointed Barry Odom as its new head coach on Dec. 6, 2022. Odom joined UNLV after three seasons as associate head coach and defensive coordinator at Arkansas. Before his time with the Razorbacks, Odom spent four seasons as head coach at the University of Missouri. He took two of his teams to bowl games and finished .500 or better three times en route to an overall record of 25-25 from 2016-19. The 2018 Tigers finished the regular season ranked 23rd in the College Football Playoff poll. He is the only first-year coach in the Mountain West this season.

The Mountain West concluded the 2022 season with three 10-win teams, the third-most among all FBS conferences and the most among the non-autonomous 5.

Dating back to the 2019 season, the Mountain West has won 21 games against autonomous-5 opponents, including 17 against the Pac-12. This is the most wins in that time span amongst all non-autonomous-5 conferences.

Air Force and Fresno State each defeated an autonomous-5 opponent in a 2022 bowl game by at least 15 points, as the Falcons defeated Baylor by 15 and the Bulldogs beat Washington State by 23. That marked the first bowl season a non-autonomous 5 conference has recorded multiple 15-point victories against autonomous-5 teams since 2011 (C-USA).

The Mountain West produced the first non-automatic-qualifying FBS team into a BCS bowl game (Utah - 2005 Fiesta Bowl) and into the College Football Playoff (Boise State - 2014 Fiesta Bowl).

Mountain West Players of the Week:

San José State junior wide receiver Nick Nash has been tabbed the Mountain West Offensive Player of the Week, while San Diego State junior linebacker Cody Moon was named MW Defensive Player of the Week. Aztec senior kicker/punter Jack Browning earned MW Special Teams Player of the Week honors, while Hawai'i wide receiver Pofele Ashlock was selected as MW Freshman of the Week.

It is the third career MW weekly honor for Browning and first for Nash, Moon and Ashlock.

OFFENSIVE PLAYER OF THE WEEK

NICK NASH, SAN JOSÉ STATE

Junior, Wide Receiver, Irvine, Calif. / Woodbridge HS

Notched career highs in catches (six), receiving yards (89) and touchdowns (three) in SJSU's loss at No. 6/6 USC.
Scored on a 28-yard catch with 13 seconds left in the first half to send the Spartans into the locker room down just 21-14.
Hauled in a career-long 32-yard reception for a TD in the third quarter, tipping it to himself and holding for the score.
Capped his career day with a 2-yard TD reception with just over 5 minutes left in the game.
Third-quarter touchdown catch was the No. 2 play on SportsCenter's Top 10.

DEFENSIVE PLAYER OF THE WEEK

CODY MOON, SAN DIEGO STATE

Junior, Linebacker, Albuquerque, N.M. / Volcano Vista HS / New Mexico

Had a team-best 12 tackles (seven solo) in his first game as an Aztec, helping SDSU to a 20-13 win over Ohio.
Had two more tackles than the next two SDSU players combined.
Also added a quarterback hurry and a pass breakup.
Helped limit Ohio, a 10-win team a season ago that was picked to win the Mid-American Conference's East Division this season, to just 13 points, with the Bobcats scoring their lone touchdown with just 1:59 left in the game.

SPECIAL TEAMS PLAYER OF THE WEEK

JACK BROWNING, SAN DIEGO STATE

Senior, Kicker/Punter, San Diego, Calif. / West Hills High / Grossmont College

Was 2-for-3 on field-goal attempts in SDSU's 20-13 win over Ohio, connecting on a 49-yarder in the first quarter to stake the Aztecs to a 3-0 lead and adding a 21-yarder early in the fourth to make it a 13-6 SDSU lead.
Also converted both point-after attempts to give him eight points on the day.
Punted three times for an average of 56.3 yards, including a long of 60 yards to complement kicks of 57 and 52 yards.
Kicked off four times for an average of 55.2 yards per kick.

FRESHMAN OF THE WEEK

POFELE ASHLOCK, HAWAI'I

Redshirt Freshman, Wide Receiver, Euless, Texas / Trinity HS

Had a game-high 127 yards on a game-high (shared) seven catches in his collegiate debut as Hawai'i fell 35-28 at Vanderbilt.
Scored his first career touchdown on a 3-yard reception in the fourth quarter, with three catches on that scoring drive, including a 35-yard reception.
Later in the fourth quarter, hauled in a 50-yard catch to set up a touchdown, which pulled the Rainbow Warriors within a score with just under 5 minutes remaining.
Averaged 18.1 yards per catch on the evening.
A day with the Bills Mafia