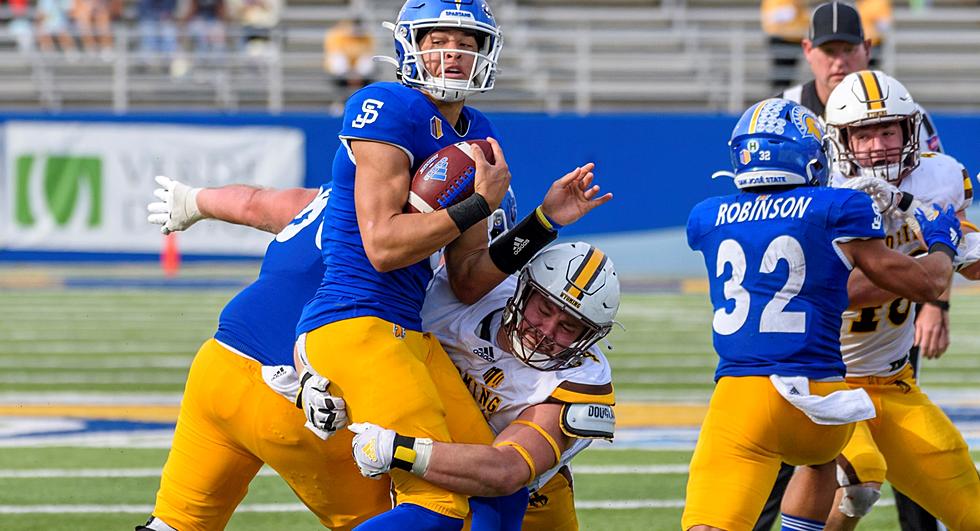 Podcast: Godbout? On the Fourth Team? Nah
SAN JOSE, CA - OCTOBER 30: San Jose State Spartans quarterback Nick Nash (16) meets up with Wyoming Cowboys nose tackle Cole Godbout (94) for no gain on the play in the game between the Wyoming Cowboys and the San Jose Spartans on Saturday, October 30, 2021 at CEFCU Stadium in San Jose, California.(Photo by Douglas Stringer/Icon Sportswire via Getty Images)
LARAMIE -- Phil Steele released his highly anticipated preseason All-Mountain West team earlier this week.
That guy in the headline, yeah, he was named to the fourth team.
You're kidding, right?
The same Cole Godbout who has 164 tackles over the last four seasons? The same nose tackle who has eight career sacks and has knocked down the same number of passes at the line of scrimmage?
Give me a break.
Jared Newland and I break down that list along with the Cowboys' known football schedule. Here's a hint: We love it. Check out the latest Roaring Repeater Podcast right HERE.
We also chat about the chances QB Evan Svoboda sees the field this fall and whether or not Shae Suiaunoa can hang on to his weakside linebacker spot and clean up the 21 missed tackles from a season ago.
Also, you may have heard, Josh Allen landed on the cover of Madden '24. Free pub for UW is good pub. Plus, a cool honor for a gamer like Allen.
Don't miss the latest Roaring Repeater Podcast!
* Download our free mobile app right HERE.
* Subscribe to our daily newsletter right HERE.
* Find old Roaring Repeater Podcasts right HERE.
* Like what we do? Advertise with us right HERE.
MORE UW FOOTBALL NEWS VIA 7220SPORTS:
* Evan Svoboda bringing the grit to Wyoming's QB Room
* Despite trials, Shae Suiaunoa's love for the game is back
* Wyoming wideout Caleb Merritt patiently carving out his role
* Sky's the limit for Wyoming's Andrew Johnson
* Jayden Clemons: 'I definitely had to fight that demon'
* Potential landed an untapped John Michael Gyllenborg at Wyoming
* Wyoming's Connor Shay vying for starting linebacker spot
University of Wyoming's Top 50 Football Players
The rules are simple: What was the player's impact while in Laramie? That means NFL stats, draft status or any other accolade earned outside of UW is irrelevant when it comes to this list.
This isn't a one-man job. This task called for a panel of experts. Joining 7220's Cody Tucker are Robert Gagliardi, Jared Newland, Ryan Thorburn, and Kevin McKinney.
We all compiled our own list of 50 and let computer averages do the work. Think BCS -- only we hope this catalog is fairer.
Don't agree with a selection? Feel free to sound off on our Twitter:
@7220sports
- #Top50UWFB
- University of Wyoming's Top 50 Football Players