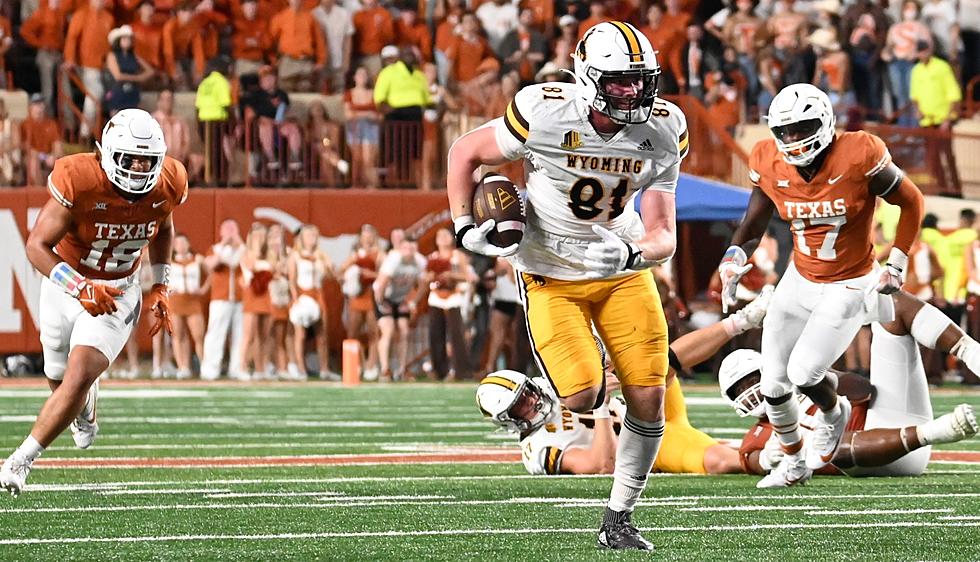 Rants & Raves: Texas Edition
Wyoming tight end Treyton Welch catches a ball in the fourth quarter and turns up field in a 31-10 loss to Texas./ DJ Johnson photo
AUSTIN, Texas -- The only rants through the first three quarters of Wyoming's 31-10 setback in Austin were coming from the 100,000-plus in attendance.
While the boo birds only came out once inside Darrell K. Royal Stadium -- and that was in response to the Brown-and-Gold clad northeast corner corner of the upper deck chanting "W-Y-O" -- the silence, at times, was deafening.
Those gritty Cowpunchers from Laramie didn't make this trip deep into the heart of Texas for a glorified scrimmage with the fourth-ranked team in the land. No, they landed the first haymaker of the night via a 62-yard touchdown run from Harrison Waylee and stayed in the fight, deflecting jabs -- and delivering a few of their own -- throughout the opening 45 minutes.
They did all that without starting quarterback Andrew Peasley and arguably the team's best cover corner, Kolbey Taylor, too.
That's when the bully finally quit messing around.
Here's what Wyoming fans from around the globe had to say on social media about the undermanned Pokes' valiant performance in the Lone Star State:
FIRST HALF
Vince Schaff (Facebook) So mad I could spit. I don't have a way to watch this game. Gonna have to be radio this week.
Darren Thompson (Facebook) Where is there radio streaming of the game, since I apparently cannot watch it? Wyoming Radio Network or some such but i can't find a link that works
Kelsey Lyn Ketelsen (Facebook) Holy crap!!! W-Y-O!!!!
Michael Brown (Facebook) Good start for the Boys let's see some D and get it back quick before half.
Brad Morrison (Facebook) If Wyoming can hold Texas to 10 points at the half that would be HUGE!
Celyn Rogers (Facebook) Classic bohl throw a Hail Mary and try something!
Kirk Leischner (Facebook) 
These Texas TV announcers are real dissatisfied with their team only up by 3.
Aaron McTee

 (Facebook) 
The fact that Texas didn't get 1 first down while on 3rd down the entire half is incredible. Great grit by the defense. We need a new game plan come 2nd half though. Texas is gonna adjust to the run game
Christopher Deal

 (Facebook) 
I'm so proud of this team! They are giving Texas hell! Not bad Cowboys, not bad at all.
SECOND HALF
Daisy Young Tucker (Facebook) Oh so proud of our Pokes. These guys have guts and heart! Keep it up boys.
Kresta MacKinnon (Facebook) Svoboda has played a really well managed game. Hats off to the kid on a huge stage!
Murray Hill (Facebook) You DO know that you don't have to run straight up the middle? Right?!?! I'm talking to you OC.
Teal Kirkhart (Facebook) hey...I'm proud of what this team did tonight no matter what happens these last 10 min
Daphne Lukens-Reed (Facebook) That escalated quickly. Come on boys!
Nick Shipp (Facebook) Don't care about the score. This was a damn good game! We held them until the 4th and that alone should be a win in our book ! We won't face anyone near as tough as the horns this year. It's a good learning experience and makes the pokes more battle hardened. Heads high guys !
Katie Costner (Facebook) I gotta say last week I had concerns about backup QB, but honestly feel like he stepped up big time in this game, the pressure just got to him in this 4th quarter.
Mark Lane (Facebook) Poor offensive interference call at the end. Should have been a 14 point game but doesn't really matter. POKE PROUD!!!
Kevin Gray (Facebook) 10-10 after 3 with #2 QB? I'm more than good. This team is going to be fine. Way to fight and GO POKES!!!
Mike Jimenez (Facebook) 
Five star players vs a bunch of 1 and 2 stars. It was inevitable despite the tough, gritty fight. Cowboy tough on the national stage. We covered the spread. Go Pokes!
Brian Willford

 (Facebook) 
Very proud of the Pokes, that is a very hostile environment to go into. We showed we can play with the big boys, should give us a great deal of confidence.
Whitney Daley La Rocca

 (Facebook) 
It was awesome! I'm in Houston. I was the only one screaming in this bar and the lady behind me was so mad in the third quarter that she called the Pokes cheaters. I loved every minute. Go POKES!!!!!
Jon Michael Ernster

 (Facebook) 
Great game. I figured we'd cover the spread but the effort exceeded my expectations. And with a backup QB. Impressive effort.
Clifford Lemmons

 (Facebook) 
We played with heart and did what we went to do! Cowboys showed up even though couldn't pull of a win. Good job Pokes!
Joe Herold

 (Facebook) 
Don't have much to rant about. Two or three big plays that didn't go the Pokes way. Lots of reasons for optimism. If they keep their heads on these boys will be playing for a MW championship
Mark Chollak (Facebook) 
It only matters if you win. No bowl births for moral victories. Until WY can go toe to toe and win against the big boys, we'll be stuck in loser land. This isn't high school, and these guys aren't playing for free.
Cody Tucker (Facebook) Apparently Mark didn't see the Texas Tech game ...
University of Wyoming's Top 50 Football Players
The rules are simple: What was the player's impact while in Laramie? That means NFL stats, draft status or any other accolade earned outside of UW is irrelevant when it comes to this list.
This isn't a one-man job. This task called for a panel of experts. Joining 7220's Cody Tucker are Robert Gagliardi, Jared Newland, Ryan Thorburn, and Kevin McKinney.
We all compiled our own list of 50 and let computer averages do the work. Think BCS -- only we hope this catalog is fairer.
Don't agree with a selection? Feel free to sound off on our Twitter:
@7220sports
- #Top50UWFB
- University of Wyoming's Top 50 Football Players