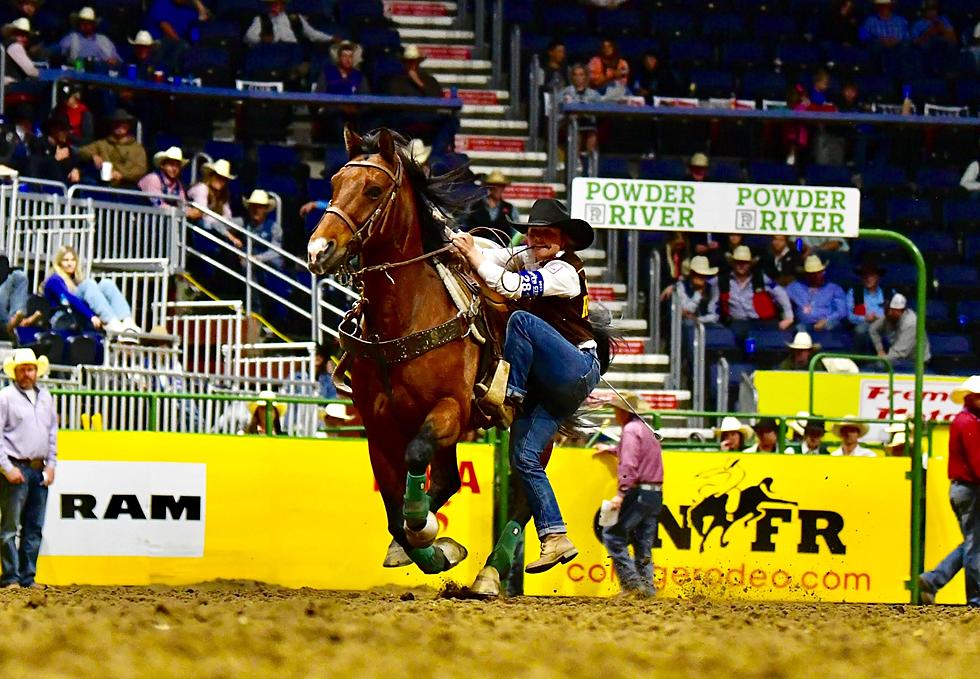 UW's Mattson, McNeill Shine With CNFR Short Go Bids Secured
UW Cowgirl Kenna McNeill prepares to dismount her horse and on her way to the College National Finals Rodeo's third-round's best time Wednesday in Casper. McNeill's 5.8 second run vaulted the UW graduate student to third in the nation and secured her short go bid Saturday night. (Jimmy Divine Photo)
* University of Wyoming press release/ Milton Ontiveroz
CASPER -- Attempting to stay among the top tie down ropers in the nation, the University of Wyoming's Bodie Mattson drew a heavy calf during Wednesday night's performance at the College National Finals Rodeo in Casper. And it took the lanky Sturgis, S.D., cowboy all that he had to clear the calf on the ground.
He did, but it was his slowest time of the week when he stopped the clock in 9.9 seconds.
His time dropped him one place in the average to third at 28.4 seconds, but it will still be good enough to advance him to Saturday night's short go round. Weeklong leader Kincade Henry, last year's calf roping champion from Texas A&M University-Commerce, has a 3-second lead over Mattson.
"The first roper who had my calf is a big, strong kid who said the calf was pretty heavy," Mattson said after clearing his third head of the week. "And that calf looked really, really full tonight."
Mattson's decision to get more underneath the calf paid off when bringing it down to the arena's dirt floor. He now waits two nights to see where he will be seeded in the championship round.
"I do like my chances -- there will be a lot of good calves to draw from Saturday night," he adds. "I have one more; I hope they draw me a good one, and I'll just go from there."
As for McNeill, the graduate student from Hobbs, N.M., was the last competitor up in goat tying. And the UW Cowgirl wowed the crowd with the night's best run in 5.8 seconds. More importantly, her three-run time of 18.6 seconds moved her to third in the average with just two sections of competitors left.
Saturday's championship round is looking good to her now.
"I really didn't have a set time in mind. I was just hoping my goat was going to set me up and be solid, and he sure dang did," McNeill says.
McNeill credits the return of her horse -- which hasn't competed in two years because of an injury -- for her success this week. McNeill now waits to see where she will be seeded for Saturday's short go. This will be the fourth finals of her career -- the first three were for Oklahoma State University.
Another UW Cowboy, Cam Jensen, of Hyannis, Neb., and partner Tanner McInerney, of Gillette College, positioned themselves for a short go bid by recording the round's top team roping time in 4.2 seconds.
They have two qualified times in 13.5 seconds and are currently sixth in the average. They have a good shot for the finals because not all team ropers have had three successful runs. A short go bid will make up for a tough week that included a no-time.
"Our game plan tonight was 'Heck, let's let our hair down and win some,'" Jensen says. "I knew we had a good steer. I wanted to get my rope on him fast, and Tanner heeled him fast. We had a really good finish. We're sitting pretty good in the round and have a good chance of making it back in the average."
Jensen and McInerney never team roped together during the regular regional season, and only got to know each other during jackpot competitions.
Other results for UW team members:
-- It was almost disaster for Faith Hoffman in goat tying when the graduate student's momentum after dismounting from her horse carried her straight into the ground in front of her goat. The Kiowa, Colo., graduate student managed to crawl right to the goat and stopped the clock in 6.8 seconds. She currently is sitting at 22.9 after three runs but is out of a short go bid.
-- Mattson returned later, but his short go bid in team roping took a serious hit when partner Carson Johnson, of Casper College, only managed to capture one heel. The 5-second penalty left them with a 10.5. Their two-run time is 17 seconds with one no-time.
-- Even though he was out of the average, Brice Patterson was out to place in the third round of bareback riding. The Bozeman, Mont., junior rode Mine Craft to a 75.5 score but covered just two head this week to keep him from advancing to the short go. He scored 151.5 points on two attempts and, in between, he was bucked off.
10 Reasons Why You're Lucky to Be Living in Wyoming
Here Are the Top 10 Reasons Why You're Lucky to Be Living in Wyoming
- 10 Reasons Why You're Lucky to Be Living in Wyoming,