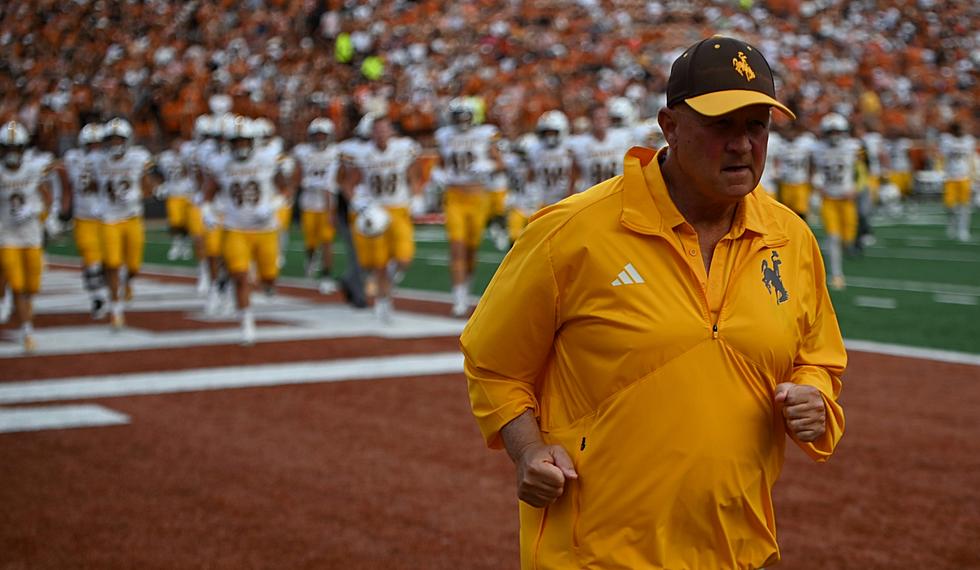 Wyoming Looks to Move to 3-1 With App State Coming to Town
Craig Bohl and the Cowboys will host Appalachian State Saturday night inside War Memorial Stadium./ DJ Johnson photo
* University of Wyoming press release
LARAMIE -- The Wyoming Cowboys (2-1 overall) return to War Memorial Stadium on Saturday hosting Appalachian State (2-1 overall) in the final non-conference contest of the season.
Kick is set for 5 p.m., as the teams will meet for the third time and first since the 2015 season.
The contest can be seen on CBS Sports Network and heard on the 26 affiliates of the Cowboy Sports Network with Keith Kelley on the call and Kevin McKinney on color with Erick Pauley on the sidelines.
Ticket Information
Fans may order tickets online, via email or by phone at:
•Go to GoWyo.com/tickets
•Email tickets@uwyo.edu
•Call (307) 766-7220
•Stop by the UW Athletics Ticket Office on the West Side of the Arena-Auditorium on the corner of Willett Drive and 19th Street.
Saturday's contest is Energy Day inside War Memorial Stadium.
Wyoming Enjoys Great Success in Non-Conference Home Games During the Craig Bohl Era
During the 10 seasons under the direction of head coach Craig Bohl, the Wyoming Cowboys have enjoyed great success in home games versus non-conference opponents.
The Pokes have played 19 non-conference home games during that time period, including two thus far this season. In those 19 games, Wyoming has won 15 times and lost only four for a winning percentage of 78.9 percent.
Among the 15 home wins were victories over SEC member Missouri in 2019 and over Big 12 member and No. 24 ranked Texas Tech in 2023.
The Cowboys only four non-conference home losses during that 10-year period have been to: Oregon (2017), Washington State (2018) and North Dakota and Eastern Michigan in 2015 in only the second season of the Bohl era.
Cowboys Look to Build on Nine-Game Home Winning Streak in Non-Conference Home Games
As Wyoming enters its final non-conference home game of the 2023 season today, it will be looking to extend its home winning streak in non-conference games. The Cowboys enter today's game having won its last nine non-conference home games.
The last time Wyoming lost a home game versus a non-conference opponent was Sept. 1, 2018, when Washington State won in War Memorial Stadium. WSU went on to win a program best 11 games, including a win over Iowa in the Alamo Bowl.
The Cougars ended the season with an 11-2 record and were ranked No. 10 in the nation in both the final Associated Press and Coaches polls.
Wyoming's Current Non-Conference Home-Game Winning Streak
Sept. 1, 2018      L 19-41                 Washington State
Sept. 15, 2018   W 17-14                               Wofford
Aug. 31, 2019     W 37-31                               Missouri
Sept. 14, 2019   W 21-16                               Idaho
(2020 No Non-Conference games due to COVID-shortened season)
Sept. 4, 2021      W 19-16                               Montana State
Sept. 18, 2021   W 45-12                               Ball State
Sept. 3, 2022      W 40-37 (2ot)    Tulsa
Sept. 10, 2022   W 33-10                               Northern Colorado
Sept. 2, 2023      W 35-33 (2ot)    No. 24 Texas Tech
Sept. 9, 2023      W 31-17                               Portland State
Wyoming-Appalachian State Series History
Wyoming and Appalachian State will be playing each other for only the third time in the two schools' histories when today's game kicks off.
The home team has won each of the previous two meetings -- Wyoming won in Laramie in 2004 and App State won in 2015 in Boone, N.C.
Here is the history of the Wyoming-Appalachian State series.
Wyoming's Game-by-Game Record Against Appalachian State
Sept. 4, 2004                  W 53-7     in Laramie, Wyo.
Oct. 3, 2015                L 13-31     in Boone, N.C.
About Saturday's Match-up Wyoming vs. Appalachian State
Wyoming's early success this season has followed a formula that has become common to the success Cowboy Football has enjoyed for the past several seasons.
That formula includes playing intelligently, limiting errors and making big plays in opportune situations. The Cowboys rank No. 1 in the Mountain West and No. 4 in the nation out of 130 FBS programs in fewest penalty yards per game (23.00) and rank No. 1 in the MW and No. 7 in the nation in fewest penalties per game (3.00).
The Pokes are No. 3 in the conference and No. 13 in the FBS in time of possession, possessing the ball for an average 33.30 per game. Wyoming's defense has also been among the most disruptive in the country, ranking No. 3 in the league and No. 38 in the country in quarterback sacks (2.67 per game). The Cowboy offense is as strong at preventing quarterback sacks as the UW defense is at making them.
Wyoming's offense is ranked No. 3 in the Mountain West and No. 41 nationally in fewest sacks allowed (1.33 per game).
MORE UW FOOTBALL NEWS VIA 7220SPORTS:
* Pokes' unproven offensive line impresses in Austin
* Wyoming's Andrew Peasley: 'Not being able to play hurt'
* Harrison Waylee Named Wyoming's starting running back
* Wyoming Football: News and notes ahead of App State
* Wyoming QB Andrew Peasley listed as day-to-day
* Rants and Raves: Texas Edition
* Turning point, unsung hero and what's next for UW football
* Three stars of the game: Pokes vs. Longhorns
* Behind the numbers: Wyoming vs. Texas
* No. 4 Texas scores 21 fourth-quarter points to finish off Cowboys, 31-10
* Tuck's Takes: Embrace that moral victory ... It was earned
* BREAKING: QB Evan Svoboda to start against Texas
* 7220sports.com Kickoff Show: Upset in the heart of Texas?
Appalachian State's offense is one of the top ranked in the nation entering today's game. The Mountaineers are averaging 40.7 points per game through three games to rank No. 17 among all Football Bowl Subdivision (FBS) teams. App State is also ranked No. 38 nationally in total offense, averaging 451 total yards per game.
The Mountaineers average 196.7 rushing yards per game to rank No. 31 in the country and average 254.3 passing yards per game.
Waylee In His Debut: Running back Harrison Waylee had a quite a debut for the Pokes. On his second carry, Waylee took the rush 62-yards for a score for the longest rush of the season for the Cowboys. It was his ninth career 100-yard game and his first with the Cowboys. He also went over 2,000 career yards in the game and has 2,039 in his career. He ranks 21st amongst active players in FBS.
A Long Drive: The Cowboys recorded a drive of 17-plays, 77-yards that lasted 10:22 and ended with a field goal from John Hoyland that tied the game at 10-10 going into the fourth quarter. It was the longest scoring drive by Wyoming in the Craig Bohl era and the first of over 10 minutes. The previous best was a drive of 9:20 coming against San Jose State in 2014.
Svoboda Makes Debut: Quarterback Evan Svoboda made his first career start in place of Andrew Peasley. He was solid in his debut completing 17-of-28 passes for 136 yards. He completed 61 percent of his passes in the contest.
Wieland Hauls In Catches: Wide receiver Wyatt Wieland hauled in a career-high eight catches for the Cowboys at Texas. He recorded 62 yards receiving in the contest. It was the most catches in a game since Austin Conway had 11 against Wofford in 2018.
Boddie Finds Groove: Wide receiver Devin Boddie recorded his first career catches for the Pokes at Texas. He had three catches for 25 yards at the fourth-ranked Longhorns.
Gibbs Double-Digit Tackles: Linebacker Easton Gibbs recorded 10 tackles for the Cowboys against fourth-ranked Texas. It marked his first double-digit tackle performance of the season and the 13th of his career. He leads the team in tackles on the season with 24 for 8.0 per game for seventh in the MW and No. 58 in the nation.
A Note on the Defense: The Cowboy defense held one of the nation's top offenses to only 316 yards of total offense. The Longhorns had over 464 yards in a top-10 win at Alabama. On the season, Texas averaged 456 yards of total offense.
Controlling The Clock: The Cowboys held a 38:47 to 21:13 advantage in time of possession against fourth-ranked Texas. For the season, Wyoming averages 33:30 time of possession, which ranks third in the MW and No. 13 in the nation.
University of Wyoming's Top 50 Football Players
The rules are simple: What was the player's impact while in Laramie? That means NFL stats, draft status or any other accolade earned outside of UW is irrelevant when it comes to this list.
This isn't a one-man job. This task called for a panel of experts. Joining 7220's Cody Tucker are Robert Gagliardi, Jared Newland, Ryan Thorburn, and Kevin McKinney.
We all compiled our own list of 50 and let computer averages do the work. Think BCS -- only we hope this catalog is fairer.
Don't agree with a selection? Feel free to sound off on our Twitter:
@7220sports
- #Top50UWFB
- University of Wyoming's Top 50 Football Players