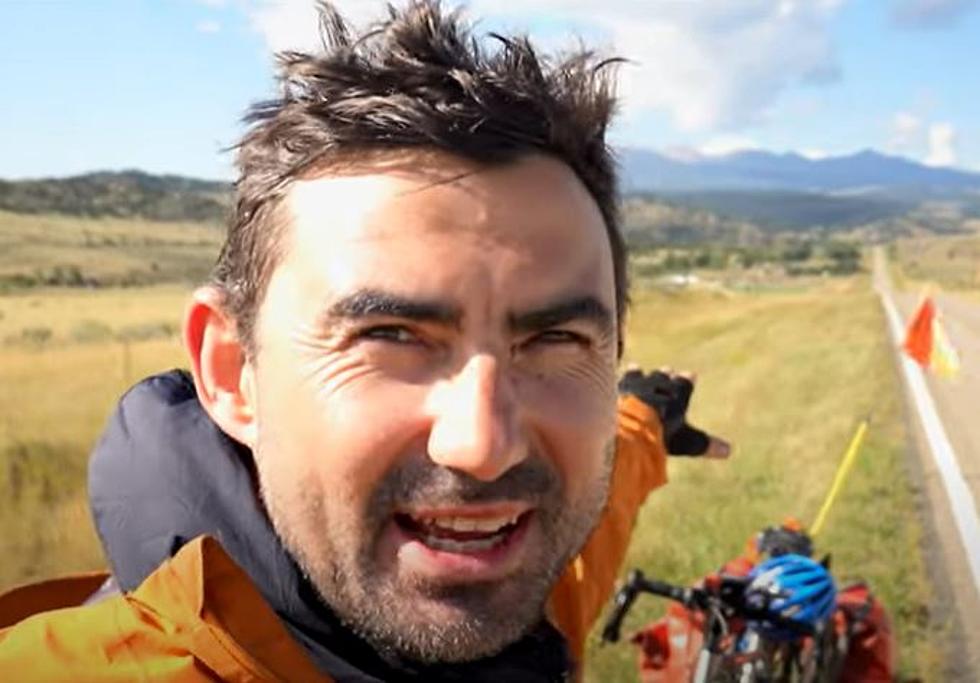 British Writer, Filmmaker Passes Through Wyoming on Coast to Coast Bike Ride
Simon Parker, Youtube
British travel writer and filmmaker Simon Parker stopped to chat with K2Radio News about his travels across the United States.
He's embarked on a 4,000 mile coast-to-coast journey, starting out in Seattle with intentions of ending in Key West.
Parker is a seasoned adventuer. In 2016 he sailed and cycled from China to London in 133 days for a Telegraph series and BBC World Service documentary.
He's paraglided solo through the Andes, hiked Bali's highest volcanoes and driven a rickshaw the length of India.
Parker's objective in this journey is to talk to Americans to hear their thoughts on the country.
He enjoys striking up conversations with people at gas stations, bars, and local libraries. "The so-called Middle Americans," says Parker.
About three weeks into his trip, he made it to Casper. We chatted with him about his experiences up to that point on our most recent podcast episode for Report to Wyoming.
"I've already met people on this journey so far that I'll probably remain in contact with," says Parker, who planned to go to his first-ever football game that night (the Oil Bowl).
Parker wants to show people that life, political discourse, and culture is not quite so polarized as it might seem. Many of us have a lot more in common than we think we do. He believes rolling news channels and social media makes us feel a lot further apart than we actually are.
Hear the full conversation here:
Wyoming Game and Fish Wildlife Calendar Photo Contest Entries
The Wyoming Wildlife 2024 Calendar Photo Contest Underway. The contest accepts photos of wildlife taken in Wyoming, including Grand Teton and Yellowstone national parks. Wildlife includes mammals, birds, reptiles, amphibians and fish.
Reading The Past - Chugwater Wyoming Newspaper
These pages of the old
Chugwter Wyoming
newspaper show us coverage of the region from back in the 1940s.
There was little local news, other than the war.
But what was published at the time was important to the people of the area.
It was, in most case, the only news they had from outside their little ranch or town.