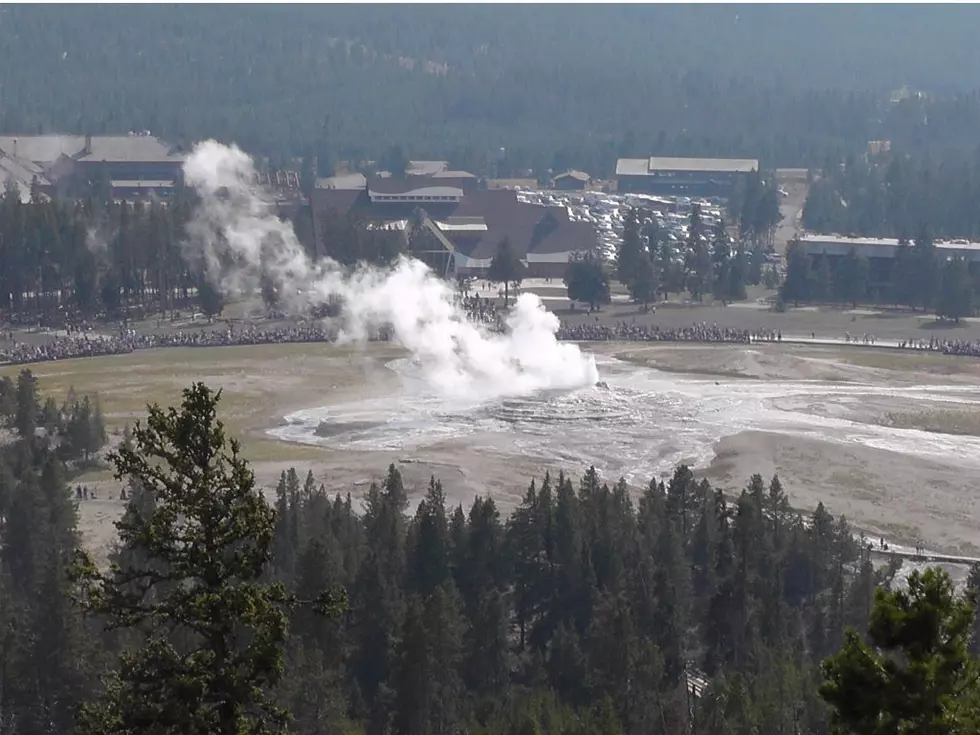 Minnesota Man Steals Pickup With Rare Gun at Old Faithful
Kevin Koile - TownSquare Media
A Minnesota man with a significant criminal history allegedly stole a pickup from visitors to Yellowstone National Park, was arrested soon thereafter and charged with two felonies, according to a criminal complaint filed in federal court on Tuesday.
Steffan Kytonen is charged with "theft within territorial jurisdiction," punishable by up to five years imprisonment, and being a felon in possession of a firearm, punishable by up to 15 years imprisonment. Total fines could amount to $500,000 and he could spend up to three years of supervised probation after his release from custody.
The case started about 7:30 p.m Friday when a visitor, identified by his initials as TDS, reported his 2000 Chevy Silverado was stolen from the parking lot near the Old Faithful Lodge, according to the criminal complaint written by a park ranger.
TDS and his five members from his family were traveling to Washington State from Indiana, parked beside his brother-in-law's vehicle at Old Faithful, stopped to watch the geyser, and returned to the parking lot to find the pickup gone. He said he wasn't sure that he locked the truck but the tailgate and topper hatch were locked. He also had both sets of keys with him.
Property inside the truck included a laptop inside a backpack, an unloaded 1918 Luger pistol valued at between $2,400 and $3,000 in a locked hard case, an unloaded Browning .308-caliber locked inside a case behind the rear bench seat, medications, food, family heirlooms, a passport and a Nexus card.
TDS had been in Indiana because of a relative's death, and they brought the deceased's truck, the family items and the firearms from Indiana, according to the complaint. "Several of the family members were visibly distraught and crying over the loss of the family memorabilia."
About an hour-and-a-half later, a ranger in Grand Teton National Park had located and were following the pickup, and stopped it near Moran Junction.
The ranger contacted Kytonen, the pickup's sole occupant who was identified by a Department of Veterans Affairs card.
Kytonen said he took the pickup from his girlfriend after a domestic dispute.
The Grand Teton National Park ranger spoke with the Yellowstone ranger and confirmed the identification of the pickup, and the contents including the firearms.
The Grand Teton ranger saw a key in the ignition attached to a set of keys -- used by criminals -- as a fleet key used to fit a variety of vehicles, boats, display cases, storage lockers and Transportation Security Administration-approved travel locks.
This ranger learned Kytonen had a revoked driver's license in Minnesota, a withdrawn Minnesota license from 2015 and revoked in 2019, and a North Dakota driver's license withdrawn in 2015 and revoked in 2019.
After the pickup had been returned, TDS said that it was muddy inside and outside and smelled of burnt cigarettes.
TDS noticed damage to the topper, the driver's door, and the case with the Luger; and said some small items were missing. The truck also pulled to the right, he said.
Law enforcement officials reviewed Kytonen's criminal history that included four felony convictions in Minnesota resulting in 508 days in local confinement and 32 months imprisonment.
One felony was for possessing, making and transporting an explosive/incendiary device, and three were for receiving stolen property.
The government, represented by Assistant U.S. Attorney Nicole Romine, will seek to detain him because the alleged crimes involve a firearm and to assure his court appearances as required and the safety of others and the community.
Kytonen is represented by Federal Public Defender Tracy Hucke.
Kytonen's detention hearing and preliminary examination before U.S. Magistrate Judge Stephanie Hambrick is scheduled for Friday.
Casper Area Sees Flooding Downtown
June 15, 203. Persistent rain in Casper causes flooding in some areas.
Pinewood Derby. Cub Scout Pack 2. Casper, Wyo. May 28, 2023
Pinewood Derby. Cub Scout Pack 2. Casper, Wyo. May 28, 2023