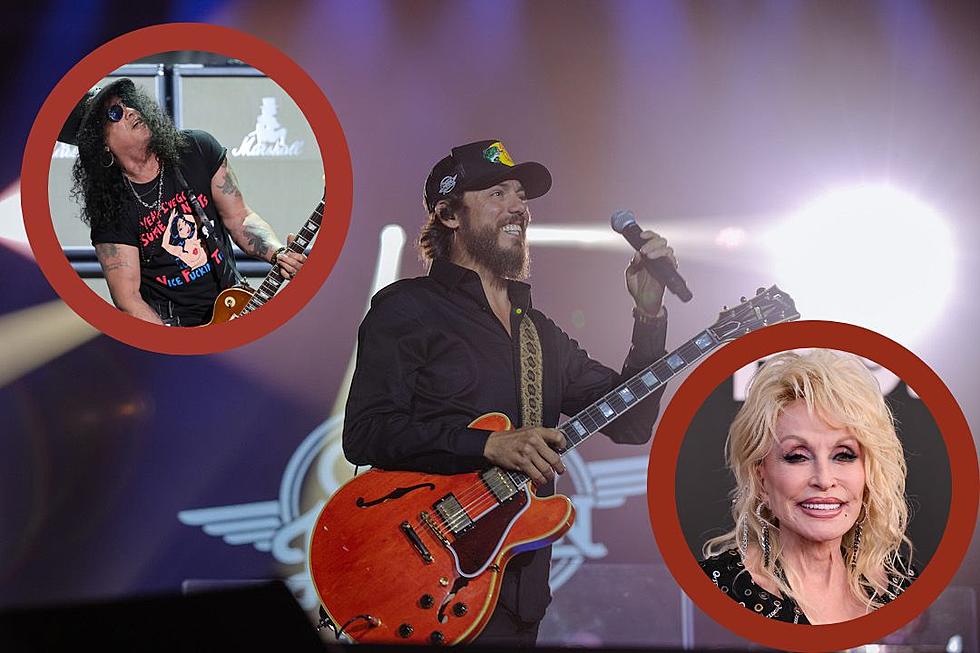 Chris Janson Has a New Collab Coming With Dolly Parton + Slash: 'Doesn't Get Any Bigger'
Ethan Miller, Catherine Powell, Theo Wargo, Getty Images
Chris Janson has an impressive track record of mega-watt collaborations, and he's upping the ante again.
On Tuesday (May 2), the singer announced that he's got a new song coming, and it features two legends of country and rock.
The song, called "21 Forever," features guest performances from Dolly Parton and Guns N' Roses guitarist Slash. In a statement, Janson gushes over his superstar collaborators, expressing his gratitude to them for their work on the track.
"I'm so thrilled to announce that two global icons have joined me on my latest song," Janson says. "This is my absolute biggest collaboration to date. Dolly and Slash — it doesn't get any bigger than that! I'm incredibly humbled and grateful for these two."
The new song will arrive on Friday (May 5), and Janson teased the drop with a graphic on social media, adding, "This is going to be EPIC."
The singer co-wrote "21 Forever" with frequent collaborators Tommy Cecil and Tom Douglas, and according to a press release, the song grapples with the stage of life between carefree youth and adult responsibilities, concluding that "You can't be 21 forever."
"21 Forever" follows Janson's last release, "All I Need Is You." Those two songs are the first preview into his next album, which will be his first since signing to BMLG after parting ways with Warner Music Nashville last September.
Parton's participation in this song is just one of many exciting, rock-forward collaborations she's recorded of late. Most of that music will be for her own rock album, Rock Star, which promises duets with rock legends such as Fleetwood Mac's Stevie Nicks and Creedence Clearwater Revival's John Fogerty. However, if Slash — or this Janson-led song — has any involvement with Rock Star, it would be news to fans.
On Tuesday, Parton was on social media teasing something of her own: She posted a short video graphic of a burst of glitter resolving into her name written out in silver, along with a star. In the caption, she shared an emoji of an electric guitar. Both the emoji and the star graphic suggest that the tease could have to do with one of the songs on Rock Star.
Parton will be debuting the first single off her rock project at the upcoming 2023 ACM Awards. She has said that, while many of the tracks on the projects are covers, the song she's performing next week is an original song called "World on Fire."
See Pictures of Dolly Parton Through the Years