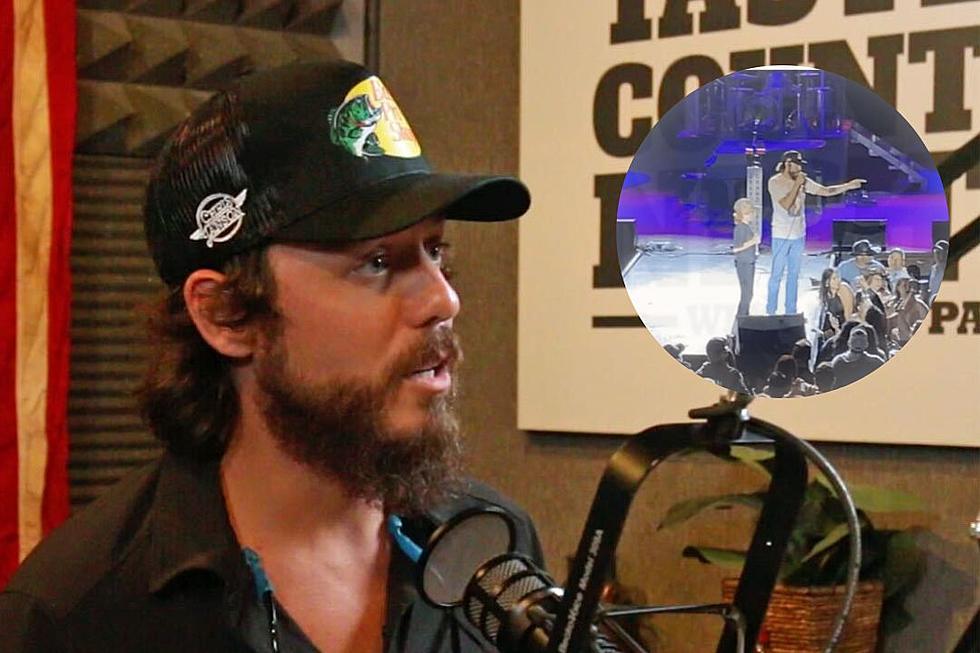 Chris Janson on Fan Who Flipped Off His Kid: 'I Just Had Enough' [Interview]
Taste of Country Nights Studio, @AshleyBStudios, TikTok
Chris Janson had a fan kicked out of a show for flashing a middle finger to his 9-year-old son, Jesse, when he came out on stage. Now, the "All I Need Is You" singer wants people to know exactly what went down.
I had the chance to sit down for an extended conversation with Chris Janson this week, and I wanted to ask him about this and give him a chance to tell his side of the story. When I brought it up to him, he said, "Let me be clear, and you know what I mean by this ... there is a difference when you're with your buddies and y'all are flipping each other off, that's funny, you're playing around. I can take it, I'm an adult, I understand."
Watch the incident in question:
He continues with some strong words for concertgoers, saying, "I usually never break cue or code, but I just had enough."
"You're not gonna disrespect me or my family like that," Janson adds. "I'm not gonna take it."
Janson — whose The Outlaw Side of Me album dropped earlier this month — doubled down on the fact that he hates doing stuff like this at a show when people are there to have a good time and listen to some music.
"I wish that people in modern-day culture would just remember something: It's a two-way street at a concert," he says. "We are there to give you the best show possible, and man, if you could save the ignorance, it's gonna be a lot better."
It's a message fans beyond country music need to hear. This incident in Minnesota happened on the same night Bebe Rexha was struck in the face with an object thrown by a fan from the crowd. A few days later, someone threw their mother's ashes at Pink. On Wednesday night (June 28), Kelsea Ballerini was hit in the face by a small object also thrown by a fan.
Janson has stopped by the Taste of Country Nights studio multiple times, and he is one of the most respectful artists out there. He is truly there to perform and make you feel great, so it's easy to see how any hinderance to that will cause a shake-up at one of his shows.
Listen to the full interview with Chris Janson on this week's episode of Taste of Country Nights, On Demand.
Evan Paul is the host of Taste of Country Nights, a syndicated radio show heard on more than 120 country radio stations nationwide, every night from 7PM to midnight. He plays the best new country music and interviews today's top stars, like Luke Combs, Miranda Lambert, Dan + Shay, Keith Urban, Carrie Underwood, Luke Bryan, Chris Stapleton, Lady A, Morgan Wallen + more! 
The Top Country Songs of 2023, Ranked
The best country songs of 2023 fit snug over your life and experiences. Each is written from personal experiences, but somehow, that translates as if it were custom to each of us. We've loved, we've longed, we've lost and we've cut loose in the country.
Airplay charts, sales data and streaming numbers helped make this list of country music's top songs of 2023, but staff and Taste of Country reader opinion were most influential. Songs included on previous Top Country Songs lists were not eligible. A song may have been released in 2022, but it had to have the majority of recorded airplay or impact this year to count.
These Artists Prove Traditional Country Is Alive and Well
These 23 modern country singers prove that traditional country is alive and well. Cody Johnson, Justin Moore, Aaron Watson and newcomers like Triston Marez and Lauren Mascitti are staying true to country music's roots. Scroll down to find an artist you'll love.