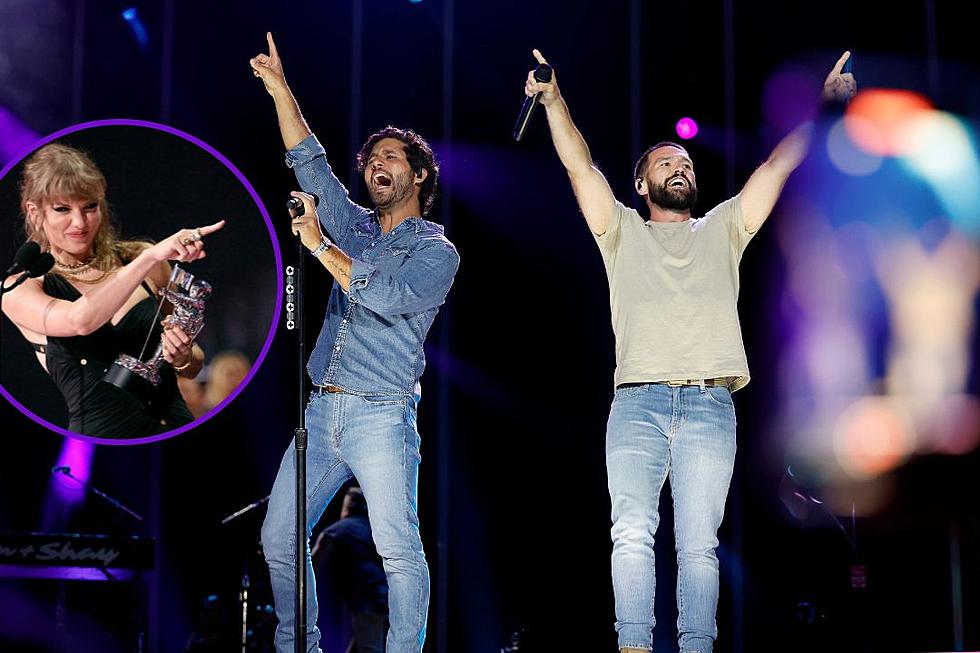 Dan + Shay: Taylor Swift Is Changing Everything About Touring
Mike Coppola, Jason Kempin , Getty Images
After facing a come-to-Jesus moment earlier this year, Dan + Shay seem to be more focused than ever. Their new album Bigger Houses arrived Friday (Sept. 15), and I had a chance to sit down with both of them to talk about everything they have going on.
In the latest episode of Taste of Country Nights, On Demand, the 2023 CMA-nominated duo dive into what was happening behind the scenes the past ten years, and what the future holds for them.
We got on the subject of touring, of course — they just announced a massive tour — so I asked them who all in music, not just country, is changing the game when it comes to performing live.
Dan + Shay had a lot to say on this subject.
"Oh man, performing live. Obviously, country is having such a huge moment right now," Dan Smyers says. "We've gone out and seen Luke Combs in the stadium, good buddy of ours. We went to see Morgan's (Wallen) show when we were out there taping The Voice, we went out to see him at So-Fi, him and Hardy and Ern (Ernest) and Bailey (Zimmerman) are just smashing it on the road, man."
Then, Smyers got into the bulk of the question and answered who he thinks is the ultimate live performer right now.
"Gotta give props to Taylor Swift, I mean, I think her show is the most entertaining spectacle that has ever been done, in the live space," he explains. He goes on to praise Swift, saying, "she's a star, you know? Just when you think Taylor Swift can't get any bigger, or have any more impact, it's like she goes and just continues to change the game."
Dan + Shay say they both were just talking about how when you get to the top like she has, there isn't any other place to go but down, but as Smyers sees it, Swift has "found a way year after year to keep blowing it up bigger, and doing more nights in the stadiums."
It's clear to see that when it comes to performing, Dan + Shay really look up to the once-country icon, Swift. Dan + Shay have an electric show live in person, too — if you have yet to see one of their shows, it is highly recommended that you get to their Heartbreak on the Map Tour next year.
Check out my full interview with Dan + Shay on the latest episode of Taste of Country Nights, On Demand.
Evan Paul is the host of Taste of Country Nights, a syndicated radio show heard on more than 120 country radio stations nationwide, every night from 7PM to midnight. He plays the best new country music and interviews today's top stars, like Luke Combs, Miranda Lambert, Dan + Shay, Keith Urban, Carrie Underwood, Luke Bryan, Chris Stapleton, Lady A, Morgan Wallen, + more! 
A Timeline of Dan + Shay's History on 'The Voice'
Dan + Shay will join The Voice as the show's first-ever coaching duo for Season 25. The pair will bring more country influence to the reality singing competition series as they sit next to Reba McEntire in the iconic red chairs in 2024 (Chance the Rapper and John Legend will also serve as coaches). It's not the country duo's first go-round with The Voice. Far from it, actually — Dan Smyers and Shay Mooney have appeared on the show on more than one occasion!
PICTURES: See Inside Taylor Swift's Stunning Manhattan Apartment
Taylor Swift's spectacular luxury apartment in Manhattan is currently for rent, and pictures show a property that is a lavish mix of historic and very modern.
All 17 Songs on Taylor Swift's 'Speak Now' Album, Ranked
In 2010, Taylor Swift documented her transition from teens into adulthood with the reflective-but-still-romantic Speak Now, an album that she wrote entirely by herself. Here are all the songs on the project ranked, including three songs that arrived via a deluxe version.