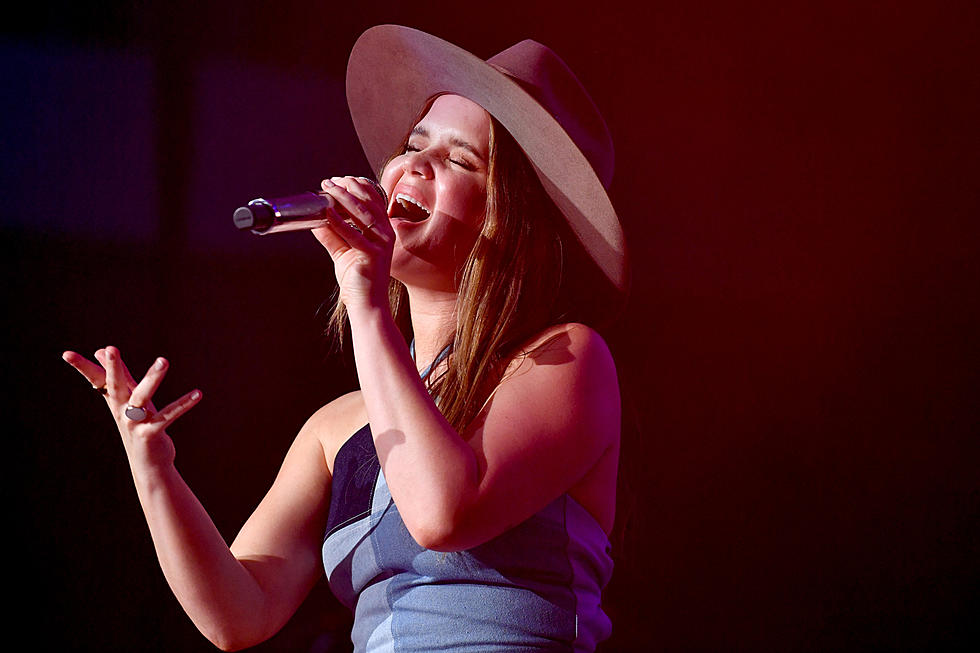 Maren Morris Says She's Leaving Country Music: 'I Feel Very, Very Distanced From It'
Jason Davis, Getty Images
Maren Morris is taking a musical left turn with her two newest songs, and that's just a sample of what the singer-songwriter has in store for her fans.
In a new interview, Morris tells the Los Angeles Times that she is leaving country music in favor of exploring a broader range of musical influences on her upcoming third studio album.
Morris dropped a new two-song project titled The Bridge on Friday (Sept. 15), and she says the new songs are the start of a new musical chapter. "The Tree" is a hopeful song with a retro grunge-soul vibe, while "Get the Hell Out of Here" is an acoustic track that packs a lyrical punch:
"I do the best I can / But the more I hang around here, the less I give a damn / So to all the doubts and demons that I held so dear / Go on, get the hell out of here," Morris sings in the chorus.
Morris has been one of country music's leading lights over the past several years when it comes to inclusion and giving a voice to progressive causes and beliefs. But she says the last few years of more and more obvious sociopolitical division within the genre have made it harder and harder for her to participate, even though country music has never been more commercially popular.
"I'd say, sure, congratulations on crossing over onto the big all-genre chart," Morris tells the Times, referring to mainstream chart hits from Morgan Wallen, Luke Combs and more. "But the stories going on within country music right now, I've tried to avoid a lot of it at all costs. I feel very, very distanced from it."
Morris famously engaged in a public feud with Jason Aldean's wife, Brittany, over remarks Brittany made online that were widely perceived as transphobic. Her new video for "The Tree" appears to reference Aldean's controversial video for "Try That in a Small Town," with a sign that asks visitors to enjoy themselves "from sunrise to sundown," a possible reference to the "sundown towns" that many interpreted "Try That in a Small Town" as referring to.
Morris says she never set out to become a political artist; it's just an extension of her natural penchant for challenging the status quo.
"I just wrote songs about real life through a lens of deep respect for my country heroes. But the further you get into the country music business, that's when you start to see the cracks," she says. "And once you see it, you can't un-see it. So you start doing everything you can with the little power you have to make things better."
"If you truly love this type of music and you start to see problems arise, it needs to be criticized," the "My Church" hitmaker adds. "Anything this popular should be scrutinized if we want to see progress."
Morris has felt less and less at home in country music as her career has progressed.
"After the Trump years, people's biases were on full display," she explains. "It just revealed who people really were and that they were proud to be misogynistic and racist and homophobic and transphobic. All these things were being celebrated, and it was weirdly dovetailing with this hyper-masculine branch of country music. I call it butt rock."
Aldean rocketed to No. 1 online and even in Billboard, albeit briefly, after the controversy around "Try That in a Small Town," following Morgan Wallen enjoying a major sales bump after being caught on video using the N-word.
"People are streaming these songs out of spite. It's not out of true joy or love of the music," Morris states. "It's to 'own the libs.' And that's so not what music is intended for. Music is supposed to be the voice of the oppressed — the actual oppressed. And now it's being used as this really toxic weapon in culture wars."
Meanwhile, Morris has been working with famed pop producer Jack Antonoff on her new album, and she says she's "still writing."
"But there's a lot of things going on musically in it — quirky jam-band moments to, like, prog rock," she describes the new tracks. "It's so fun, and I feel like my old self back in this space of writing songs I love with people I love."
25 Modern Female Trailblazers Who Changed Country Music
Following in the footsteps of game-changing legends like
Dolly Parton
,
Reba McEntire
and
Loretta Lynn
, these 25 modern-day country acts continue to push boundaries and shape the country music landscape. Whether they're experimenting with musical style and sound, fighting for equality in the genre or broadening the path for the women coming to country music after them, these trailblazers are downright inspiring.