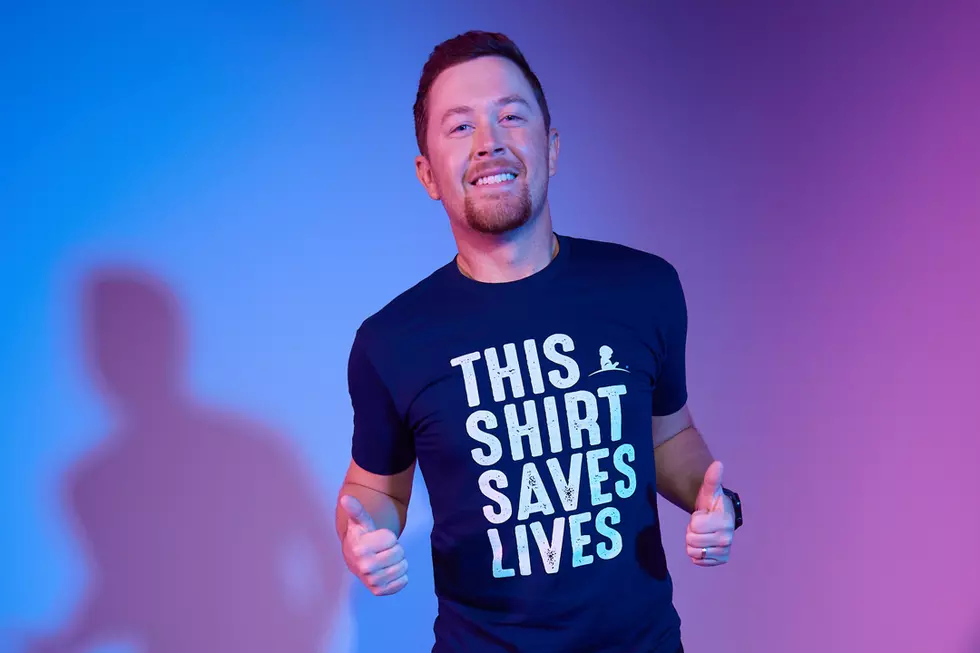 Scotty McCreery Has a Whole New Love For St. Jude Since He Became a Dad
Katie Kauss
Scotty McCreery has always been passionate about supporting St. Jude Children's Research Hospital. Last October, he even won the Randy Owen Angels Among Us Award for his years of support to the hospital via campus visits, fundraising endeavors and more.
"That was definitely a highlight for me, of my career," McCreery tells Taste of Country in a new interview. "There's a lot of awards out there — ACMs, CMAs — but this one, to me, is what it's really all about. You get this platform to go out there and reach thousands of people with your music, and you wanna do good with that platform, you know?"
With that in mind, he always makes it a priority to support St. Jude's lifesaving mission to treat children with cancer and other catastrophic pediatric diseases — whether that means visiting with the kids of St. Jude and their families, raising funds for the hospital, or simply spreading awareness about the hospital and the impact they make in the lives of kids facing difficult diagnoses.
But in late 2022, the importance of supporting St. Jude became even more personal to McCreery. The singer and his wife Gabi welcomed their first child, a baby boy named Avery, on Oct. 24.
"It's definitely changed my perspective on St. Jude, having Avery," he notes.
"I think before, I definitely had an appreciation for what St. Jude does and what they've done for so long now," McCreery reflects, "But I think bringing your own little one into the world and just wanting the best for them, trying to help them any way you can, [makes you appreciate St. Jude even more.]"
Now that he's looking at the world through the eyes of a dad, McCreery says that he has a greater understanding of just how important St. Jude's mission truly is.
"God forbid if something were to happen and cancer becomes a part of [your child's] life, it makes you sleep a little bit easier at night knowing there's a place like St. Jude out there working with these kids," he continues. "Even if they don't go to St. Jude, the hospital itself. St. Jude, they're doing the research and sharing it with the world."
Not only does the hospital offer cutting-edge therapies in their on-campus setting, but it freely shares its breakthroughs in pediatric cancer research with medical facilities across the world, meaning that every child being treated for cancer can benefit from the hospital's research strides — even if he or she is not a patient at St. Jude itself.
St. Jude's primary campus is located in Memphis, Tenn., but the hospital has affiliate locations in a variety of states, including Tennessee, Louisiana, Oklahoma and more — and McCreery hopes to visit every St. Jude facility someday.
"I would love to go visit as many spots as I can — see the kids, meet the doctors, meet the families — and maybe play shows at each campus just for those kids and families," the star says, when asked how he'd like to further his involvement with St. Jude in the future. "You know, just try to put a smile on their face."
Families of kids being treated at St. Jude never receive a bill for medical treatment, housing, travel or food — because all a family should have to worry about is helping their child live. To become a Partner in Hope with St. Jude or learn more about the hospital, visit their website.
Every year, Taste of Country joins Townsquare Media radio stations nationwide for their Country Cares radiothons. The country music community has been the single biggest supporter of St. Jude through the years, with TSM raising more than $15 million in nine years.
Please consider joining Taste of Country and dozens of country stars in becoming a Partner in Hope. It's a $19 a month commitment that truly changes lives.
These Country Stars Have Battled Cancer
So many of country music's biggest stars have battled cancer. Sadly some lost that battle. Here is a list of some of the country artists who've fought the disease.