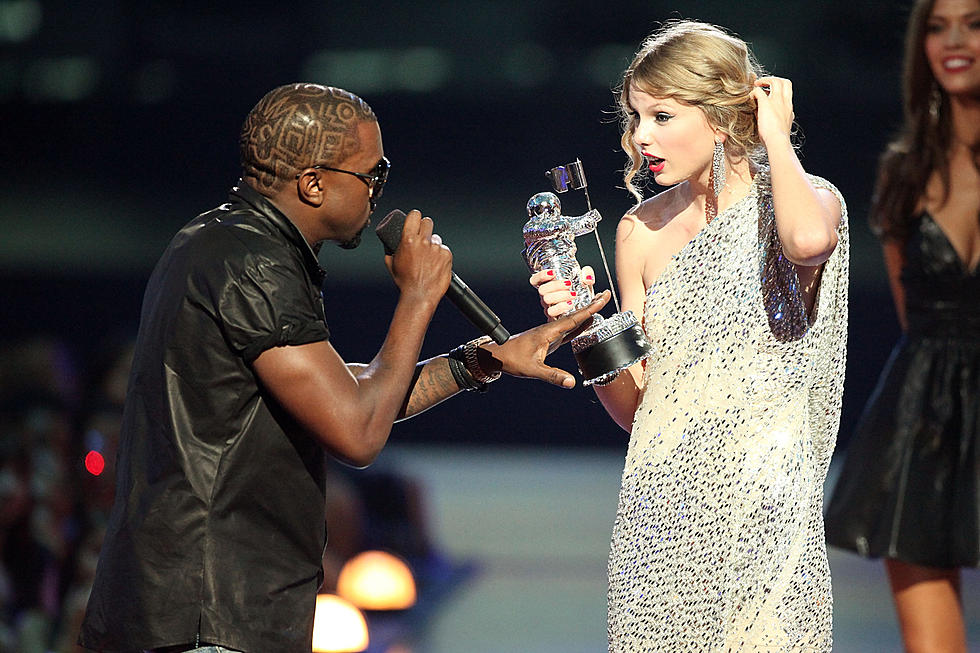 Remember When Kanye West Interrupted Taylor Swift at the VMAs?
Christopher Polk, Getty Images
Taylor Swift wanted to soak in the crowd's cheers as she was accepted the award for Best Female Video on Sept. 13, 2009, but Kanye West had other plans.
"I'm really happy for you," West said after hopping uninvited on stage. "I'm gonna let you finish, but Beyoncé had one of the best videos of all time."
Setting Two Artists On Separate Paths They're Still On Today
The infamous moment from the 2009 MTV Video Music Awards came at a pivotal point in Swift's career. Pop fans were starting to embrace her sound after firmly planting her roots in country music.
"You Belong With Me," the song she was being honored for when West rushed the stage, was a big jumping off point for that transition.
West, meanwhile, was in the middle of a run of four critically acclaimed albums, with a fifth set for release the following year.
"It set the narrative that Taylor Swift would always be a pop culture victim, for better or for worse," Vox reported in a 2019 article. "And the way it has influenced their two images in a decade since follows the lines of major schisms in American culture."
The incident sent West off on a much different course with his insistence that Beyoncé should have won, as it signaled, as Vox put it, his "eventual transformation into a pop culture villain."
The two would return to the VMA stage again in 2015, when Swift presented West with the Video Vanguard Award.
Has Taylor Swift Moved On From Her Moment With Kanye?
Swift and West would eventually embrace while on stage during the 2015 VMAs.
Swift, of course, has had several chances to nail her acceptance speech on an awards show stage since 2009. Just this week, she took home nine VMAs, tying a record for the most wins in one night for the annual MTV awards.
Despite all of those wins, Swift's moment with Kanye will be forever inescapable. Some of that, however, may be on her, too.
The incident was brought up in Swift's 2020 documentary, Miss Americana, when she called that night a "formative experience.
"It was so echo-y in there," Swift says in a sit-down interview for the documentary. "At the time, I didn't know they were booing him doing that. I thought that they were booing me."
Swift referenced the VMA interruption while trying to quiet a raucous crowd during a performance in Mexico City in August 2023. Swift was seemingly trying to be polite while getting cheering fans to bring down the noise level as she moved into the acoustic portion of her setlist.
"It's really the only way to be interrupted, and I would know," she tells the crowd before launching into the next song.
PICTURES: See Inside Taylor Swift's Stunning Manhattan Apartment
Taylor Swift's spectacular luxury apartment in Manhattan is currently for rent, and pictures show a property that is a lavish mix of historic and very modern.
PICTURES: See Opening Night of Taylor Swift's Eras Tour
Taylor Swift
kicked off her much-anticipated
Eras Tour
on Friday night (March 17) with a performance in Glendale, Ariz., celebrating her first return to the stage in five years with a three-hour-plus, 44-song set that spanned her entire career.