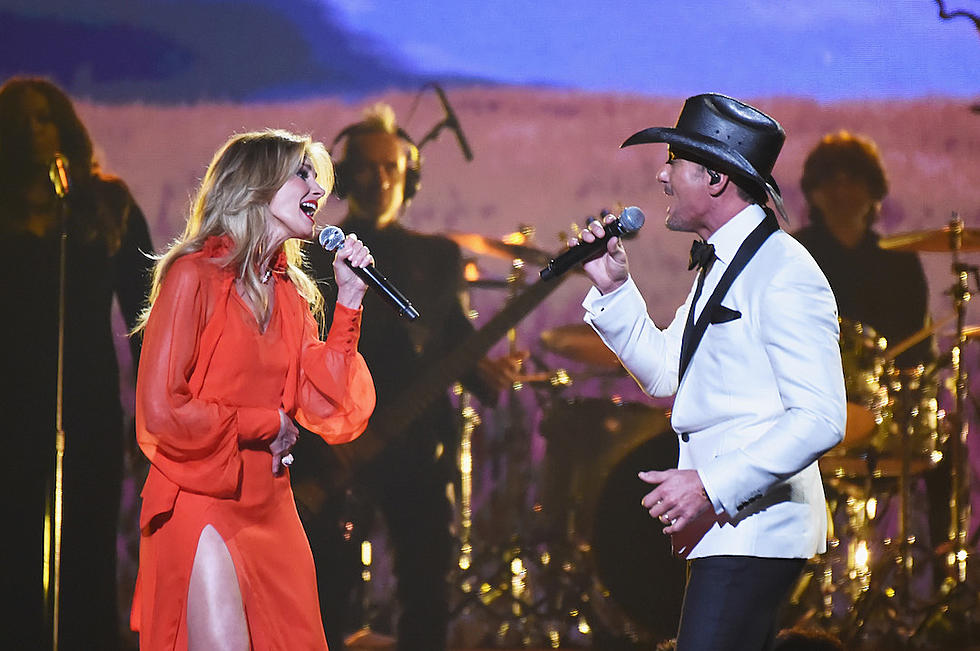 Tim McGraw Names the Romantic Song That Reminds Him of Wife Faith Hill
Rick Diamond, Getty Images
Tim McGraw explained the backstory behind his special song with wife Faith Hill — and the advice he got about the song before he even met her — during his recent pop-up show at West Hollywood's Whisky a Go Go.
"Well, there's one song, and it's really an instrumental, but there's one," McGraw said during the Q&A portion of the event, in response to a fan who asked which song most reminds him of his wife.
"I'm probably going to get in trouble for saying this. God, please forgive me, baby!" McGraw joked. "It's 'Samba Pa Ti,' by Santana. It's kind of our song."
Fans might have been surprised to learn that McGraw and Hill's special song isn't one of their own. Over the course of their respective country music careers — not to mention, their 27 years of marriage — they've put out some classic love duets, like "I Need You," "Let's Make Love" and "The Rest of Our Life." Those songs — and more duet releases from the couple — have gone on to be the soundtracks at weddings and special songs for countless country fan couples.
But "Samba Pa Ti," a 1970 Latin rock release, is particularly special to McGraw, since it's connected to a family memory, too.
"My uncle told me one time — my uncle Hank, old hippie who lives in Napa Valley — he played it for me one time years ago on the road. He loved that song too," McGraw continues. "He said, 'Never make love to a woman with this song on unless you intend to marry her.' And so I didn't until I did. And then I did."
Elsewhere during the L.A. event, McGraw reflected on his lasting marriage to Hill as they close in on three decades.
"We always like to say we've been married 92 years in showbiz language, it's like dog years," he jokes. The singer also spoke about being empty nesters: He and Hill are parents to three adult daughters, the youngest of whom, 21-year-old Audrey, left home in 2019.
"It was tough at first, like, the first six months," he admits. "I think it's always harder on mom when the girls go away. It was pretty tough because it was empty and the energy of the house was sort of gone."
But eventually, they began to see the upsides of life without their kids at home.
"When we got married, we had a kid right away — we had Gracie right away. And now we kind of like having our time to ourselves and it's kind of honeymoon time again. So we've quite enjoyed it!" he says.
McGraw has a busy few months ahead. His new album, Standing Room Only, arrives on Aug. 25, and he'll take those songs on the road for a 2024 tour.
See Inside Tim McGraw + Faith Hill's Private Island Estate: