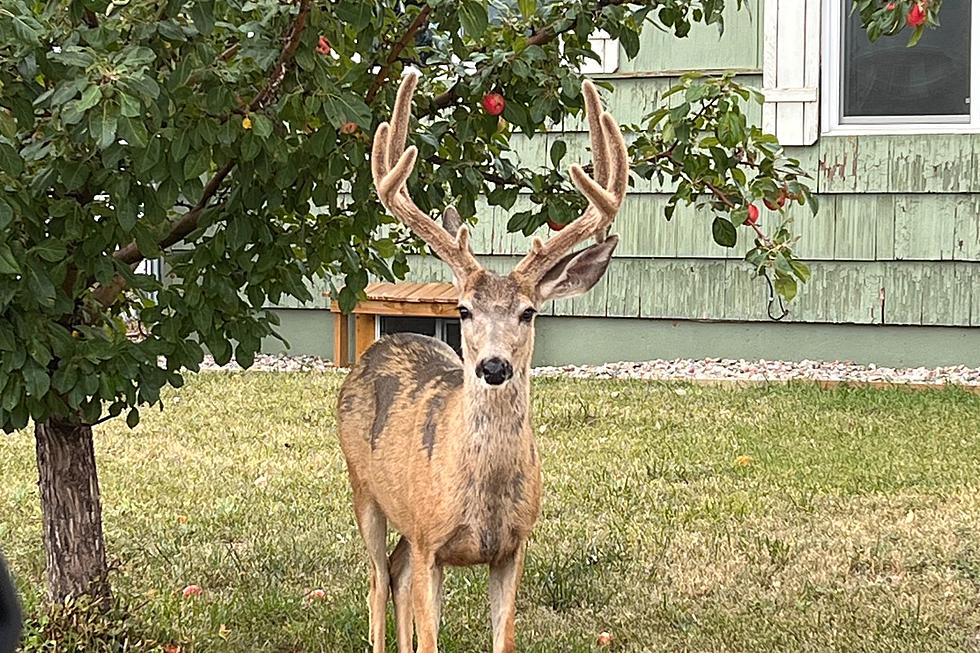 Oh, Deer! Mule buck on Sheridan Street
Kristen Hedley/Townsquare Media
Goats are great at mowing grass and generally devastating property, so perhaps residents on 26th and Sheridan were trying a new approach to yard maintenance. 
A mule deer buck was spotted munching crabapples in a residential yard. While no Yellowstone traffic jam, the buck caused the briefest of traffic disturbances, with people snapping photos out of car windows as they drove by.
There are numerous concerns with wildlife in city limits, like disease control and property damage. The Western Association of Fish & Wildlife Agencies says, "Habituated mule deer may become aggressive and pose a danger to human residents. There are reports of mule deer bluff-charging people, chasing joggers, attacking postal workers, and killing small pets."
It's not uncommon for wildlife to make it into town being this close to mountains; we've had moose, mountain lions, deer, and antelope alike meandering Laramie streets. Cities like Rawlins and Cody have had to implement Urban Deer Reduction plans to mitigate car crashes in city limits, property damage, and general nuisance the deer can cause.
Under the Wyoming Game and Fish Department's Chapter 56 permit, local governments were allowed to cull their urban deer populations by humanely euthanizing urban deer. In 2020 in Cody, authorities were allowed to cull 50 mule deer (10 antlered) in 2020. Cody performs a yearly urban deer survey. In 2022, a total of 230 deer were spotted throughout city limits. 
Laramie doesn't have any such ordinances, but it is an ordinance violation for "any person to intentionally feed wildlife including pigeons but excluding songbirds and tree squirrels, in such a manner as to result in congregations of such animals or attraction of predators as defined by the Wyoming Game and Fish."
For wildlife in your yard or on your property within city limits, call the City of Laramie's animal control number at 307-721-5385.
Wyoming Winter Adventures For You To Enjoy
If you're new to Wyoming, it's probably wild to know that we have almost 10 months of winter. So, instead of dreading it, go out and have fun! Enjoy the snow with some of these fun winter adventures!