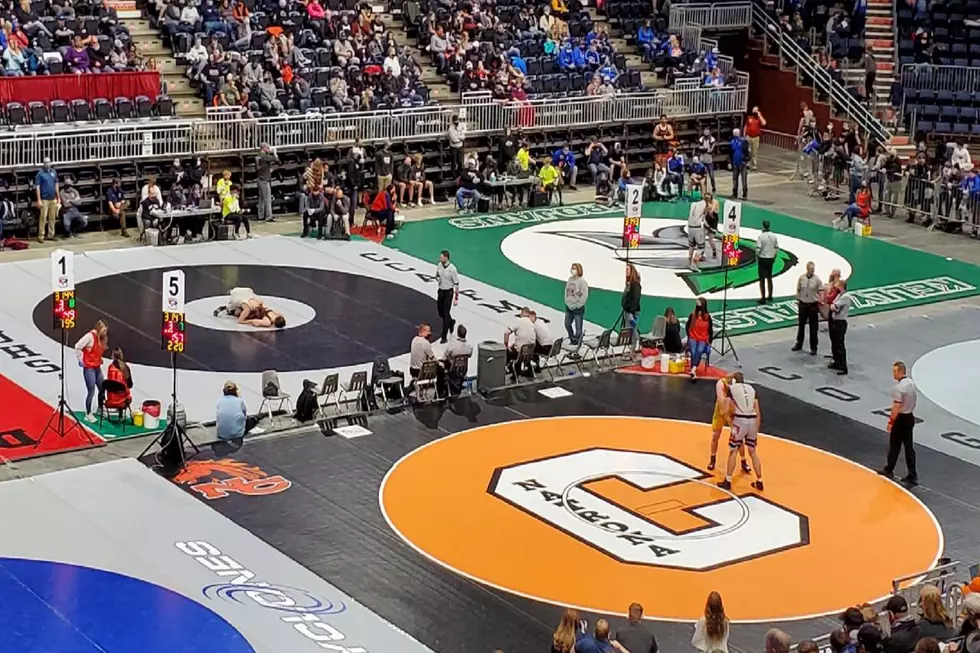 2023 Wyoming High School Wrestling State Championships
Frank Gambino, WyoPreps.com
The last weekend of the Wyoming high school wrestling season is here. The State Championships will take place in Casper at the Ford Wyoming Center from February 23-25, 2023.
The first girls' high school state championships in Wyoming are on Thursday and Friday. There are no classes, so all girls' teams will be competing against each other.
The boys' portion is on Friday and Saturday for all three classifications. See more information about the state championships in the WHSAA link below.
UPDATE: The WHSAA announced a 1-hour delayed start to the girls' matches on Thursday. That pushes the start from 9:30 a.m. to 10:30 a.m.
Moorcroft, Kemmerer, Douglas, Green River, Sheridan, and Natrona County all won their respective boys' regionals last week. There were no girls' regional tournaments, but there were a couple of invites that you can find in the link below.
Girls Teams = Big Piney, Buffalo, Burns/Pine Bluffs, Campbell County, Cheyenne Central, Cheyenne East, Cheyenne South, Cody, Cokeville, Douglas, Dubois, Evanston, Glenrock, Green River, Greybull/Riverside, H.E.M., Hulett, Jackson, Kelly Walsh, Kemmerer, Lander, Laramie, Lingle-Ft. Laramie/Southeast, Lovell, Lusk, Lyman, Moorcroft, Mountain View, Natrona County, Newcastle/Upton, Pinedale, Powell, Rawlins, Riverton, Rock Springs, Rocky Mountain, Saratoga, Sheridan, Shoshoni, Star Valley, Sundance, Thermopolis, Thunder Basin, Tongue River, Wheatland, Wind River, Worland, Wright, Wyoming Indian.
The defending champions are Natrona County in Class 4A (won the last 2), Star Valley in 3A (now in 4A - so there will be a new team champion), and Kemmerer in Class 2A.
Class 2A = Big Piney, Cokeville, Dubois, Glenrock, Greybull/Riverside, H.E.M., Hulett, Kemmerer, Lingle-Ft. Laramie/Southeast, Lovell, Lusk, Moorcroft, Rocky Mountain, Saratoga, Shonshoni, Sundance, Thermopolis, Tongue River, Wind River, Wright, Wyoming Indian
Class 3A = Buffalo, Burns/Pine Bluffs, Cody, Douglas, Evanston, Green River, Lander, Lyman, Mountain View, Newcastle/Upton, Pinedale, Powell, Rawlins, Riverton, Torrington, Wheatland, Worland
Class 4A = Campbell County, Cheyenne Central, Cheyenne East, Cheyenne South, Jackson, Kelly Walsh, Laramie, Natrona County, Rock Springs, Sheridan, Star Valley, Thunder Basin
2023 Wrestling Regional Tournaments
2023 Wrestling Regional Tournaments