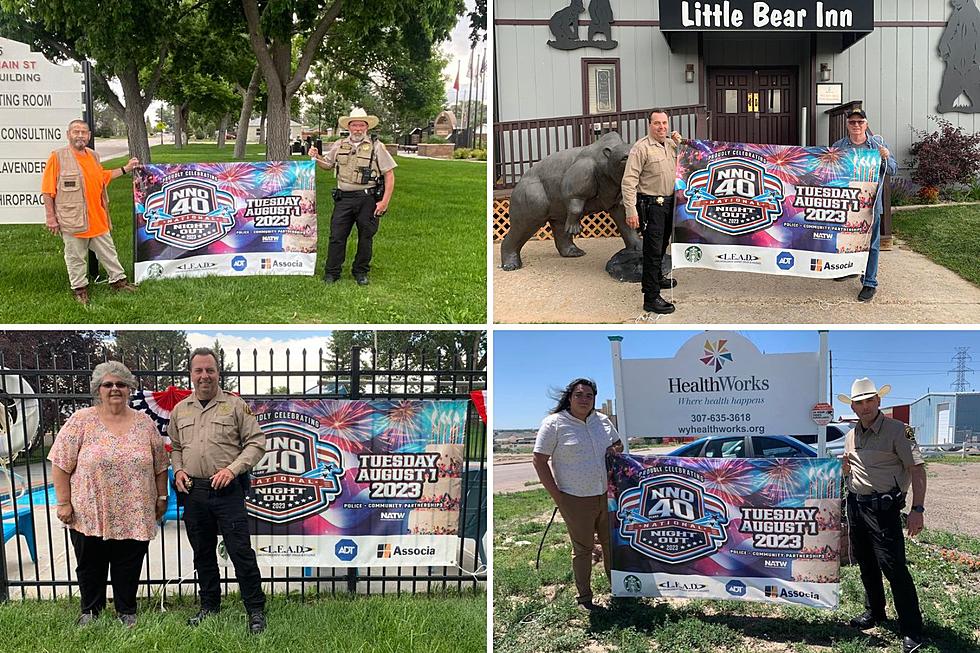 Laramie County Sheriff's Office Announces National Night Out Events
Laramie County Sheriff's Office
The Laramie County Sheriff's Office will be hosting National Night Out events at several locations starting at 5:30 p.m. on Tuesday, Aug. 1.
Public Information Officer Brandon Warner says events are being held at RD Bar and Grill (formerly known as the Rustic Diner) at 327 S. Main St. in Burns, Little Bear Inn at 1700 I-25 in Cheyenne, West Winds Mobile Home Community at 505 Williams Street in Cheyenne (sponsored by Walmart), and HealthWorks at 2508 E. Fox Farm Rd. in Cheyenne.
The Sheriff's Office will also be joining the Pine Bluffs Police Department at their event at the Pine Bluffs Swimming Pool at 208 E. 8th St.
"This will be the first time the Sheriff's Office will host National Night Out events in Laramie County," said Warner.
"These events are designed to bring neighbors, businesses, and law enforcement together in partnership against crime," he added.
Warner says the Sheriff's Office will be posting event details on their Facebook page.
For more information, you can call Warner at 307-633-4751. You can also click here to watch Sheriff Brian Kozak's travel video, in which he goes back in time to learn about the importance of community "sheriffin" from the Cheyenne Marshal.
The Ultimate Cheyenne Summer Bucket List: 15+ Fun Ideas!
Next stop, Cheyenne, Wyoming! This is a land of rugged beauty where the legends of the West come to life. After a day spent strolling our city's streets or exploring the endless horizons of the rolling plains, you'll find yourself enchanted by the magic of this place...just as so many others have been.
Discover the hidden gems, day-trip adventures, and fantastically fun activities that await in the Magic City of the Plains. Whether you're visiting or calling our beautiful city home, this ultimate list of Cheyenne Bucket List items has something for everyone!