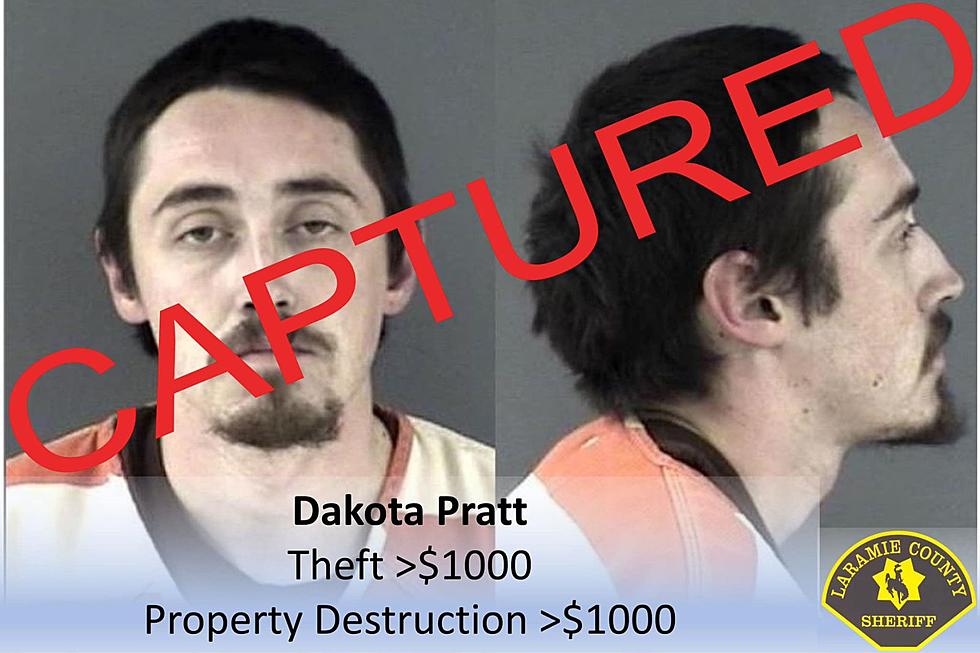 Wanted Cheyenne Man Captured Thanks to Anonymous Caller
Laramie County Sheriff's Office via Facebook
Another Cheyenne man on the Laramie County Sheriff's Office's "10 Most Wanted" list has been captured.
According to arrest records, 24-year-old Dakota Sky Pratt was taken into custody around 7:27 a.m. yesterday, June 29, after an anonymous caller tipped deputies off to his location.
Pratt had a warrant for failure to appear on an original charge of driving under suspension that was signed by Laramie County Circuit Court Judge Sean Chambers on June 6 and a warrant for failing to appear for his sentencing and probation revocation disposition hearing that was signed by Laramie County District Court Judge Thomas Campbell on May 16.
Pratt, who was searched prior to being taken to the Laramie County Detention Center for booking, also reportedly had a small baggie of methamphetamine in the coin pocket of his jeans.
Since posting the 10 Most Wanted on their Facebook page on June 14, the Sheriff's Office has captured half of the people on their list -- Pratt, April Dawn Lindauer, Michael Christopher Gutierrez, Linda Darlene Erwin, and Jamar Lee Jackson.
Savion Maleak Selby, who was on the list before it was publicized, was also taken into custody earlier this month.
A Historic Hike To Wyoming's Outlaw Cave
The drive into the canyon is quite the beautiful drive. It's not too far from Kaycee, but you'll need a vehicle with good clearance and suspension. When you arrive to the Outlaw Cave Campground, you're mind is blown from the size of the canyon. The drive and hike are worth every minute spent on the road to get there.