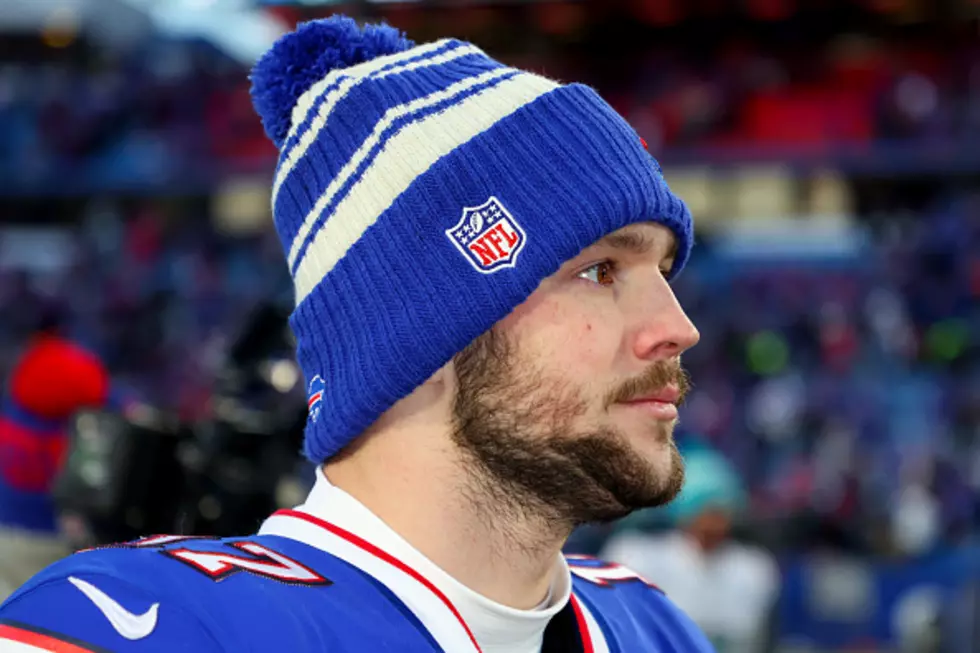 Josh Allen's Adorable Dog Caught Sleeping During Live Interview
Getty Images
Josh Allen's game against the Miami Dolphins in the wild card round of the NFL playoffs was both good and bad.
Allen and the Bills offense did move the ball against a Miami defense who decided to blitz a lot. Single-man coverage led to a few huge plays for the Buffalo offense and should have resulted in another touchdown or two, if it weren't for drops.
However, Allen's three turnovers were costly and let Miami back in to the game.
Still, Allen will be called upon to lead the Bills over an even tougher team on Sunday, as Buffalo hosts the Cincinnati Bengals on Sunday at Highmark Stadium in the AFC Divisional round.
Allen was asked about the game against Miami and the upcoming game against Cincinnati with Kyle Brandt on Kyle Brandt's Basement show on Tuesday night. Allen usually comes on the show every Tuesday night, live from his home in Western New York.
One thing people are taking away from that interview with Brandt is the fact Allen's adorable dog Sky was caught sleeping directly behind him on the couch.
Here are some still photos that were tweeted out.
Here's a clip of the video, which happens tp show Josh confessing his love for the movie, Super Troopers.
Sky was on camera for a long time. She did not move as she slept while Josh Allen was on with Kyle Brandt.
How amazing is that? Josh Allen's dog is now a superstar.
Buffalo Bills Players Who Had Their Own Cereals
Today is a breakfast lover's dream it is National Cereal Day and if you want to celebrate with some Buffalo Bills players, you will have plenty of choices.
Complete List Of Buffalo Bills Available On Cameo
22 Famous Buffalo Sports Phrases Every Die-Hard Bills and Sabres Fan Knows
Being a sports fan in Buffalo is sometimes like knowing a different language. Here are 22 of our favorite Buffalo sports phrases you already know if you're a huge fan! And if you're new here, here's how to catch up.