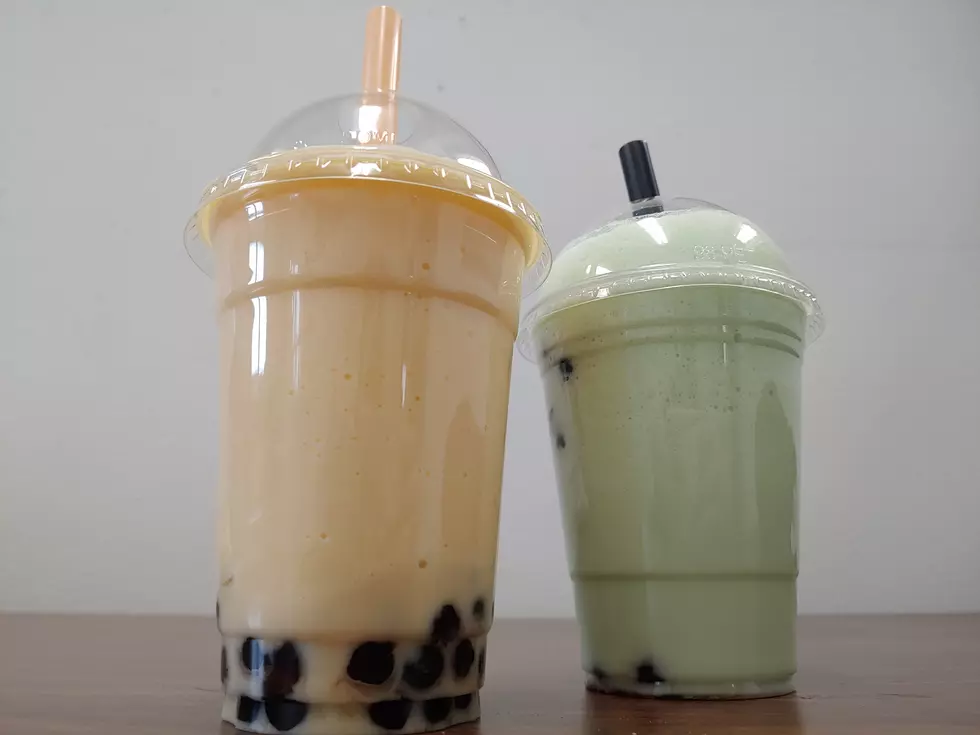 Boba Wars: Which Place Serves The Best Boba Tea in Laramie?
Debbie Cobb, Townsquare Media
When the newest addition to the Laramie beverage and chill market hit the streets back in October, some people may have been thinking to themselves "What is Boba?" Within a few months, there was a sign directly across the street also advertising Boba Tea. The lines were drawn. The Boba Wars has commenced.
Boba Cafe on Third Street is a small location, but decorated in a homey atmosphere and serving a variety of drinks, not just the Boba tea that gave it it's name. Paul Paul's House of Foods, directly across the street and visible from the window also serves Boba, but it serves much more than that. Described as an Asian Fusion restaurant currently, a Facebook post describes that it will be transitioning fully to a Soul Food restaurant in February.
But the issue at hand is: What is Boba Tea? 
Boba Tea, also known as Bubble Tea or Peal Milk Tea, is a Taiwanese drink that first became popular in the 1980s. It typically consists of tea of some kind, usually flavored, milk and chewy tapioca balls known as pearls or boba. Modern boba comes in many flavors, is sometimes blended with ice, or has various tea to adjust what flavor it expresses. Sometimes, it can come with "popping boba," which is a sphere like the tapioca balls, but is filled with fruit juice or syrup instead.
So I went to both Paul Paul's House of Foods and the Boba Cafe and ordered a boba tea with the intention of comparing them. I asked the women who took my orders at both places what their favorite flavor was, so I was getting what they considered the best they offered. Note: I also did this without either restaurant being aware of my plan, to review their tea. So, let's break it down.
At Paul Paul's, the Honeydew flavor was recommended, and I eagerly agreed, loving the fruit myself. The tea is blended with ice, and it has a light green and playful appearance. Unlike traditional boba tea, the tapioca balls are mixed throughout the drink. While the straw does appear to be large enough to get to the morsels, it has a hard time when it comes to sucking them all the way through, and it got stuck on my first attempt and had to be cleared. The flavor is light, kind of unassuming, and great if you don't want hit in the face with honeydew. However, the texture of the boba itself is a severely lacking. The tapioca itself doesn't appear to be squishy as one would expect. In fact, it broke apart and seemed chalky at one point.
At the Boba Cafe, I asked for the barista's favorite and she said her favorite wasn't actually on the menu. She recommended Jackfruit. I'll be honest, I'm not very familiar with the fruit itself, but the flavor blew me away. It's light and flavorful, and seems to have a great deal more of a punch than the previous tea. The tapioca bobas are perfect, and the straw is significantly larger than the one offered at Paul Paul's, allowing for frequent "surprises" in it's consumption - one of the fact that many Boba enthusiasts enjoy most about the beverage.
I have to give this to Boba Cafe, though I will admit that the choice of flavor may have something to do with whether you prefer one over the other. I went in expecting to love the Honeydew Boba Tea from Paul Paul's more because of my preference for the fruit, but I was, unfortunately, disappointed by the texture of the beverage itself. Good news for Paul Paul's though, is that they have many more options on the menu than just Boba, as you can go there to eat lunch or dinner, get soul food or Asian food, and have more space to stretch out.
But if you love Boba, or you want to try it for the first time, I highly recommend Boba Cafe.