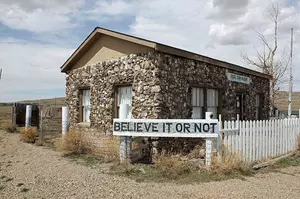 Iconic "Fossil Cabin" To Be Moved To Medicine Bow Museum
Photo Courtesy of Medicine Bow Museum.
If you've driven towards Medicine Bow at any point, chances are you've seen the "World's Oldest Building," sitting on the side of Highway 30. A cabin made out of fossils found in the Como Bluffs a mere 15 miles to the northeast, where other famous fossils have been recovered and put on display in prestigious museums around the world.
But a breath of new air may be on the horizon for the long-closed Fossil Cabin Museum outside of Medicine Bow. It might be moving to the small town proper.
This museum may not be at the same level of intrigue, but its history gives it a special dose of Wyoming entrepreneurship. Thomas and Grace Boylan began construction on the cabin with collecting dinosaur bones from a local quarry in 1915. After completion, the family lived in the stone house next to the cabin-turned-museum, operating a gas station in the area until Thomas' death in 1947. Their son Edward took over until the 1970s, when Interstate 80's construction made traffic more scarce along Highway 30.
The Cabin itself is reported to be constructed out of 5,796 dinosaur bones, weighing an astounding 102,166 pounds (53 tons.) Moving a heavy building like that the mere 7-8 miles to Medicine Bow to it's intended resting place next to the Medicine Bow Museum will be a daunting task. Estimates say that it will cost approximately $50,000 in moving costs alone.
But maybe, with a new location and a new stream of potential tourists, life can be breathed back into the "World's Oldest Building," and restore some of the mystique that lead Robert Ripley to describe it in his "Believe It Or Not" serials in the '30s.
If you're interested in learning more about the project or how you can help, contact the Medicine Bow Museum.