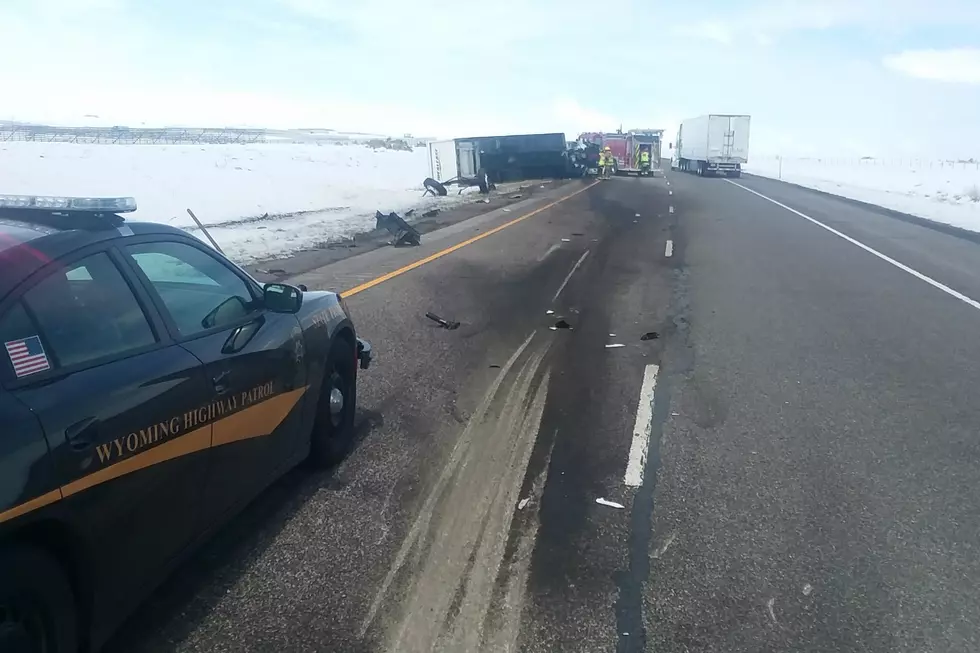 Semi-Trucks Involved in Collision on I-80 Wednesday
Courtesy: Wyoming Highway Patrol
Westbound Interstate 80 traffic was slowed Wednesday because of two semi-trucks involved in a rear-end collision near milepost 332.
At approximately 10:30 a.m. Wednesday, a lowboy semi transporting an over-sized load was in the driving lane traveling at approximately 40 miles per hour. It was struck in the rear by a truck that was described by Wyoming Highway Patrol as a box van semi. The van semi was believed to be traveling at highway speed according to the WHP.
Wyoming Highway Patrol reports indicated the box truck had its front end knocked out from underneath it and debris was scattered in both lanes of westbound I-80. That truck then rolled onto its drivers' side and came to rest partially in the median and partially in the passing lane.
The driver of the box truck suffered injuries that are not known at this time. That person had to be extricated from his vehicle by the Laramie Fire Department and EMS that responded to the scene.
The driver of the lowboy semi-truck and trailer was not injured.
WHP says driver inattention and possibly fatigue on the part of the van semi driver are being investigated as the main contributing factor in the crash.
Weather conditions at the time of the crash were blue sky, no fog, and the road surface was dry according to the Wyoming Highway Patrol.