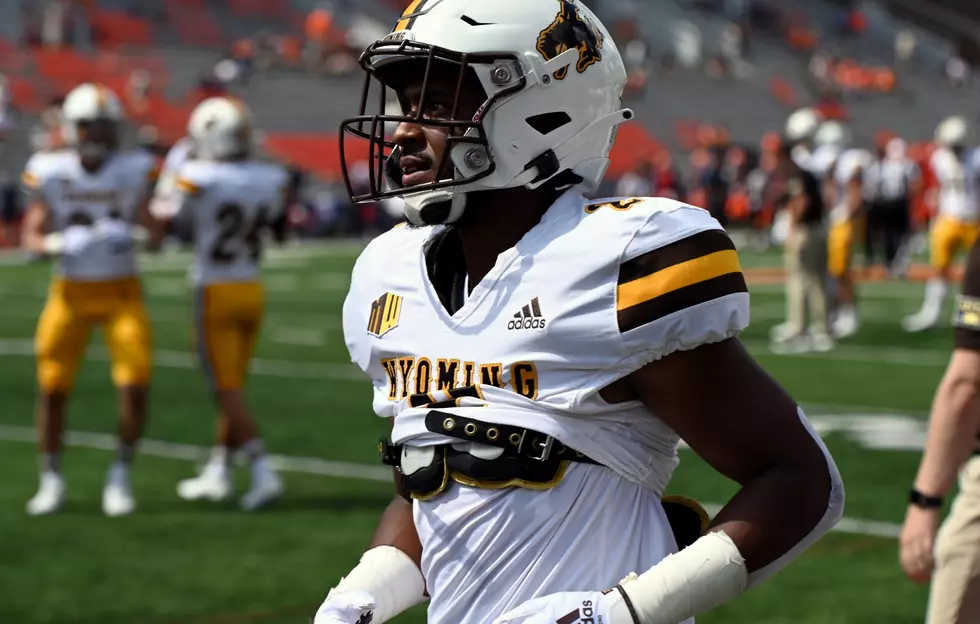 Two More Cowboys Enter NCAA Transfer Portal
Wyoming nickel corner Keonte Glinton (pictured), along with running back Joey Braasch, are the latest Cowboys to enter the NCAA Transfer Portal./ DJ Johnson photo
LARAMIE -- If you're keeping track at home, the count now stands at six.
That's the number of Wyoming football players that have announced their decision to leave the program since the NCAA Transfer Portal officially opened on Monday.
On Day 1, wide receiver Joshua Cobbs, defensive end Oluwaseyi Omotosho and cornerback Cam Stone asked for their walking papers. Nickel corner Keonte Glinton joined the fray Tuesday.
Joey Brassch, who was believed to be the starting running back Dec. 30 when the Cowboys take on Ohio in the Arizona Bowl, announced on Twitter Wednesday morning he is also leaving Laramie.
Those five join Titus Swen in the portal. The 1,000-yard rusher was dismissed from the team last week for a "violation of team rules."
What is Wyoming losing?
* 1,130 rushing yards
* 540 receiving yards
* 11 total touchdowns
* Two interceptions, two forced fumbles
* 6.5 sacks
* 107 tackles
Next man up, indeed.
With Dawaiian McNeely and DQ James lost to season-ending injuries, Braasch was next in line in what was once a loaded running back room. The redshirt freshman from Columbus, Neb., rushed for 91 yards on 29 carries this fall. He also caught four passes out of the backfield for 25 yards.
Braasch, a former three-star recruit, rolled up a career-high 38 yards on nine attempts in a 33-10 victory over Northern Colorado in early September. During the Cowboys' annual spring game, the 6-foot-1, 218-pound back showed off his speed, blowing through the defense and outracing the secondary for a 51-yard touchdown.
Braasch has three years of eligibility remaining.
MORE UW FOOTBALL NEWS VIA 7220SPORTS:
* Roaring Repeater Podcast: Happy Transfer Portal season
* Who will be in Wyoming's backfield in Tucson?
* Wyoming AD: 'Transfer portal is a part of our life for eternity'
* Trio of Wyoming starters enter NCAA Transfer Portal
Who will be in the backfield in Tucson?
Redshirt freshman Jordon Vaughn appears to be next in line. The 6-foot-2, 230-pound bruiser from the Greater Houston Area received 19 offers out of Manvel High School. LJ Richardson, a true freshman from Bellevue, Neb., could also help carry the load against the Bobcats. The 6-foot-1, 215-pounder was also recruited by Northern Illinois, Iowa State and Nebraska out of Bellevue West High School.
Don't be surprised to see walk-on Dalton Strouss get some work over the Cowboys' 15 bowl practices, according to UW quarterback Andrew Peasley. The 5-foot-8, 220-pound California product is listed as a fullback.
Speaking of fullbacks, will Parker Christensen also get a few balls in the belly?
The Sheridan native was an All-State running back in high school, rushing for 1,120 yards and 19 touchdowns on the ground during his senior season. He averaged 8.5 yards per carry en route to becoming the Offensive Player of the Year.
Glinton enters the portal after spending the previous four seasons in Laramie. During an injury-plagued 2022 campaign, the 6-foot, 190-pound defensive back tallied 26 tackles in six games. His best outing came in what would eventually be his last game in a Cowboys' uniform. He registered nine tackles, all solos, and batted down a pass in a home loss to San Jose State in early October.
Glinton caps his UW tenure with 49 tackles, eight pass breakups and an interception. That came against Trey McBride and Border War rival, Colorado State, in 2021. The Bakersfield, Calif., product has two years of eligibility remaining.
Wrook Brown stepped in for Glinton and started the team's remaining six games of the regular season. Malique Singleton and Buck Coors are thought to be the backups at the nickel spot in Arizona.
How are the other Mountain West schools holding up in the portal?
Air Force: 4
Boise State: 10
Colorado State: 19
Fresno State: 4
Hawaii: 8
Nevada: 5
New Mexico: 8
San Diego State: 4
UNLV: 5
Utah State: 7
Wyoming: 6
PRESS PASS: Roaming The War
Wyoming Cowboys vs. Montana State Bobcats
-LOOK: Pokes vs. Bobcats