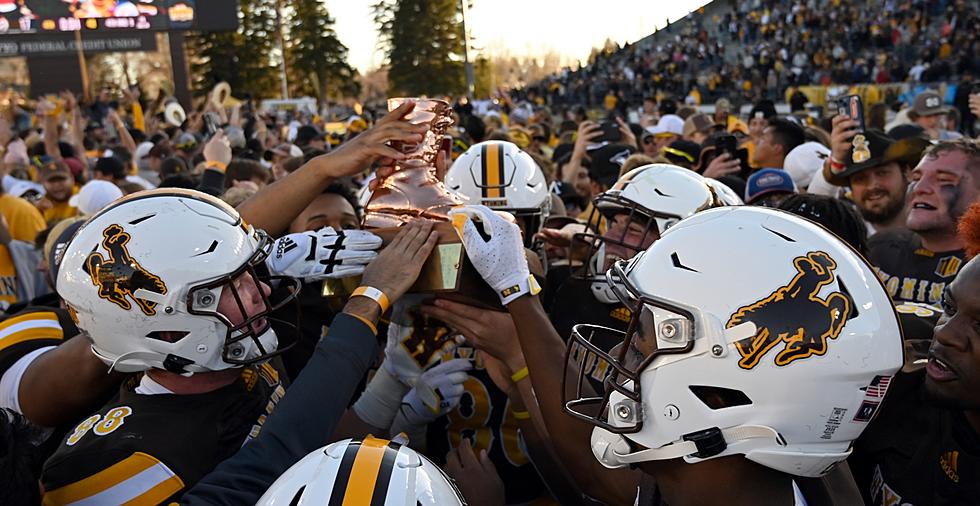 Bronze Boot Run Named Finalist for Merit Award
Wyoming players celebrate with the Bronze Boot after knocking off Colorado State 31-17 Saturday inside War Memorial Stadium./ DJ Johnson photo
* University of Wyoming press release
Fort Worth, Texas -- Finalists have been revealed for the 2022 Armed Forces Merit Award presented by the Football Writers Association of America (FWAA) featuring a university chancellor, four players, a foundation benefiting veterans and "The Bronze Boot" run that will be staged on Veteran's Day this November.
Troy University chancellor and Marine Dr. Jack Hawkins, Jr. is a finalist for the second-straight year and is joined on the list by tight ends Dominic DiNunzio from TCU and Tyler Huff of Texas State, 49-year old defensive lineman Ray Ruschel from North Dakota State College of Science, and linebacker Wil Schoonover of West Virginia.
The Paris Johnson Jr., Foundation established by Ohio State offensive tackle and Outland Trophy candidate Paris Johnson Jr. joins Dr. Hawkins and the four players as a finalist for the 2022 Armed Forces Merit Award along with the "Bronze Boot Run" that features the ROTC programs at the University of Wyoming and Colorado State University running the game ball prior to their school's game on Nov. 12 in Fort Collins, Colo.
The announcement of the 2022 Armed Forces Merit Award recipient will be made during an ESPN telecast on Nov. 11 between 4-4:30 p.m., Mountain Time. Created in June 2012, the award honors an individual and/or a group with a military background and/or involvement that has an impact within the realm of college football.
The Armed Forces Merit Award selection committee is comprised of seven FWAA members and two representatives from the Lockheed Martin Armed Forces Bowl. A total of 42 individuals and eight programs were nominated for the 2022 award.
With 31 nominations (28 individuals and three programs) considered for the 2021 award, University of Nebraska linebacker Damien Jackson was selected as the 10th recipient of the Armed Forces Merit Award presented by the FWAA. After serving four years in the military as a member of the Navy SEALs, Jackson walked on to the team in 2017 and was placed on scholarship for the 2020 season and played in the 20 games for Nebraska.
Jackson made the Big 10 All-Academic team four seasons. Before his military service, Jackson played baseball and soccer at Shadow Ridge High in Las Vegas, Nev. A child, youth and family studies major, Jackson earned his degree in December of 2021. He volunteered his time with the Nebraska Football Road Race, a Day of Service and local hospital visits.
Past recipients of the Armed Forces Merit Award presented by the FWAA include Nate Boyer of the University of Texas (2012), Brandon McCoy of the University of North Texas (2013), Daniel Rodriguez from Clemson University (2014), Bret Robertson of Westminster College (Fulton, Mo., 2015), Steven Rhodes from Middle Tennessee State University (2016), Dr. Chris Howard from Robert Morris University (2018), Army West Point assistant coach Mike Viti (2019) and Collin O'Donnell of Bluefield College of Virginia (2020).
Kansas State and its football team were honored in Nov. 2017 as the sixth recipient of the Armed Forces Merit Award for the university's partnership with the United States Army that created a bond between the school's athletic department and the Iron Rangers at Fort Riley.
Armed Forces Merit Award presented by the FWAA - 2022 Finalists
The Bronze Boot Run - In 1968, the athletics programs at the University of Wyoming and Colorado State University used a football game between the two schools to help initiate "The Bronze Boot" traveling trophy awarded to the winner of the game each season.
The Boot was originally worn in Vietnam by Dan Romero, a Colorado State ROTC instructor.
The 2022 "Bronze Boot" run will carry special significance as it will be held on Veterans Day. On the morning of Friday, Nov. 11 -- the day before the 55th meeting for "The Bronze Boot" -- a Wyoming ROTC detachment will head south on U.S. 287 from Laramie for a run to the Wyoming-Colorado border. At the state line, the officials from both schools meet to witness the handoff of the game ball to the Colorado State ROTC detachment who will continue the shuttle run to Fort Collins for the game on Saturday, Nov. 12.
The tie to the United States military has enhanced the rivalry between the two schools that are separated by only 65 miles. Through the years, the annual Wyoming-Colorado State "Border War" football game has evolved into one of the most bitterly contested rivalries in college football, and the "Bronze Boot" has become one of the most famous traveling trophies in college football.
A rivalry is not only measured by its longevity, but also by how competitive a series is.  Entering the 2022 meeting, Wyoming has won 29 times in the Battle for the Bronze Boot, and Colorado State has won 25.
The depth of this rivalry goes beyond the Bronze Boot portion of the rivalry. While this year will be the 55th time the two rivals have competed for the Bronze Boot, the overall series has been played in three different centuries, beginning in 1899.
Wyoming and CSU have waged the "Border War" every year but six since the schools began playing. This year will mark the 114th overall meeting. The 2022 season will also mark the 77th consecutive season the two border rivals will meet. Those 77 consecutive meetings date back to 1946, when the series was renewed after an interruption in the series during World War II.
Dr. Jack Hawkins, Jr., a member of the College Football Playoffs' Board of Managers as a representative for the Sun Belt Conference, has been the Chancellor of Troy University since September 1, 1989. After completing his bachelor's degree in 1967 from the University of Montevallo, Dr. Hawkins served in the U.S. Marine Corps and served as a platoon leader during the Vietnam War.
For his combat duty, he received the Bronze Star, the Purple Heart and a citation from the Korean Marine Corps. Dr. Hawkins was an assistant dean at UAB and president of the Alabama Institute for Deaf and Blind. Dr. Hawkins is the longest-serving CEO of a public university in the nation. In 30-plus years at the school, Dr. Hawkins has orchestrated the change of Troy's name, a move to Division 1-A and help oversee the investment of $400 million in new and modernized facilities.
During Dr. Hawkins' tenure, Troy University has been recognized as a leading institution for members of the military and veterans by U.S. News and World Report, GI Jobs, Military Times Edge, Advanced Military Education, and more. Dr. Hawkins holds graduate degrees from both Montevallo (master's) and the University of Alabama (doctorate).
Paris Johnson Jr. Foundation - Paris Johnson Jr. is a starting offensive tackle at The Ohio State University, but more importantly, he established a foundation in his name during his high school days in Cincinnati. The Paris Johnson Jr., Foundation has raised more than $10,000 to assist veterans, student-athletes and the homeless. The PJJ Foundation is dedicated to empowering and serving disabled veterans and disadvantaged student athletes with helpful resources that benefit them. In a letter to support the Paris Johnson Jr., Foundation, Ohio State coach Ryan Day said his Outland Trophy candidate is a "wonderful civilian, one who cares and takes care of those who are less fortunate.  He does this through his foundation.
These efforts that Paris does with his foundation are indicative of the leader that he is … on the field and off. He is a conscientious young man, an incredibly sincere and thoughtful individual, and someone I can't wait to see succeed in life as an upstanding citizen."
Dominic DiNunzio, Texas Christian University, TE, 6-4, 245, Jun., Cleveland, Ohio (ROTC) - Attending TCU on a ROTC scholarship, DiNunzio has been named a semifinalist for the National Football Foundation's William V. Campbell Trophy, presented annually to the nation's top football scholar-athlete.
DiNunzio was a TCU walk on after never playing football. He started four games in 2021 and became a team captain. He had six receptions for 69 yards with his first career touchdown reception in TCU's 30-28 win over Baylor. He had a career long 46-yard reception at Oklahoma State.
A native of Cleveland, Ohio, DiNunzio is a finance and accounting major with a military science minor. DiNunzio is a Dean's List student and was selected by TCU's ROTC as the Most Outstanding Cadet. He received TCU's prestigious Pillar of Purple Award and was First-Team Academic All-Big 12. Upon graduation, he has a military commitment with the U.S. Army.
Tyler Huff, Texas State University, TE, 6-3, 255, Sen., Racho Santa Margarita, Calif. (U. S. Navy) - A Navy veteran (2013-2017), Huff is listed as the Bobcats starting tight end and has caught two passes this season.
After transfer from Saddleback College where he was an all-conference selection and played on both the offensive and defensive lines, Huff redshirted his first year at Texas State and played in seven games during the 2021 season. Huff is listed as a graduate with a Criminal Justice major.
Ray Ruschel, North Dakota State College of Science, DL, 6-0, 225, Frosh, Wahpeton, N. D. (U. S. Army/Nat. Guard) - Ruschel has played in all six games for the Wildcats this season with three tackles. The Army veteran and 1992 graduate from a Pennsylvania high school, was working an overnight shift at the Minn-Dak Farmers' Cooperative in Wahpeton and was taking online business management classes during the day.
One month into the spring semester, one of his deployment buddies in Washington told him NDSCS had a football program, so he jumped at the opportunity to strap on a helmet.
Wil Schoonover, West Virginia University, LB, 5-9, 218, Soph., Moorefield, W. Va. (U. S. Army) - Schoonover walked on to the West Virginia team in 2021 after transferring from Potomac Community College where he played baseball and hit .350 in the spring.
An Army veteran (2017-2020), he was deployed to Afghanistan in 2017 and was a member of the 4-25th Infantry Brigade and 3-509th Airborne Infantry Battalion. In high school, he rushed for more than 5,000 yards, was a state champion wrestler and was two-time all-state in baseball.
WVU coach Neal Brown said in a letter supporting Schoonover's nomination that his "leadership qualities and mature attitude have been a positive influence on our program. Will attacks his day with energy and a positive outlook that has not only made him a favorite of his teammates, but to West Virginia fans. Part of your award is based on community service and Will knows the importance of this civic responsibility and never lets us down. He knows how to better a person, how to motivate and how to connect with people of all ages."
ESPN Events, a division of ESPN, owns and operates a portfolio of collegiate sporting events nationwide. In 2022, the 32-event schedule includes three early-season college football kickoff games, 17 college bowl games, 11 college basketball events, and a college softball event, which account for approximately 400 hours of live programming, while reaching nearly 64 million viewers and attracting over 800,000 annual attendees.
With satellite offices in more than 10 cities across the country, ESPN Events builds relationships with conferences, schools and local communities, as well as providing unique experiences for teams and fans. For more information, visit the official website, Facebook, Twitter or YouTube pages.
The Football Writers Association of America (FWAA, http://www.sportswriters.net) Founded in 1941, the FWAA consists of journalists, broadcasters, publicists, photographers and key executives in all areas of college football. The FWAA works to govern media access and gameday operations while presenting awards and honors, including an annual All-America team.
POKES: The Seven Best Games In The History Of The Wyoming-CSU Border War Rivalry (Naturally, they were all Wyoming wins)