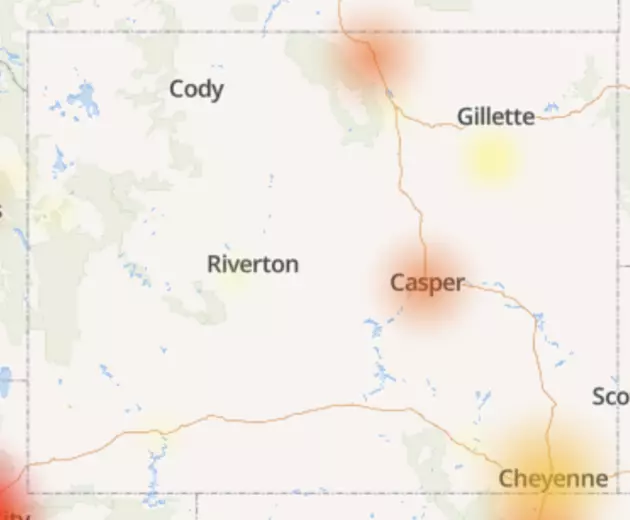 UPDATE: CenturyLink Internet Outages Impact Wyoming Cities; Some 911 Services Affected
CenturyLink outages in Wyoming. Downdetector.com
UPDATE: The Public Safety Communications Center in Casper just posted this announcement:
Casper, Wyoming (December 27, 2018) – The CenturyLink network, a landline phone service, is currently experiencing a disruption affecting customers nationwide. Though many 911 centers around the country have reported issues accessing 911, the Public Safety Communications Center in Casper has not had any reported issues.  This could be, in part, because the majority of call traffic to the Public Safety Communications Center uses cell phones.  A test of the local 911 system using CenturyLink service successfully contacted emergency services.  At this time all major cell phone carriers are working.
Residents that do experience problems reaching 911 using a landline are encouraged, to use or borrow a cell phone.
--------------------------------------------------------------------------
CenturyLink internet has been experiencing a nationwide outage, including outages in Wyoming, according to downdetector.com.
Affected cities in Wyoming include Casper, Cheyenne, Rock Springs, Gillette and Laramie, according to downdetector.com.
The outages began about 2 a.m. Thursday, spiked about 10 a.m., fell and have remained steady since then.
Attempts to contact company representatives have been unsuccessful because the calls resulted in busy signals.
The CenturyLink's Facebook page posted this announcement about 11:30 a.m.: "Our network is experiencing a disruption affecting customer services. We understand some customers are currently unable to generate tickets through the CenturyLink help portal. We know how important these services are to our customers and we are working to restore services as quickly as possible."
While the outages have been reported across the United States, the areas most affected include Seattle, Salt Lake City, Boise, Idaho, Denver and Minneapolis.
CenturyLink has 17 million access lines, 5 million broadband customers, 1.4 million video subscribers in 37 states.
-----------------------------------------------------
"This morning both Century Link (landlines) and Verizon (cell phones) are having multiple outage issues. If you are trying to call Joint Communications and your call drops, please try to call from another line. The issues are intermittent and both companies are working on fixing the issues. This is not only happening in Converse County, but in many other areas."