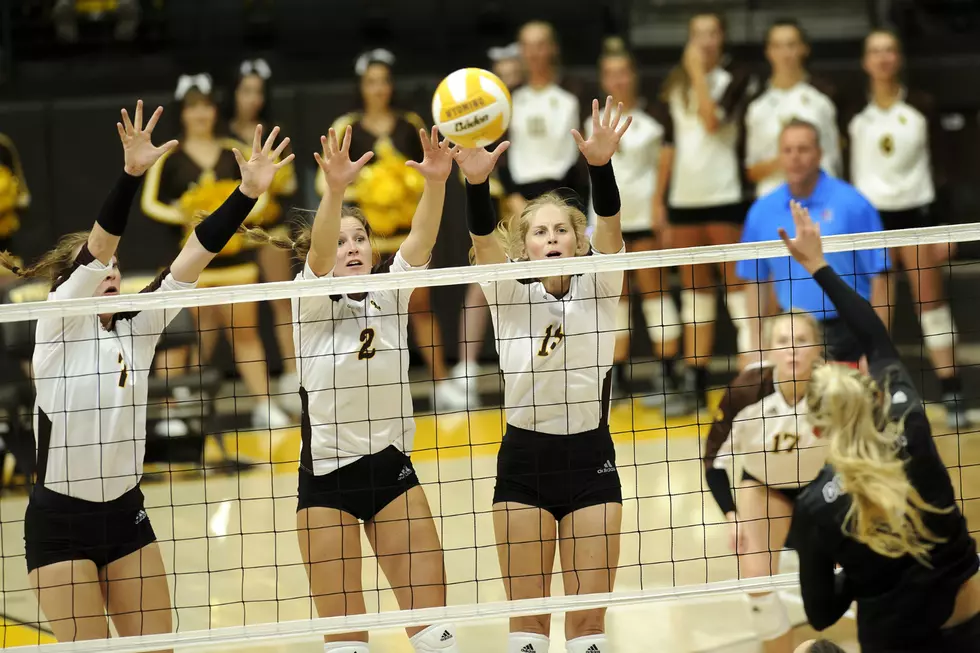 Cowgirl Volleyball Caps Perfect Weekend With Upset [VIDEO]
Courtesy: Ted C. Brummond, UW Photo Service
It's the type of start to a season Wyoming Volleyball was hoping for and got after a perfect weekend was capped with an upset of No. 15 Colorado.
The Cowgirls won their Rumble in the Rockies tournament with a 3-0 record last Friday and Saturday in the Arena-Auditorium.
Wyoming rolled past North Florida and Oral Roberts last Friday in three-set sweeps. The match scores were 25-12, 25-12, and 25-17 over the Ospreys. UW hit .337 for the match and held North Florida to .011. Match two was even better for the Cowgirls with a 25-7, 25-15, 25-18 victory over the Golden Eagles. Wyoming hit .423 in that match, while Oral Roberts struggled at negative .037, meaning they had more attack errors than kills.
That set-up the big showdown against the 15th-ranked Buffs Saturday night. Wyoming won the first two sets, 25-23 and 25-21. Colorado came back and won sets three and four, 21-25, 16-25. In the fifth set, UW jumped out 6-1, but the Buffs battled back for a tie at 13-13. A service error by CU and a kill from freshman KC McMahon concluded the Cowgirl victory.
This marked their first win over a ranked team since 2015 and just the seventh over a top-15 ranked team all-time.
Sophomore Jackie McBride was named the Tournament MVP. She was joined on the All-Tournament team by senior Emily Lewis and junior Halie McArdle.
Wyoming returns to action this weekend at the Portland Tournament against LIU Brooklyn, Portland, and Montana State Friday and Saturday.
Cowgirl Soccer
The home unbeaten streak stayed intact last Friday for the Wyoming Cowgirls with a 0-0 draw against the Northern Iowa Panthers.
Neither team found the back of the net through 110 minutes of soccer. Wyoming had a season-best 21 shots with nine on goal, while Northern Iowa finished with 11 shots and only four on goal.
Junior Cowgirls' keeper Cristina Salazar and the UW defense recorded their second shutout of the season.
Wyoming (2-0-1) will return to action Thursday at Idaho State. The match is set for 4 p.m.