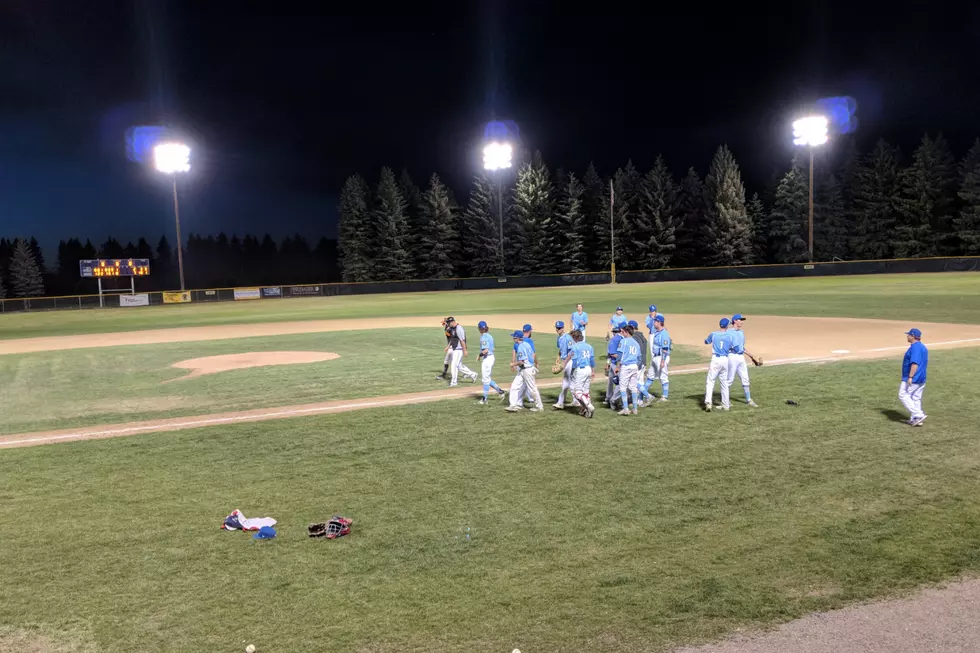 Laramie Rangers Sweep Four in Torrington
David Settle, Townsquare Media
The Laramie Rangers have their first winning streak of the season after a perfect weekend in Torrington on Saturday and Sunday.
Laramie (5-11) swept two games apiece against the Wheatland Lobos and Torrington Tigers at the Dean Bullock Memorial Tournament.
Manager Aaron Lozano was genuinely satisfied with how the squad performed on the mound.
"I couldn't be happier with the pitching overall. Reston Morehouse, Tyler Oppie, Ramon Gomez and Ben Ruckman had some of the most efficient outings we've seen this year."
Saturday saw two great pitching performances translate to victories. The Rangers defeated the Lobos 4-2 behind Reston Morehouse. He went the distance on the mound for the victory. Morehouse allowed two runs, only one earned, on four hits. He struck out nine and walked only two.
After Laramie scored a pair of runs in the third inning, Janson Adair had an RBI-single in the fourth, while Riley Hogsett added an insurance run with an RBI-single in the sixth. Adair and Tyler Oppie led the offense with two hits apiece.
Game two on Saturday saw Oppie shut down the Tigers in a 10-1 win. He threw six innings of shutout baseball. Oppie allowed five hits with three walks and 12 strikeouts.
Caleb Eaton led a 15-hit attack with four hits. He had a pair of triples and a double, plus two RBI's. Alex Flores added three hits and two RBI's.
Sunday saw Laramie win a pair of games in come-from-behind fashion.
First, Aidan Morris was the hero in a 14-13 victory over Wheatland. Morris provided the game-winning RBI-single in the seventh on a 1-0 count. It was part of three hits and three RBI's for Morris in the win.
The Rangers got out to a 6-2 lead but surrendered that in the third inning. The Lobos extended to a 13-7 advantage, but Laramie fought back with six runs in the sixth inning.
Tyler Oppie added two hits and drove in four runs. Ramon Gomez got the win in relief.
The second game on Sunday was a 9-8 comeback against Torrington. Down 8-7 in the seventh, Adair tied the game with an RBI-double that scored Hogsett. Eaton followed with an RBI-single that proved to be the game-winner.
The Rangers finished with 11 hits on offense but had to overcome seven walks by their pitching staff and three defensive errors. The winning pitcher was Ben Ruckman in relief.
Lozano added it was a great weekend that saw everyone find a way to contribute to the team's success.
"Caleb Eaton was on fire all weekend, and it was contagious. Nobody caught it as much as Alex Flores, who seemed to be as clutch as a hitter can be. Everyone on the team came through when we needed it. We got a huge double play vs. Torrington when Darek Squires dove and caught a ball in right field and then doubled up the runner at second. Riley Hogsett had a beautiful bunt in game 3 vs. Wheatland. Aidan Morris had a huge walk-off hit. Janson Adair beat out a groundball to second. Michael Schutterle stepped up and caught again when we needed him."
Laramie returns to action Friday, Saturday, and Sunday at the Alan Tellinghuisen Tournament in Spearfish, SD.
Statistical data courtesy of GameChanger