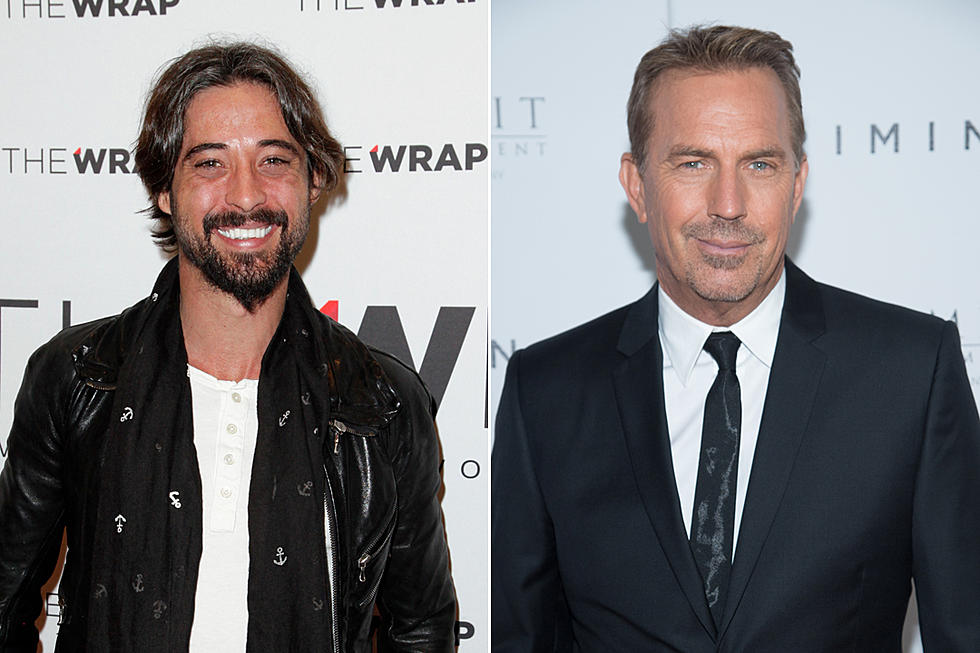 'Yellowstone' Star Ryan Bingham Shares What It's Really Like to Work With Kevin Costner
Tibrina Hobson/Mark Sagliocco, Getty Images
Kevin Costner's Yellowstone character of John Dutton is pretty intimidating, but in real life, the Oscar-winning actor, director and producer is surprisingly easygoing, according to his Yellowstone co-star Ryan Bingham.
Bingham — a celebrated singer-songwriter who is an Oscar winner himself for his song "The Weary Kind" from Crazy Heart — plays singing cowboy Walker on the hit Paramount Network Western drama, and in an interview with the Los Angeles Times in 2022, he says Costner is so down-to-earth that he insists on shaking hands with every cast and crew member on the set of the show every day.
"We're always joking backstage and things like that," Bingham says in a Zoom interview. "It's interesting how light and fun it is when we're on set and we're playing around. People are chasing around horses and things like that. But then when you see the show, it can be pretty dark."
Bingham's comments echo what other Yellowstone cast members have said about Costner. Luke Grimes, who plays Kayce Dutton on the show, says that even after a film career that includes Dances With Wolves, Bull Durham, Field of Dreams, JFK, The Bodyguard, Wyatt Earp and more, Costner still approaches his work with the highest standards.
"One thing that I really enjoy to see in him is his passion for the work. It's still very much there. He still wants to work and is still very curious and still wants to dissect the scenes and get everything out of the scene that he possibly can," he observes. "You never know if someone of that stature if they are still going to love the work the way that they did when they first started, and he really seems to."
In an interview with Looper in November of 2021, Kelly Reilly — who plays Beth Dutton on Yellowstone — says she has great chemistry with the cinema legend.
"Well, we've been working together for four years now, he and I, and we have so many scenes together, so many days working together. He's honestly one of the nicest, most generous actors I've worked with," she states. "We get on so well and we have this real fun relationship. So, yeah, I mean, it's pretty wonderful. He's so incredible on the show. I really respect him as an actor and the work he's doing. I just love what he does. I could watch him all day. I'm learning a lot from him."
Season 4 newcomer Piper Perabo tells Taste of Country that she's also enamored of working with Costner. Perabo plays a protester named Summer Higgins, who initially runs afoul of the Duttons before having a one night stand with John Dutton. Her first scenes on Yellowstone put her right in the middle of a protest that goes off the rails, then straight into a long one-on-one exchange with Costner.
"It was so crazy ... I was like, 'Okay, this is a lot for Day One,'" Perabo says with a laugh. "But it was exciting."
"It was also a little intimidating," she admits. "My first day with Kevin ... he's a real movie star, and so when you do a scene with somebody like that, you have this whole history of film that you see. You know, Bull Durham and Dances With Wolves and Field of Dreams. Just so many films that are kind of in your mind the first moment you see him. It's a little confusing. But he's such a good actor, and he's directed so many films that you get down to the work really quickly, because he's so calm and steady."
PICTURES: See Inside Kevin Costner's Spectacular Colorado Ranch
Yellowstone star Kevin Costner lives the ranch life when he's off the set of the hit show, too. The Oscar-winning actor owns a 160-acre ranch in Aspen, Colo., that's a spectacular getaway, complete with a main residence, a lake house and a river house.
The luxury retreat also features a baseball field, a sledding hill, an ice rink, multiple hot tubs and views of the Continental Divide. The ranch property comfortably sleeps 27 people, and it's currently available to rent for 36,000 a night.
See Inside 'Yellowstone' Star Ryan Bingham's Gorgeous $2.45 Million Estate
Yellowstone star and singer-songwriter Ryan Bingham has listed his 3-bedroom, 3.5-bathroom, 2,394-square-foot home in an exclusive area of Los Angeles for sale, and pictures show a beautiful, luxurious property that offers stunning mountain views.
You Can Rent a Cabin on the Ranch From 'Yellowstone' - See Pictures
The stunning Montana ranch that serves as the setting for the hit TV show Yellowstone offers cabins for rent, and the price includes tours of the set and ranch. Scroll below to see photos of the extraordinary property.