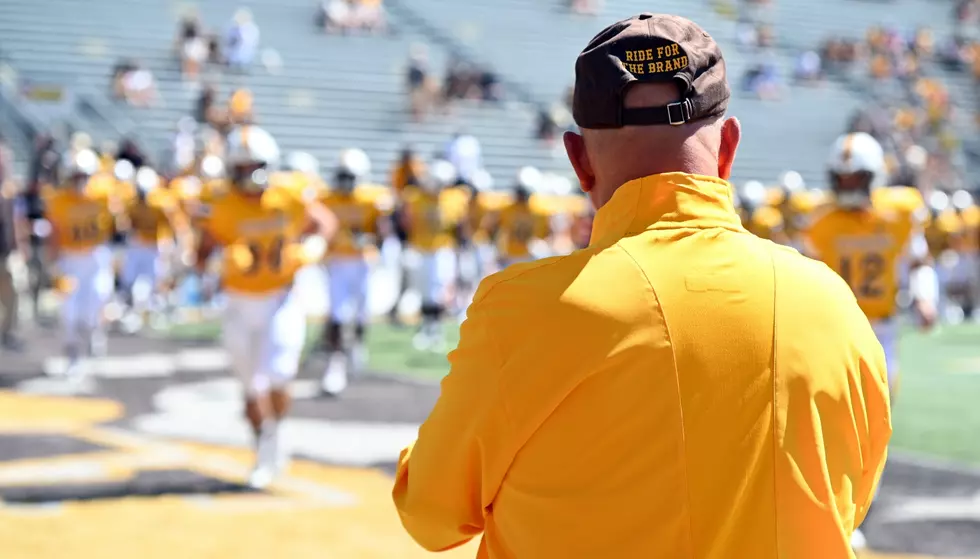 Just how young is this Wyoming football roster?
Wyoming head coach Craig Bohl looks on as his team warms up before a meeting with Tulsa Sept. 3 in Laramie./ DJ Johnson photo
LARAMIE -- How young is the Wyoming football team?
Craig Bohl described a couple of instances that even shocked him from last Saturday's win over Northern Colorado.
"Last week, we scored a touchdown and, we leave our offensive line out on the field to kick an extra point, and we have 10 guys on the field," he said with a chuckle and a head shake during his Monday press conference in Laramie. "Emmanuel Pregnon is not on the field -- he just runs off the field. We had another defensive guy, Olu (Oluwaseyi Omotosho), he comes up to me during the middle (of the game), 'coach, I think I may need a day off for practice. I've got a sore thumb.'
"That ain't happening. I love him to death, but there's some growing pains that you go through as a head football coach."
Wyoming features the third-youngest roster in the FBS, ahead of only Mountain West foes Nevada and Hawaii, according to ESPN. While the two guys mentioned above are indeed redshirt freshmen, they certainly aren't playing like it.
Pregnon, a 6-foot-6, 312-pound Colorado product, has been one of the Cowboys' most consistent offensive linemen through three games while manning the right guard spot.
Bohl joked that in 20-plus years of coaching he has never witnessed a player trot off the field, leaving his unit behind.
"He's a really good player," Bohl said with a laugh, referring to Pregnon. "He just decided he doesn't want to be on the extra point, I guess. 'Oh, I forgot.' So, that there gives you a capsule of where we're at."
MORE UW FOOTBALL NEWS:
* Three stars of the game: Pokes vs. Bears
* Turning point, unsung hero and what's next for UW football
* Tuck's Takes: Death, taxes and sleep walking against the FCS
* Rants & Raves: Northern Colorado Edition
The 6-foot-2, 246-pound Omotosho tallied three sacks in that 33-10 victory over the Bears. The Texas product has taken on a bigger role in the defensive end room after Sabastian Harsh (knee) was lost for the year before the season opener.
Those are just a pair of examples.
The Cowboys (2-1) have a new starter at 11 different positions this fall. It could be a dozen this Friday night against Air Force if right tackle Frank Crum is not cleared from an injury he sustained in the second quarter against UNC. Redshirt freshman Caden Barnett filled in for the remainder of the game and could be plugged in from the opening snap against the Falcons.
Defensive end Braden Siders is a first-year starter. So are safeties Wyett Ekeler and Miles Williams. You can throw in corner back Cam Stone, running back Joey Braasch, wideouts Wyatt Wieland and Will Pelissier, linebacker Shae Suiaunoa and offensive linemen Jack Walsh and Nofoafia Tulafono.
Bohl said Saturday this group isn't loaded with household names. Soon, though, that won't be the case, he added.
"They're trying hard," Bohl said. "But if you just start looking at all the different, new faces that are out there, I think the best way I would say is, they're an emerging team. They are still going to be making some mistakes and we have to recognize there's going to be some ups and downs.
"And with that, we have to stay the course and keep on encouraging them. We don't know how the year is going to end, but I can tell you this is going to test us to the mat."
"This" is Troy Calhoun's squad, one that polished off in-state rival Colorado 41-10 last Saturday afternoon in Colorado Springs.
Air Force (2-0) ran wild on the Buffs, rolling up 435 yards on the ground on 70 attempts. That's an average of 6.2 yards per carry. The Falcons, led by a three-touchdown day from fullback Brad Roberts, found the end zone another two times on the ground in the rout.
Discipline.
That's what it takes to knock off that team. That's also a word that doesn't always go hand in hand with youth. Bohl is fully aware of that.
Still, he believes in the talent on this roster.
"They have been a joy to coach," he said. "We have ability. We have ability, it's just green. So, to a veteran guy like me, some trying times but a fun time."
University of Wyoming's Top 50 Football Players
The rules are simple: What was the player's impact while in Laramie? That means NFL stats, draft status or any other accolade earned outside of UW is irrelevant when it comes to this list.
This isn't a one-man job. This task called for a panel of experts. Joining 7220's Cody Tucker are Robert Gagliardi, Jared Newland, Ryan Thorburn, and Kevin McKinney.
We all compiled our own list of 50 and let computer averages do the work. Think BCS -- only we hope this catalog is fairer.
Don't agree with a selection? Feel free to sound off on our Twitter:
@7220sports
- #Top50UWFB
- University of Wyoming's Top 50 Football Players