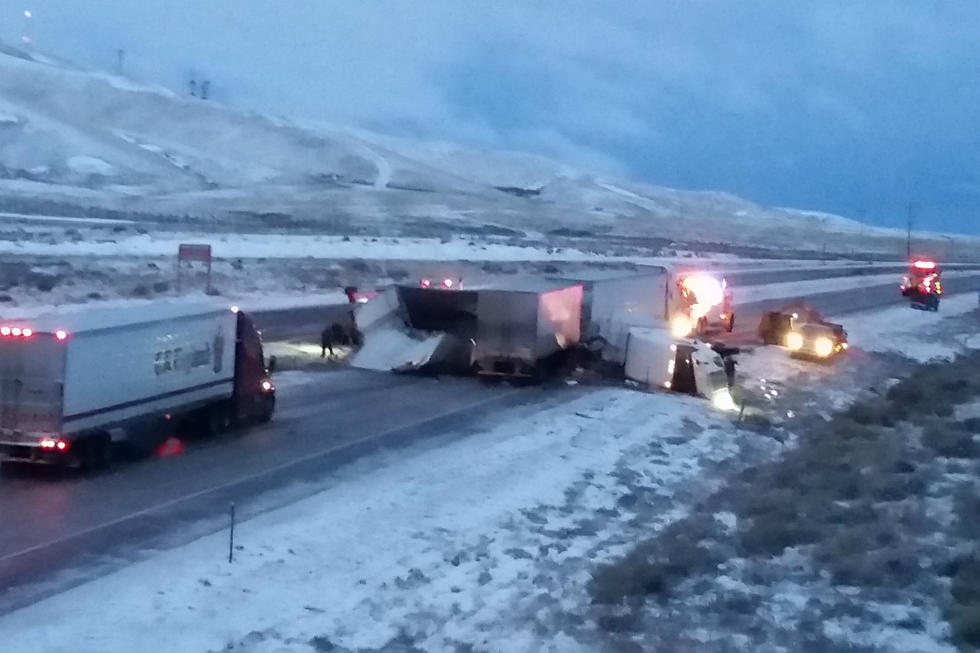 WHP: No Serious Injuries in I-80 Multi-Vehicle Crash Near Rawlins
Wyoming Highway Patrol
No people were seriously injured after a multi-car crash on Interstate 80 near Rawlins Thursday morning, the Wyoming Highway Patrol says.
The crash happened at about 3:38 a.m. at milepost 214. The WHP says in a release that a driver of a semi-truck traveling eastbound braked after traffic in front of him slowed suddenly. His vehicle jackknifed and drove through the median and cable barriers into the oncoming westbound lanes of the interstate. It tipped over, blocking all lanes of traffic.
Just after this, a semi-truck driving westbound crashed into the overturned truck and ripped it in half. A third semi also traveling westbound crashed into the rear of the second semi, according to the WHP. The drivers had non-life threatening injuries.
Shortly after, an ambulance crew was on the median shoulder at the scene assisting with the initial crash when another driver going eastbound on I-80 lost control of its combination unit and the trailer crashed into the rear of the ambulance. The ambulance hit an EMT, knocking her down. The EMT had minor injuries and the driver of the semi was not injured.