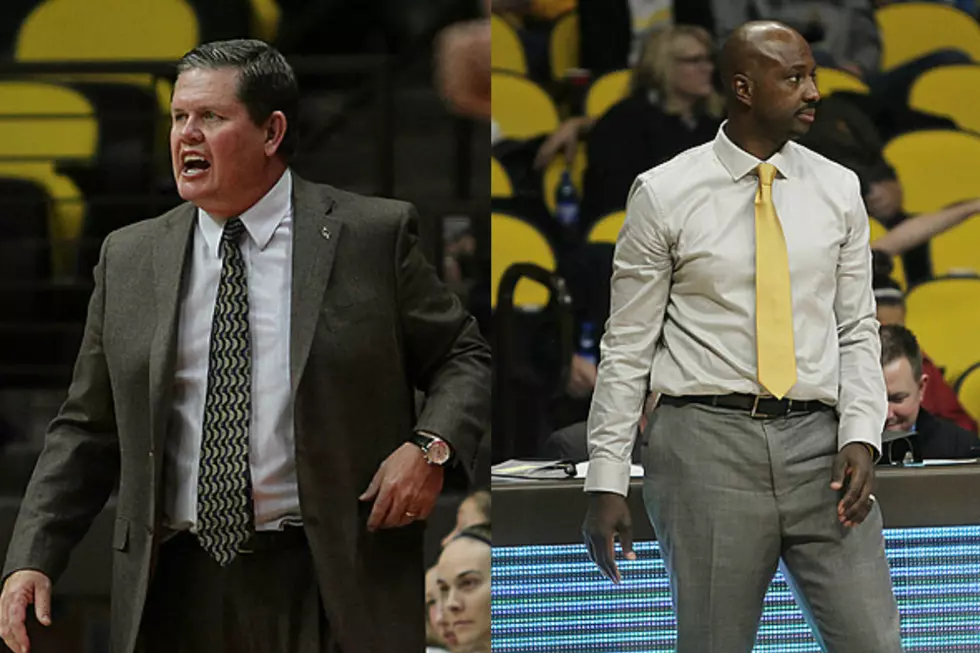 Cowboys and Cowgirls Tangle With Boise State
Seneca Riggins, Townsquare Media
Conference play is here, as Wyoming takes on Boise State in Mountain West action tonight in Laramie and Boise, ID.
The Wyoming Cowboys host the Broncos at the Arena-Auditorium. The game starts at 7 p.m.
The Wyoming Cowgirls visit Idaho to face the Broncos at Taco Bell Arena. It is also a 7 p.m. start.
Wyoming Cowboys
The Cowboys are coming off a 65-63 win over Dixie State in their final non-conference game last Saturday. Freshman Trace Young played the role of hero with his game-winning three-pointer.
Wyoming is 4-9 after non-league play concluded. Given all the injuries the Pokes have had to deal with, head coach Allen Edwards might be considered surprisingly upbeat.
"The one thing I love is our energy to come back and work and not having a woe-me attitude. Even the guys that are sitting over there (on the sidelines) injured, they're just as engaged in practice, but it's more so of a mindset of this is the hand that we've been dealt. How can we best go forward to put ourselves in position to win basketball games?"
Edwards has changed his style and knows their slower tempo will keep more opponents in games, but that's the way they have to play.
Looking at the MW overall, Edwards said, "Outside of Nevada, I think everybody's saying, shucks, we've got a chance."
Wyoming plays a Boise State (5-8) team that has lost three of its last four and is just 1-6 away from home. They are led by RJ Williams at 14.4 points and 6.9 rebounds per game. Justinian Jessup is at 12.6 points per game.
Edwards says even though they may not have that one player, like a Chandler Hutchison, James Webb III or a Derrick Marks, they are still a challenging team.
"I think the kid Jessup has the capability of doing it, especially if you let him get it going from three-point range… The new kid they got is pretty good, Williams, just a workhorse-type dude, a guard in a slasher/big man's type body with his size."
Edwards also referred to reigning Sixth Man of the Year in the MW Alex Hobbs, as a guy who can find ways to score.
UW is led by senior guard Justin James. At 22.4 points per game, he leads the conference. James is third in rebounding at 9.2 a game and also dishes out 4.4 assists per contest.
James said he's looking forward to the Mountain West.
"I can't wait. Conference play is always fun. It's always a battle every time you go out there, so I'm excited."
Wyoming Cowgirls
The Cowgirls have the tough task of starting league play on the road and against the team picked to win the MW in the preseason poll.
Wyoming (7-2) has won four straight coming into conference play. Their last victory was Dec. 20 at home over South Dakota State, 77-70.
Head coach Joe Legerski is very pleased with the way his squad has played thus far.
"A number of games have been very close. You see the confidence this team has, so I'm happy with that. The play of our freshman have really stepped up, and so all-in-all, probably can't ask for a better start to a season for where we knew with not having Sladjana (Rakovic) was going to be a challenge, not having Selale (Kepenc), and so all-in-all, as a coach, I'm very pleased with this group."
Legerski knows there are challenges ahead, but he's anxious to see how they fare.
Boise State (9-2) is second in the league standings and has also won four straight games entering conference play.
Legerski said he's noticed their playing at a faster pace.
"They're pushing the basketball in transition, really trying to attack you. They have tremendous shooters on the wing that puts a great deal of pressure on you defensively, and then they change up what they want to do defensively. We'll see a couple of different presses."
He believes it will come down to execution after having some time to prepare for Boise State.
The Cowgirls won at Taco Bell Arena for the first time last year, 66-51, before the Broncos repaid that at the end of the regular season in Laramie. The teams are 7-7 in their series in MW action.
Boise State is led by MW Preseason Player of the Year in guard Riley Lupfer, and fellow guard Bradey Hodgins. They average 11.9 and 10.6 points per game, respectively.
Wyoming counters with seniors Marta Gomez and Bailee Cotton. Gomez is at 16.2 points per game, while Cotton is at 11.7 points and a team-leading 8.3 rebounds a game.
Cotton said she feels good about the team heading into MW play.
"We played some really tough teams. Some teams that we haven't seen (before), and some that we have, and that we know are really tough. We've come out with wins or we've come out with like, really good learning experience, like St. Mary's and Pacific, we could have won those games. So, I think our confidence is really high."
Cotton admitted only playing once in the last three weeks is a bit of a concern, but she's confident in their focus.