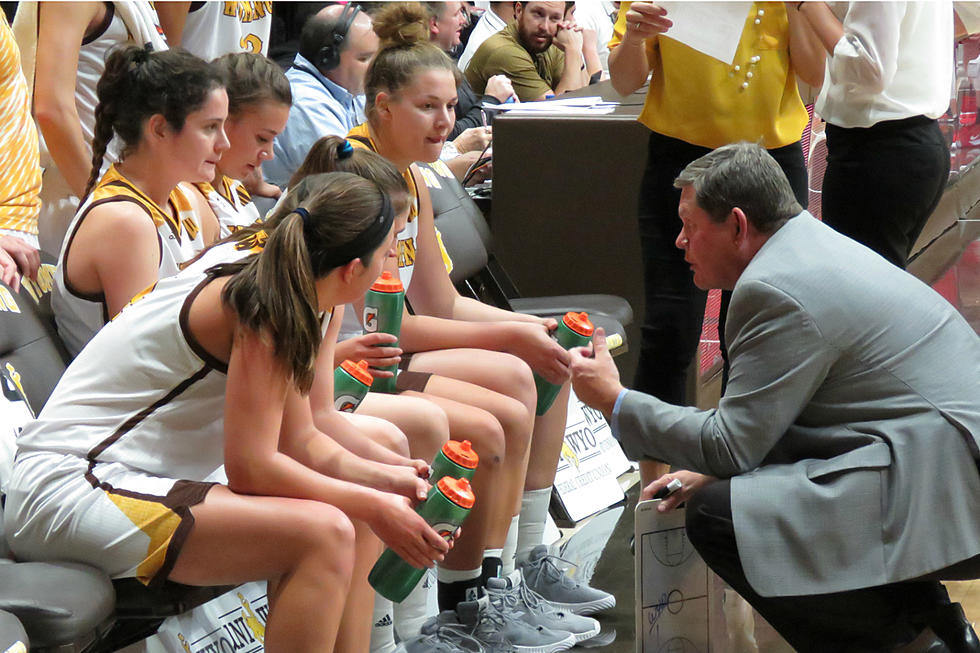 Cowgirls and Cowboys See Broncos For Second Time [VIDEO]
David Settle, Townsquare Media
Both the Wyoming Cowgirls and Cowboys return to the court Saturday to take on Boise State in Mountain West Conference action.
The Cowgirls play at home, in the Arena-Auditorium, at 1 p.m. (time change).
The Cowboys play in Boise, ID at 2 p.m.
Wyoming Cowgirls
The Cowgirls host the conference-leading Boise State Broncos this afternoon.
Wyoming (10-5, 3-3) is coming off a 14-point road win at San Jose State Wednesday night. That victory snapped their first two-game losing streak of the season.
Boise State (15-2, 6-0) comes to town riding a 10-game win streak. That included a 72-64 win over the Cowgirls in Idaho back on Jan. 2 to begin MW conference play. The Broncos have won the last two in the series, which includes a 67-63 victory in Laramie last year. The series stands at 11-10 in favor of Boise State. The teams are even at 7-7 against each other in MW play.
Since the loss to the Broncos, UW is 3-2 in league play. They have a 2-1 mark in MW action at home.
Boise State was the preseason pick to win the MW in women's basketball. They are led by MW Preseason Player of the Year guard Riley Lupfer, who averages 12.1 points, 3.1 rebounds, and 2.1 assists per game. The Broncos have two other double-figure scorers in Braydey Hodgins (10.4) and A'Shanti Coleman (10.3).
The Cowgirls are led by senior Marta Gomez at 15.3 points per game. Bailee Cotton adds 11 points and a team-high 8.9 rebounds per game, while Taylor Rusk provides 10.8 points per game.
Tip-off is at 1 p.m. KOWB (AM 1290) will broadcast the game live starting at 12:30 p.m.
Wyoming Cowboys
The Pokes are back on the road in conference play, as they look to avenge a 14-point loss to Boise State at home earlier this season.
Wyoming (5-14, 1-5) is coming off its first MW win this season. They stopped a five-game skid with a 13-point victory at home over San Jose State Wednesday night.
Boise State (8-11, 3-3) began league play 3-0. Now the Broncos are on a three-game losing skid after they fell at Air Force by 14 points Tuesday night. Boise State beat UW in Laramie, Jan. 2, 69-55.
The Cowboys have lost six of the last seven against the Broncos. The last time they won in Boise was Jan. 11, 2014, by a final score of 52-50.
Wyoming is led by senior Justin James. He leads the MW in points per game at 20.5. He's also in the top seven in rebounding and assists per game at 8.7 and 4.1, respectively.
Boise State is led by Justinian Jessup at 12.8 points per game. Alex Hobbs contributes 11.1 points per game, while Derrick Alston chips in 10.9 a game. Alston is averaging 15.5 points per game during league play.
The bad news for the Pokes is they are 0-6 on the road this season. In their three MW road games thus far, Wyoming's lost them by an average of 24 points per game. The last two have been 30-point defeats.
Tip-off from Taco Bell Arena in Boise is at 2 p.m. KCGY (FM 95.1) will carry the live radio broadcast beginning at 1:30 p.m.