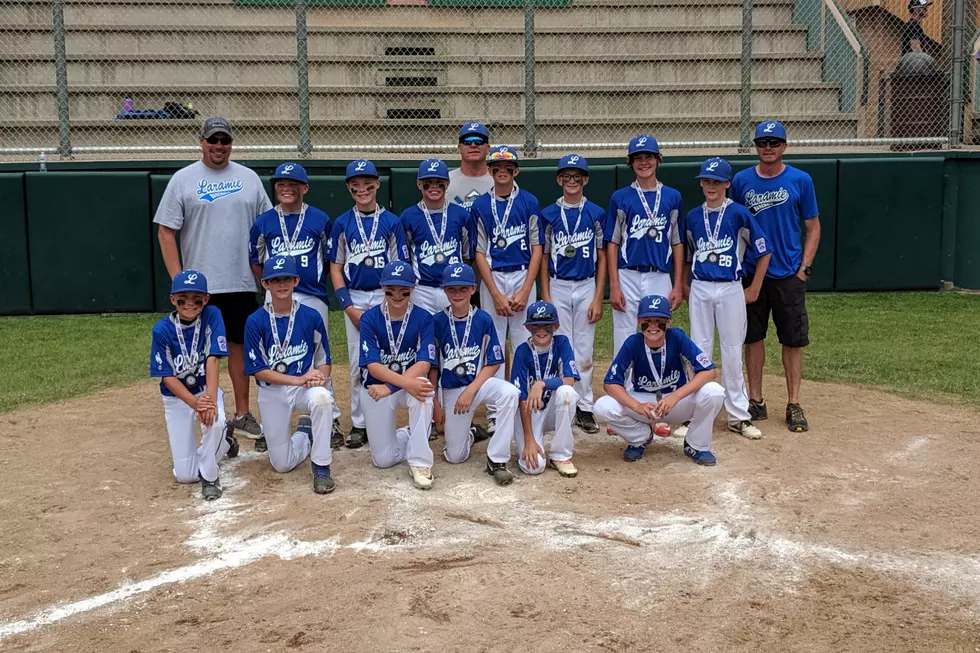 Laramie Majors All-Stars Fall Short Against Gillette
David Settle, Townsquare Media
The Laramie Majors All-Stars allowed four runs in the fifth inning and lost to Gillette 5-1 in the District 2 Little League Championship game Saturday.
It was tied 1-1, when Gillette got a big two-run single, plus took advantage of an error, a fielder's choice, and a passed ball for their four runs. Laramie went down in order in the sixth.
It was their second loss of the week to Gillette, so the Laramie Majors squad came in second place at the District Tournament.
Laramie manager Nate Hoyt still looked at his team's consistent performance all week.
"We played solid defense, pitching was on every day. I feel like we have a deep ball club, and when we get to that state tournament, we're set-up in a really good spot."
Gillette struck first on a solo home run by their leadoff hitter in the first inning. Laramie answered with a Sam Hoyt RBI-sacrifice fly in the third. That came after they left runners at second and third in the first and another runner at third in the third inning. Laramie had just one hit after the third inning.
The Majors All-Stars worked around a walk and an error in the fourth on Grant Vigen's strikeout with runners at second and third. Gillette would get to Vigen in that fifth frame, as he took the loss.
Vigen allowed the five runs on five hits. He threw 82 pitches and walked two with seven strikeouts.
Max Alexander led the offense with three hits. Sam Hoyt had the only other hit for Laramie. Their lineup struck out 14 times versus Gillette's pitcher.
Hoyt added that he was proud of the way his team bounced back after their first loss to Gillette.
"It was a tough loss, a tight game Thursday night. We came back Friday, a lot of energy, put 10 runs on the board, and every team member contributed, everybody was on base, and then we came out and did the exact same thing today. I saw no letup. We put our foot on the gas and just went for it."
This wasn't the result Hoyt was looking for, but Laramie will have a chance at a bigger goal next week at the Wyoming Little League State Championships in Torrington. Those are July 24-27. The Laramie Majors All-Stars will play Big Horn on Wednesday.