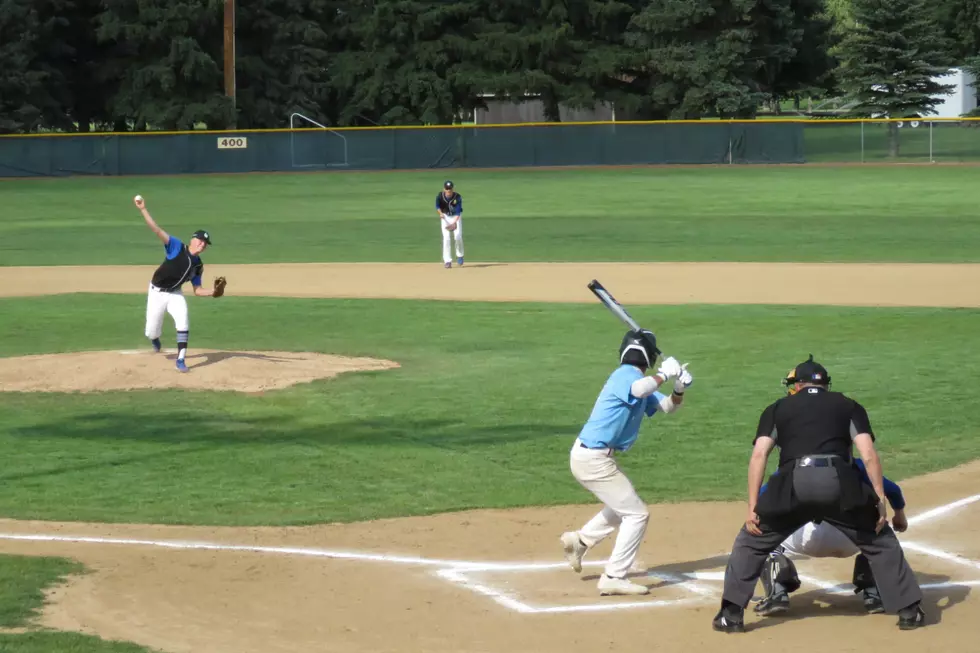 Rangers Fight Back to Split Home Debut
David Settle, WyoPreps.com
In front of a great crowd at Cowboy Field, the Laramie Rangers split their home-opening doubleheader with the Loveland, CO Aces Tuesday night.
Laramie (7-7) lost the first game, 13-8, but bounced back to win the nightcap, 14-1.
Rangers' manager Aaron Lozano pointed to a play that helped them gain at least a split.
"We've talked a lot about, it seems like we don't come and are very focused in game one. For Tyler (Oppie) to go out at the beginning of game two and set the tone with an amazing catch, as good of a catch as I've ever seen on a ball field, that gets the whole dugout fired up, and the next thing you know, we're crushing the ball and we're playing Ranger baseball. That's kind of what it's all about, is setting that tone early, and that's a great way to go out and get a split tonight, but we're hoping to do that in game one next time."
That diving catch turned what looked like an extra-base hit for the Aces into a double play for Laramie in the first inning of game two.
Loveland (1-1) scored seven times in the third inning and added four more in the fourth, which broke open a one-run game. The Aces had 13 hits and took advantage of four Laramie errors, seven walks, and two hit batters. The Rangers had 10 hits. Caleb Eaton and Aidan Morris had two hits apiece, while Oppie added three RBI's. Jake Vigen took the loss on the mound.
The second game saw Laramie explode for eight runs in the first inning. They added three more in the third and fourth innings, which invoked the 10-run mercy rule. Eaton had three hits and three stolen bases, while Morris added two hits and three RBI's to lead a 10-hit attack.
The nightcap also saw a big pitching performance from 14-year old Brandon Chavez. He won his first game as a Ranger on the mound. Chavez allowed only one unearned run on six hits. He struck out six and walked only one batter while throwing 66 pitches.
Lozano knew Chavez could hit his spots but was impressed with his demeanor.
"For a guy that's that young, pitching on this stage, he just never gets flustered. He's always kind of the same person on the mound, whether it's a full count and bases loaded or he's got two outs and two strikes on the batter. He's just 'ice in the veins,' I guess you would say."
Lozano added he'd like to find a way of getting out of the rut of splitting games.
"Whatever the secret is, it's somehow getting that fire and that excitement in game one. Whether it's a diving play or what it is, and I'll censor myself on the radio, but I told the guys, we've gotta do something other than getting our butts kicked in game one to get focused."
Next up is a doubleheader against the Jefferson Saints out of the Denver area on Saturday at 1 p.m. That is a new addition to the schedule that just happened on Monday. There will be no radio broadcast on Saturday due to a prior conflict for David Settle.
The next radio broadcast will be game two on Sunday when the Rangers play the Westco Express from Scottsbluff, NE. The approximate start time is 1:45 p.m. on Sunday, but when KOWB goes on the air depends on when game one ends. That twin bill starts at noon on Father's Day.
Enter your number to get our free mobile app
WYOMING PROUD: 10 Facts About Wyoming That You May Not Know