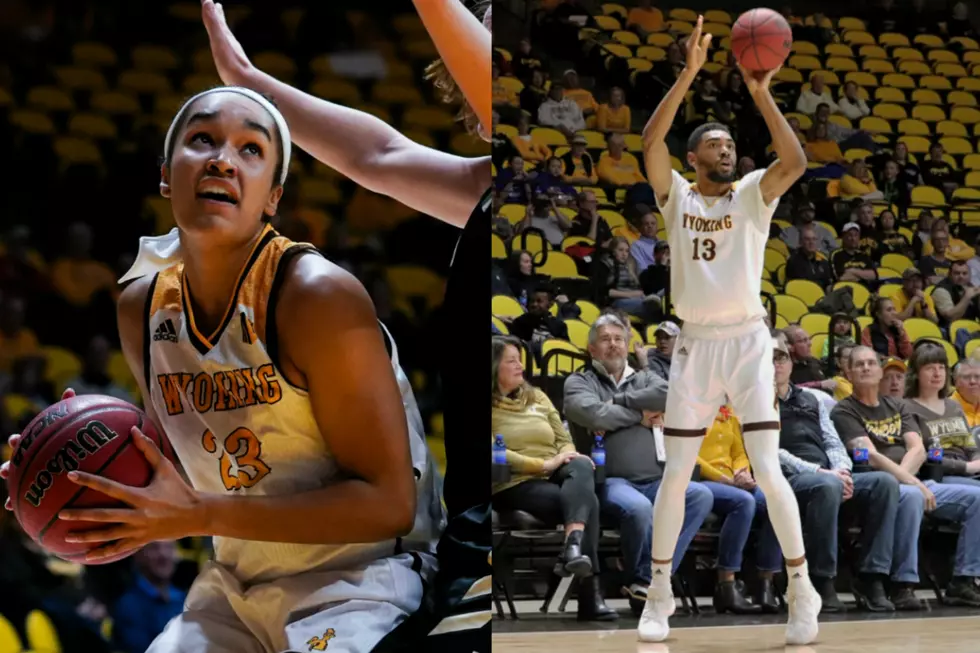 Wyoming Basketball Faces Off Against Fresno State
Courtesy: Troy Babbitt & Univ. of Wyoming Athletics
In their final game before the last bye on their schedule, Wyoming takes on Fresno State in Mountain West Conference basketball Wednesday.
The Wyoming Cowgirls are on the road for an 8 p.m. game at Fresno State from the Save Mart Center.
The Wyoming Cowboys host the Bulldogs at the Arena-Auditorium tonight. Tip-off is at 7 p.m.
Wyoming Cowgirls
Wyoming (11-5, 4-3) is looking to build off their 12-point win over previous league-leader Boise State last Saturday. The tough piece is that the Cowgirls have struggled against Fresno State. The Bulldogs have won nine of the last 11 games in the series, and UW hasn't won in Fresno since 1996. That's eight straight home wins over the Cowgirls by the Bulldogs.
One key for Wyoming, head coach Joe Legerski believes they have to keep up their aggressive play.
"We always mention that we should be making more free throws than our opponents shoot. That's always a goal. The problem we had was we were not even shooting as many free throws as our opponents were shooting, let alone, taking a look at something we were making more. So, we talked about being more aggressive. Put the basketball on the floor and when you made your mind up to get to the basket, you had to get to the basket. I thought we got to the free throw line, that was a big part of the victory against Boise State, and so hopefully, we can keep it going."
The Cowgirls were 21-27, 78 percent, in their win over the Broncos. By comparison, Boise State was only 6-7 at the foul line.
Fresno State (13-5, 6-1) is tied for second in the MW. The Bulldogs are led by Candice White, who averages a conference-leading 19.1 points per game. Maddi Utti (11.4) and Aly Gamez (11.0) also score in double figures. Utti leads Fresno State on the glass at 6.8 rebounds per game.
KOWB (AM 1290) will air the game live starting at 7:30 p.m.
Wyoming Cowboys
The Pokes return home and seek their second conference win. They're coming off a road performance that saw a low and a high. Wyoming scored a season-low 52 points in the loss last Saturday at Boise State but also had a season-high 24 turnovers.
Head coach Allen Edwards realizes this will be a tough game. He says Fresno State is different than any other opponent they've played up until now.
"What they do creates a problem for us, in a sense of their pressure, pressing in the full court, but also in the half court. I think one of the biggest keys in this game is, obviously, going to be taking care of the basketball. Even in the half court, I think their defense is really good."
Fresno State (14-5, 5-2) is tied for second in the MW standings, but they enter off a road loss at CSU last Saturday, 74-65.
The Bulldogs are led by guards Braxton Huggins and Deshon Taylor. They average 18.2 and 16.6 points per game, respectively. Nate Grimes grabs 9.3 rebounds per game to lead Fresno State on the backboards.
Edwards added, "Their two guards, Huggins and Taylor, are terrific, and I think Grimes is a great rim protector with the ability to score."
These two teams split the season series last year, with the road team winning both games. UW has won two of the last three, which includes a four-overtime game in Laramie on Feb. 4, 2017.
KCGY (FM 95.1) will have the Cowboys game broadcast. Coverage will start at 6:30 p.m.