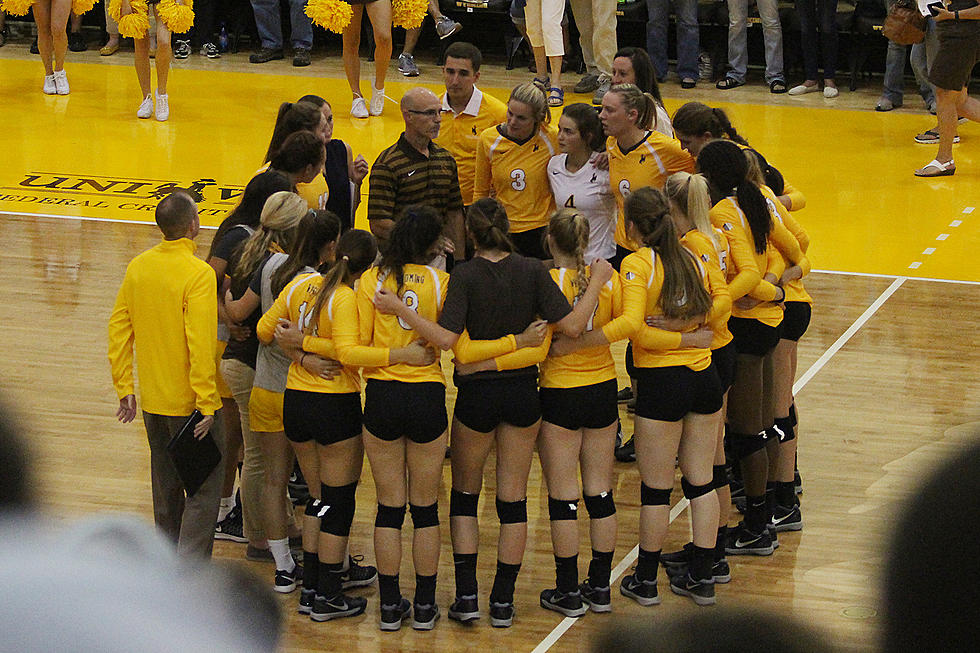 Wyoming Cowgirl Volleyball Continues High Level Play
Seneca Riggins, Townsquare Media
With two big wins at home last weekend the Wyoming Cowgirls stayed in the thick of the Mountain West Volleyball race.
Wyoming (17-9, 10-3) has won five consecutive matches. Last Thursday they defeated New Mexico 3-1 and followed that with a 3-0 win over UNLV Saturday.
After the victory over the Rebels Saturday, head coach Chad Callihan said it was a nice match.
"It was nice to do it against a quality opponent. We constantly talk about let's just focus on our execution and playing hard regardless of who's across the net from us. When you're playing a top-ranked team, you need to make sure you're executing, playing at a high level, and I thought we did that well today."
In the win over the Lobos, 25-18, 25-16, 19-25 and 25-13, Laura Beach finished with 15 kills, while Kayla Slofkiss added 14 kills and 13 digs. Courtney Chacon added a match-high 43 assists and 14 digs. Freshman Madi Fields recorded a season-high 20 digs, as well.
The Cowgirls dominated the Rebels, who entered the weekend in first place in the league standings. UW won the match 25-20, 25-15 and 25-17.
Slofkiss became the 11th player in school history with over 1,000 kills in her career. She registered eight kills. Slofkiss also had four digs and is just the fourth in program history with a combination of 1,000 kills and 900 digs.
"It feels really good to get that many (kills), and I know a lot of other good Cowgirls have gotten that record. I guess it just, outside of a personal record, it just shows that how good our offense can be off a good pass and a set."
Beach led the team with 11 kills, while Reed Copeland added ten kills and six blocks.
The Cowgirls play their next three matches on the road. It starts with a visit to Nevada in Reno Thursday, followed by a trip to San Diego State. Also, next Wednesday Wyoming visits Air Force.
Cowboy Wrestling
Wyoming claimed five titles at the 39th annual Cowboy Open Saturday in War Memorial Fieldhouse. It was the second consecutive year that UW had at least five champs.
Freshman Montorie Bridges captured the amateur division 133-pound title over freshman teammate Trent Olsen.
The second title was from sophomore Ben Hornickle at the elite division 141-pounds. Red-shirt senior Cole Mendenhall captured the 149-pound championship. Junior Archie Colgan beat teammate Branson Ashworth for the 157-pound crown. The final title came from junior Wesley Schultz at 184-pounds.
On a separate note, junior Bryce Meredith lost 8-6 in extra time to Rutgers Anthony Ashnault at the 51st annual National Wrestling Coaches Association All-Star Classic in Cleveland, OH Saturday night.
Cowboy wrestling returns to action Sunday, Nov. 20 at the Northern Colorado Open in Greeley, CO.
Wyoming Swimming and Diving
Wyoming swept Colorado Mesa in the pool and on the diving board in Green River last Saturday. The Cowgirls posted a 179-117 victory, while the Cowboys claimed a 193-to-104 win.
Senior Casey Duckworth won a pair of events to pace the Wyoming women, while junior Wade Nelson did the same for the men. He also swam a leg on the victorious 400 medley relay. UW swept both boards of diving, men and women.
They return to competition Nov. 17-19 at the Missouri Invite.