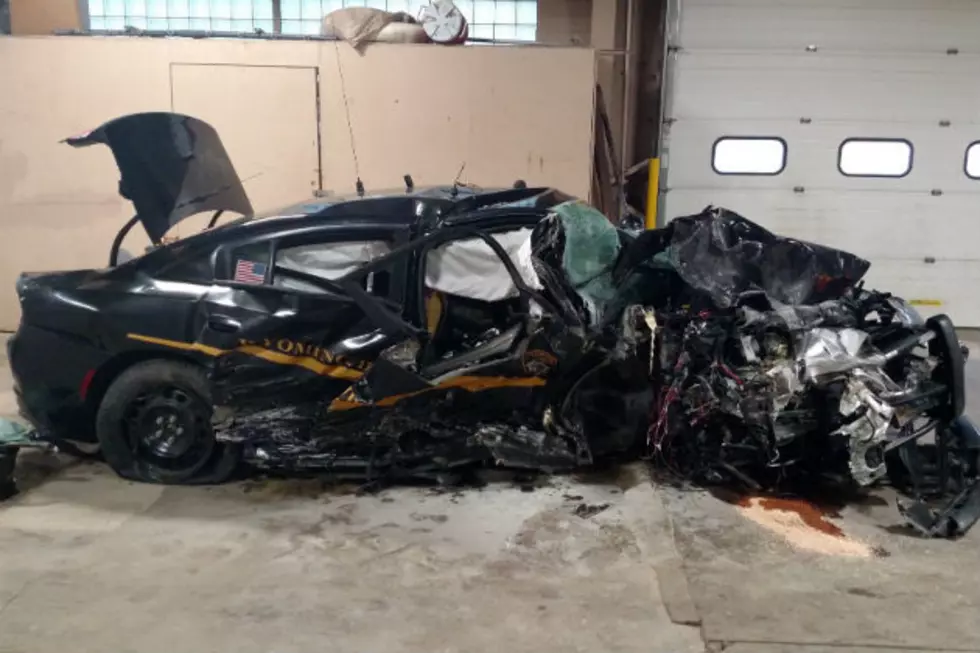 Wyoming Highway Patrol Releases Details of Fatal Crash Involving Trooper
Wyoming Highway Patrol
A Sheridan man has been identified as the driver killed Thursday night after crashing head-on into a Wyoming state trooper on I-90 near Sheridan.
Michael Westika, 23, died at the scene. He was not wearing his seat belt.
Trooper David Motsick, a 15-year veteran of the Wyoming Highway Patrol, remains in stable condition. His injuries are not life-threatening, but he remains hospitalized according to an updated news release from the Patrol.
Motsick was responding non-emergent to a separate call at about 9:30 p.m. Thursday in his patrol car, a 2016 Dodge Charger. As Motsick drove eastbound on I-90, a call about a vehicle traveling the wrong direction on that portion of the interstate was broadcast.
Motsick continued and came up behind an eastbound ambulance traveling from Billings, Mont. to Rapid City, S.D. As Motsick approached the ambulance, the ambulance swerved to avoid an oncoming 2014 Chevrolet Cruze driven by Westika, who was driving the wrong way.
Motsick had no time to react as the ambulance swerved, and the Cruze hit Motsick's patrol car head-on at 9:32 p.m.
The ambulance, based in Rapid City, immediately turned around and immediately provided medical attention to Motsick and Westika, according to Patrol Sgt. David Wagener.
Motsick, who was wearing his seat belt, was taken to a local hospital and remains hospitalized.
"I spoke with the fire department out of Rapid City, and they said the folks in that ambulance were two of their agency's best," Wagener says.
Wagener spoke to Motsick over the phone Friday morning. Motsick sounded like himself, despite his injuries.
"He's out there doing the right things for the right reasons every day," Wagener says. "He's just an overall great guy, not just at work but also at home and in his community."
The Patrol continues to investigate the crash. At this point, troopers believe Westika was under the influence of alcohol when he hit Motsick's patrol car.
Westika was the 87th person killed on Wyoming highways in 2016. The same period in 2015 saw 113 highway fatalities statewide.