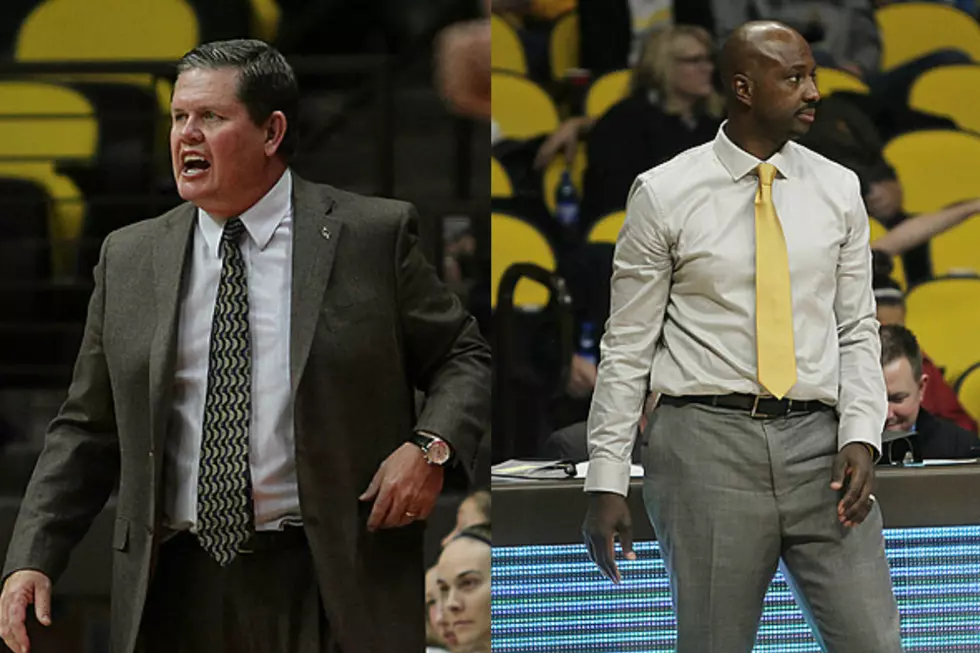 Wyoming Takes on San Jose State in Mountain West Action
Seneca Riggins, Townsquare Media
In need of a victory to stop losing skids, both Wyoming basketball teams return to action Wednesday against San Jose State.
The Cowboys are at home in Laramie to face the Spartans at 7 p.m.
The Cowgirls are in California for an 8 p.m. start.
Wyoming Cowboys
Someone will get their first win in the Mountain West Conference tonight, as the Cowboys host the San Jose State at the Arena-Auditorium.
Wyoming is 4-14 on the season and 0-5 in league play. San Jose State is also 0-5 in the MW and 3-14 overall.
Despite their struggles, Cowboys' head coach Allen Edwards continues to be happy with his team's mental state.
"We don't have a wounded, we don't have a woe-me type of mentality, and I believe, just from preparation and watching them, they believe they're in every game. If we do what we're supposed to do, we'll give ourselves a chance (to win)."
UW is led by senior Justin James at 20.6 points, 9.1 rebounds, and four assists per game. He ranks in the top seven of the MW in each of those statistical categories.
The Spartans are led by Michael Steadman at 12.4 points and 8.4 rebounds per game. Brae Ivey adds 10.5 points per game, while Noah Baumann is at 9.8 a game and has made 42 three-pointers on the season.
Edwards said of San Jose State, "We're going to have to be able to handle their physicality. I think like San Diego State, a lot of high-low (action). A lot of trying to get it into their big's, make it a physical contest, and then, Baumann is the 'x-factor' with his ability to shoot the basketball."
Wyoming is 14-2 all-time against the Spartans. They have an 8-0 record at home and have won five straight meetings.
Tip-off is at 7 p.m. You can listen to the game on KCGY (FM 95.1) with coverage starting at 6:30 p.m.
Wyoming Cowgirls
Just like the men's game in Laramie, the women's will see someone accomplish something after the outcome is decided tonight.
Wyoming is 9-5 overall and 2-3 in conference. They are in search of their first true road win this season. UW is also seeking to stop a two-game skid.
San Jose State is 1-15 on the season and 0-5 in the MW. They're looking to snap a 12-game losing streak.
Cowgirls' head coach Joe Legerski says the Spartans will attempt a lot of three's in this game and that's a concern.
"You never know if tonight's the night that the ball seems to find its way into the basket. What I also notice is San Jose State's a team that plays extremely hard. They're very competitive in what they do, and they're very good at home."
Legerski referenced close losses of three-to-five-to-seven points, but more struggles on the road.
He added, "We've got to get off to a good start. We have to play, once again, to our ability, and we have to have a number of players step up."
With typically low attendance, this can be a tough environment to play in, which means UW will have to create its own energy in the game.
Marta Gomez leads three Cowgirls in double figures with 15 points per game. Bailee Cotton averages 11 points and a team-best 8.4 rebounds per game. Taylor Rusk is at 10.6 points a game.
San Jose State is led by Cydni Lewis at 9.4 points and 4.8 rebounds per game.
Start time is at 8 p.m., Mountain Time. KOWB (AM 1290) will air the game live beginning at 7:30 p.m.