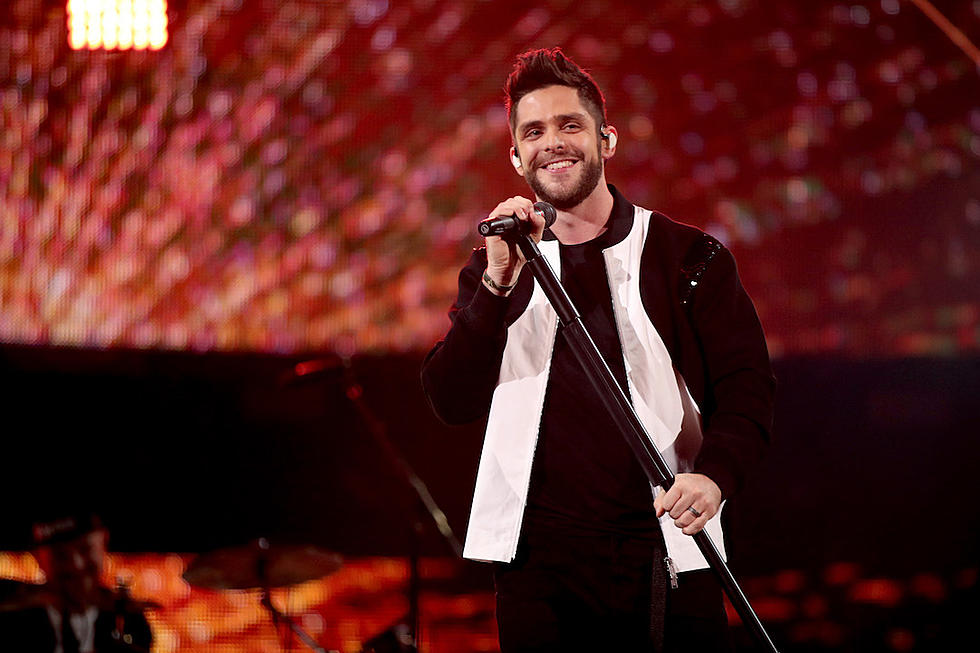 10 Best Thomas Rhett Songs
Christopher Polk, Getty Images
Thomas Rhett may have songwriting genes running through his veins, but he's created a musical style all his own in his young career, making a mark on the genre that seamlessly blends elements of R&B and pop with distinctly country roots.
The king of catchy hooks, Rhett's songs play practically on repeat both on radio stations and in people's heads as soon as they drop. Whether it's a heartfelt ballad, a laid-back summer jam or an upbeat R&B-flavored dance track, Rhett can crank out a memorable tune in a way few others can — especially to have only officially been in the business for less than five years. Though it was tough call after tough call, we've painstakingly put together a list of Thomas Rhett's 10 best songs.
10

"Anthem"

From 'Tangled Up' (2015)

The lead-off track on Tangled Up, "Anthem" is a party song that goes a bit meta, describing the type of song it is within the lyrics themselves. It has all the elements of a catchy country tune, but adds the clever element of self-awareness, applying the song's formula to a corresponding stage of a night out at the bar, hanging out with friends and trying to impress a girl. Even this country track is infused with a dashes of pop and hip-hop, with synthesizers peeking through, a pulsing bass and hints of a drum machine. The song was not released as a single, but it's the perfect kickoff to an album that further solidified Thomas Rhett's unique stamp on country music.

9

"It Goes Like This"

From 'It Goes Like This' (2013)

The first of Rhett's songs to top the Billboard Country Airplay chart, "It Goes Like This" served as the third single from his debut album by the same name. The laid-back, catchy song is an easy listen as it glides along from moody verses to an anthemic chorus, declaring interest for a girl so memorable, he actually wants to write a song about her immediately. Written by the artist's dad, Rhett Akins, and Ben Hayslip and Jimmy Robbins, the tune also hit No. 2 on the Billboard Hot Country Songs chart and put Rhett on the road to becoming a country music mainstay.

8

"I Feel Good" (Feat. LunchMoney Lewis)

From 'Tangled Up' (2015)

"I Feel Good" is a testament to Rhett's R&B tendencies in every possible way. His Southern twang sways it country, but this tune feels more like Bruno Mars than Luke Bryan. Rhett pulls it off, though, his genuine love for the genre shining through on the delivery. Featuring rapper LunchMoney Lewis, the song's thumping bass line and sparse production on the verse eases listeners into the throwback-style jam that backs up its name, turning around even the dreariest of days. The track is a bit of a deep cut on Tangled Up, but it makes an impression and shows Rhett's level of versatility — one many country artists can't touch.

7

"Star of the Show"

From 'Tangled Up' (2015)

This ode to his better half is the fifth single from Tangled Up, featured on the deluxe version of the album. "Star of the Show" is a sweet nod to the experience of being constantly outstaged by your significant other wherever you go — but not minding one bit. Rhett wrote the tune with his dad, Rhett Akins, as well as Ben Hayslip, and the laid-back, R&B-influenced tune definitely points to his wife, Lauren, who's also featured in the music video. Rhett and Lauren have been married since 2012 but have known each other since first grade, so he's had many years of practice playing second fiddle — not that he'd have it any other way. The adorable track hit No. 1 on the Billboard U.S. Country Airplay chart.

6

"Make Me Wanna"

From 'It Goes Like This' (2013)

"Make Me Wanna" is an almost beachy groove, layered with some R&B/disco undertones as it paints a picture of a guy entranced by a woman so much so that he can't focus on anything else. It brought a new flavor to country radio in 2014 that many artists hadn't yet explored, beginning the formation of Rhett's unique identity as an artist in the genre. The song is the fifth single from his debut record It Goes Like This and hit No. 1 on the Billboard U.S. Country Airplay Chart, marking his third chart-topper from the album. It's one of Thomas Rhett's songs that will go down in history.

5

"Playing with Fire" (Feat. Jordin Sparks)

From 'Tangled Up' (2015)

It's a power ballad that lives up to the category. "Playing with Fire" is an emotional journey, telling a story from two perspectives but both encapsulating the same sentiment. As the title suggests, the narrators — two people in an on-again-off-again relationship — keep coming back to the other person, even though they know it's not a good idea. Though they know they shouldn't, for whatever reason, they are drawn back in. The added bonus of Jordin Sparks' powerful vocals creates an epic experience for listeners who will feel immersed in the story from the first note. It wasn't a single, but "Playing with Fire" is certainly one of Rhett's most memorable tracks.

4

"Get Me Some of That"

From 'It Goes Like This' (2013)

"Get Me Some of That" is one of Thomas Rhett's earlier singles, but it totally holds up, displaying the personality and talent fans know and love today. Released in 2013 from his first album, It Goes Like This, "Get Me Some of That" has his signature catchy hook at the center of it all, couched in the classic country trope of seeing a girl at a bar who gets his attention. It certainly has its fair share of male-gaze-inspired lyrics, but Rhett keeps the tone playful and lighthearted, which is part of his charm. The tune was written by his father, Rhett Akins, along with Michael Carter and fellow artist Cole Swindell. The chill flow of "Get Me Some of That" makes it an easy listen and a mood-lifter for any occasion, and it put down one more stepping stone on Rhett's path to the country A-list.

3

If you're not at least tapping a toe by the end of this song, you might want to check your pulse. "Craving You" brings an '80s dance vibe to the table, melding perfectly with Rhett's country roots to create a catchy hook that stays with listeners for days. Pulling in Maren Morris as the cherry on top of an already delightful song, "Craving You" is the perfect refresher to lead into the artist's third studio record, reminding us why we love him (and his songs) so much.

2

"Crash and Burn"

From 'Tangled Up' (2015)

One of the cheeriest breakup songs ever (complete with a whistled melody), "Crash and Burn" is a lament of a string of lost loves, commiserating with others who are in the exact same position. More of a shrug of resignation than a reflection of deep heartbreak, the song embraces the status of perpetually-dumped, almost dancing any cares away with an R&B-infused chorus declaring, essentially, "oh well." Written by Jesse Frasure and the honorable Chris Stapleton, the upbeat track is the lead-off single from Rhett's Tangled Up album and hit No. 1 following its release in 2015.

1

"Die a Happy Man"

From 'Tangled Up' (2015)

"Die a Happy Man" may very well be the song Rhett is most remembered for. Its sincere lyrics — a tribute to his wife, Lauren — and honest delivery earned Rhett a notable amount of praise from critics, fans and academies alike. The ballad is a humble portrayal of real-life love, a declaration of commitment and genuine admiration of a person that outweigh any potential once-in-a-lifetime experiences like seeing the Eiffel Tower or Northern Lights. Written by Rhett along with Sean Douglas and Joe Spargur, the song was nominated for several awards, including a Grammy for Best Country Song. It also received a CMA Award for Single of the Year, an ACM Award for Single Record of the Year, an ACC Award for Song of the Year and a Billboard Music Award for Top Country Song. The No. 1 hit was a smash for Rhett, and certainly will go down as one of his all-time best songs.

BONUS

Unforgettable Thomas Rhett Moments!