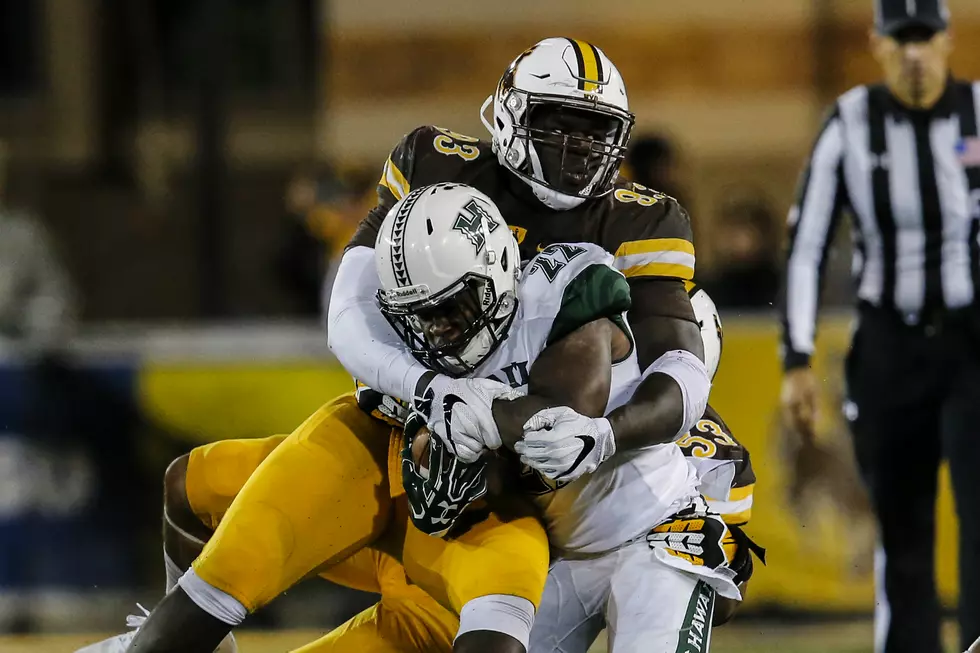 Cowboys Face Tough Road Trip And Opponent in Hawai'i [VIDEO]
Courtesy: Troy Babbitt & University of Wyoming Athletics Media Relations
In search of their first win in conference play, the Wyoming Cowboys are on a long trip to face the Hawai'i Rainbow Warriors Saturday at 10 p.m.
Wyoming (2-3, 0-1) is coming off a 20-point loss at home to No. 24 Boise State.
Hawai'i (5-1, 2-0) enters off a 44-41 victory in five overtimes at San Jose State last week.
This marks the 24th meeting between the two programs. Wyoming won last year in Laramie, 28-21, in overtime. UW leads the overall series with a 14-9 advantage. The two schools play for the Paniolo (Hawaiian word for Cowboy) Trophy for the 23rd time. The last meeting on the island was in 2014 when the Cowboys lost 38-28.
The Rainbow Warriors are 3-0 at home this season with wins over Navy, Rice, and Duquesne.
Hawai'i is led by quarterback Cole McDonald. He has thrown for 2,100 yards, 24 touchdowns, and only two interceptions this season. Receiver John Ursua leads the country with 771 receiving yards and 12 TD's this season. Another threat outside is Cedric Byrd, who has nearly 500 yards receiving. Defensively, the Rainbow Warriors are led by Jahlani Tavai. He has 60 tackles with four tackles for loss and a sack.
Wyoming is led by senior running back Nico Evans. He is averaging 140 yards per game and has four touchdowns this season. QB Tyler Vander Waal is throwing for 160.4 yards per game and has three TD's versus two interceptions this season. He has been sacked 13 times this year.
Senior tight end Austin Fort visited with KOWB's David Settle about the Boise State game, turning the chapter to Hawai'i and the match-up with the Rainbow Warriors.
This is the first opponent this season for the Pokes that didn't play in the post-season last year.
Kick-off is at 10 p.m., Mountain Time. KOWB (AM 1290) will have live coverage at 9 p.m.