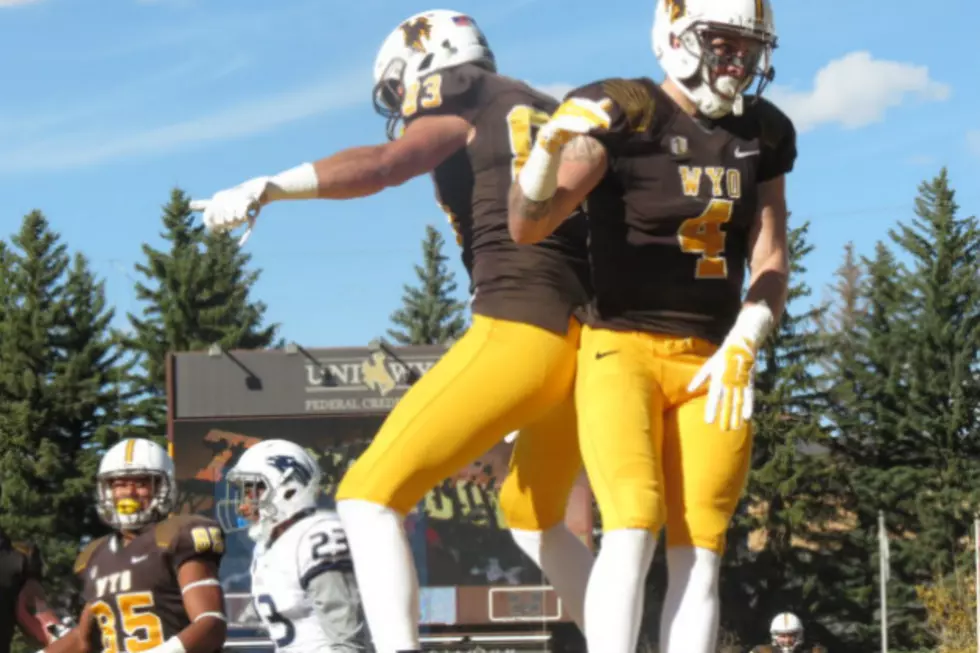 Cowboys Home Game Against UC Davis Will Start in the Afternoon
Jerrad Anderson, Townsquare Media
The University of Wyoming revealed Wednesday the game time for its home football game against UC Davis on Sept. 17 will be at 2 p.m.
That will be the third game to kick-off in the afternoon among the six at home during the upcoming 2016 season. Other afternoon starts include the homecoming game against Air Force on Oct. 8 will start at 1:30 p.m. and the home finale versus San Diego State, Nov. 19, will also kick at 1:30 p.m.
The evening and night home games are the season opener against Northern Illinois, which starts at 8:30 p.m., and the Boise State game on Oct. 29 that will kick-off at 5 p.m.
The only home game time that is not known for the Wyoming Cowboys is their Nov. 5 game when the Pokes host Utah State. That will be determined by ESPN Networks at a later time during the season.
2016 University of Wyoming Football Schedule
Date             Opponent                                        Time (M.T.)             Television
Sat., Sept. 3    NORTHERN ILLINOIS               8:30 p.m                 CBSSN     
Sat., Sept. 10  at Nebraska                                 10:00 a.m.                ESPN2
Sat., Sept. 17  UC DAVIS                                    2:00 p.m.                None
Fri., Sept. 23   at Eastern Michigan                     5:30 p.m.                  CBSSN
Sat., Oct. 1     at Colorado State*                        TBA                          ESPN Networks
Sat., Oct. 8     AIR FORCE*                               1:30 p.m.                  ROOT SPORTS
Sat., Oct. 15    BYE Week
Sat., Oct. 22    at Nevada*                                    TBA                         ESPN Networks
Sat., Oct. 29    BOISE STATE*                             5:00 p.m.               CBSSN 
Sat., Nov. 5     UTAH STATE*                               TBA                        ESPN Networks
Sat., Nov. 12   at UNLV*                                        1:00 or 1:30 p.m.    ROOT SPORTS
Sat., Nov. 19   SAN DIEGO STATE*                    1:30 p.m.                CBSSN
Sat., Nov. 26   at New Mexico*                               TBA                      ESPN Networks
Sat., Dec. 3     MW Championship Game              5:30 or 5:45 p.m.   ESPN or ESPN2
BOLD AND CAPS Indicate Home games
All times listed are Mountain Time
*Indicates Mountain West Conference games