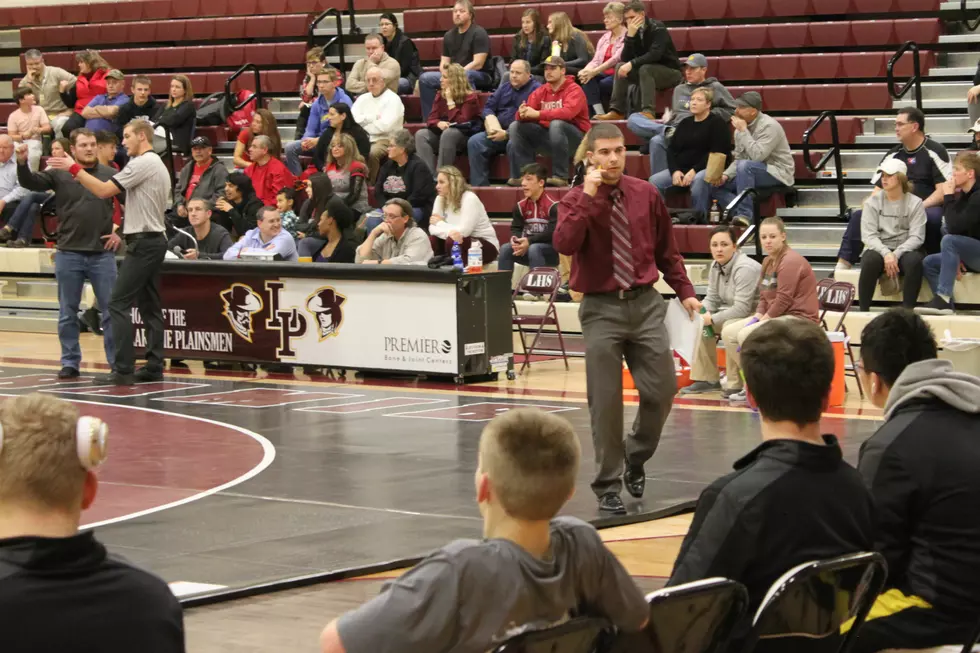 Laramie Wrestling Seeks Bigger Impact At The State Championships
David Settle, Townsquare Media
The stage is set, but the question is are the Laramie Plainsmen ready. The Wyoming State Wrestling Championships are Friday and Saturday in Casper.
Laramie has 14 wrestlers that qualified for the state competition across the 14 different weight divisions. The Plainsmen are open at four of the weight classes but have two wrestlers at four different weights.
Head coach Stuart Brinkman says the plan is to wrestle tough at state.
"Making sure everybody has the right mindset, everybody's confident. Going in, it doesn't matter who you're wrestling if they're seeded, if they're not, but going out to win every match and scoring points."
Brinkman says he'll lean on his veterans to help the freshman that will get their eyes opened wide and have some nerves.
"Just having the guys watch them and see how they open up and see how they control their nerves the night before, and just seeing how they prep for a match."
Leading the way is senior Zech Aguilar, who is the defending champion at 220 pounds. Aguilar has dropped to the 195 weight class and enters the state championships off a loss in the finals at regionals last weekend in Rock Springs.
Brinkman said for Aguilar to be successful, "He's got open up and be offensive. When he's offensive, nobody stops him. It's when he sits there for a second, takes it nice and easy, is when he gets caught. He's a great athlete, and he's been wrestling his whole life. He knows how to come back from losses and pretty much gain from 'em."
KOWB's David Settle spoke with Aguilar and returning state placer and sophomore Isaac Sell to preview state. They talked about regional results, their training, their path, and more.
Brinkman looks at Sell, Clancy Mummert, Jose Rodriguez, Ben Ruckman, Calvin Webb, and Ben Kruzich as others in Laramie's lineup that could make some noise.
The first round begins Friday at 9 a.m., along with first-round wrestle-backs. The quarterfinals and second-round wrestle-backs continue at 2 p.m. Friday, while the Championship semi-finals start at 7:15 p.m. Friday. Wrestling resumes at 8:30 a.m. Saturday with the third-round wrestle-backs and consolation finals. The third and fifth place matches are at 1 p.m. Saturday. The championship matches commence at 3:45 p.m.