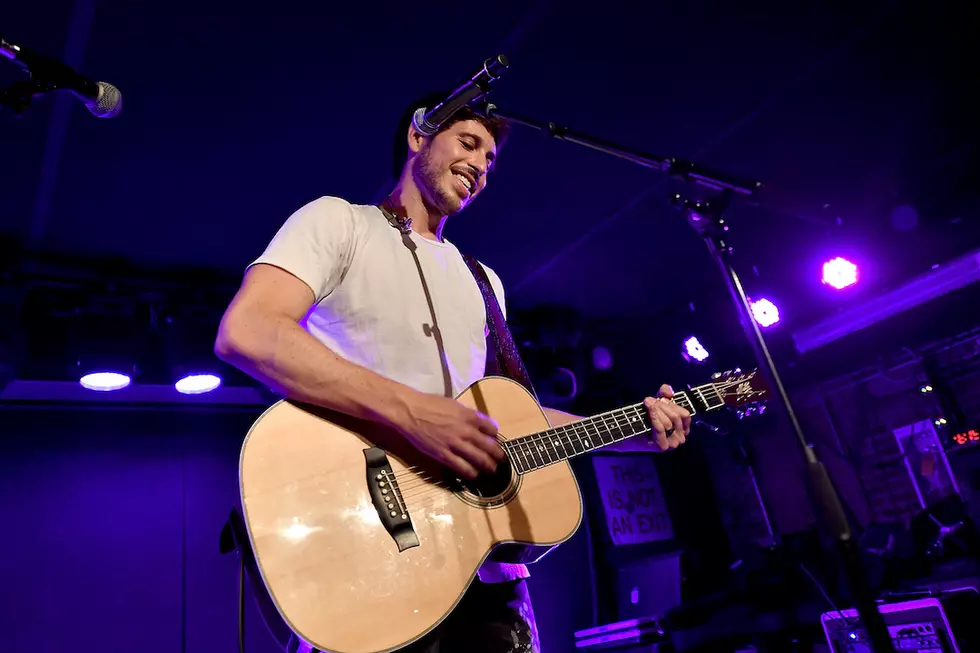 Morgan Evans Sets U.S. Debut Album for October Release
Michael Loccisano, Getty Images
Morgan Evans is getting ready to release his first stateside full-length album! Things That We Drink To will be released on Oct. 12 and feature 11 tracks, all of which Evans had a part in writing.
The album reflects on the exciting journey that Evans has been on since deciding to leave his home in Australia and head to Nashville to chase his dreams. In addition to the smash hit "Kiss Somebody," Things That We Drink To includes the songs "American," "Day Drunk," "We Dream" and "Young Again." A full track listing can be seen below.
"My album is a collection of songs that I wrote over the last two years," says Evans in a press release. "It's my story. It's leaving behind everything and everyone you know to chase down a country music dream on the other side of the world. It's the excitement of the unknown, it's the fun, it's the loneliness and it's the struggle. It's losing someone and finding the strength to keep your head up and make them proud. It's meeting a girl, falling hopelessly and marrying the love of your life. It's the Things That We Drink To."
Things That We Drink To will be released through Warner Music Nashville/Warner Bros. Records. The album is available for pre-order now. More information about Evans can be found on his official website.
Morgan Evans, Things That We Drink To Track List: 
1. "American" (Morgan Evans, Chris DeStefano, Josh Osborne)
2. "Kiss Somebody" (Morgan Evans, Chris DeStefano, Josh Osborne)
3. "I Do" (Morgan Evans, Chris DeStefano, Ashley Gorley)
4. "Song for the Summer" (Morgan Evans, Chris DeStefano, David Hodges)
5. "Day Drunk" (Morgan Evans, Chris DeStefano, Lindy Robbins)
6. "Dance with Me" feat. Kelsea Ballerini (Morgan Evans, Chris DeStefano)
7. "Me on You" (Morgan Evans, Chris DeStefano, Josh Osborne)
8. "Things That We Drink To" (Morgan Evans, Chris DeStefano, Josh Osborne)
9. "We Dream" (Morgan Evans, Chris DeStefano, Jaren Johnston, Jon Nite)
10."Everything Changes" (Morgan Evans, Chris DeStefano, Blair Daly)
11."Young Again" (Morgan Evans, Chris DeStefano, Josh Kear)
Kelsea Ballerini + Morgan Evans: Their Love in Pictures