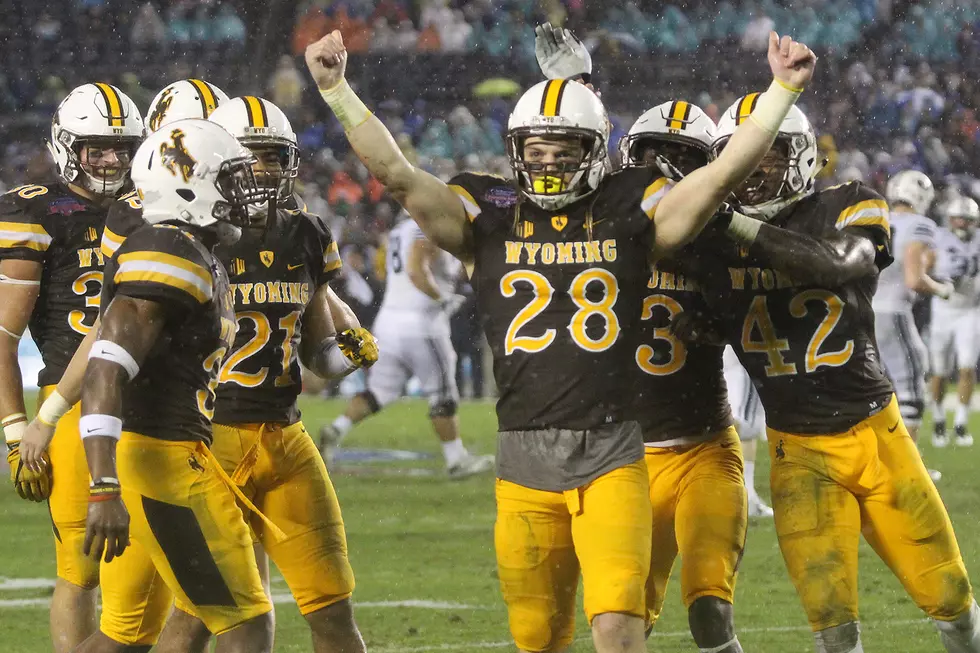 Wyoming Headed to the Idaho Potato Bowl
Seneca Riggins, Townsquare Media
For the first time since 1987-88, the Wyoming Cowboys will be playing in a bowl game in back-to-back seasons.
Sunday Wyoming (7-5, 5-3) received an invitation to the Famous Idaho Potato Bowl in Boise, ID on Friday, Dec. 22. The Cowboys will face the Central Michigan Chippewas, who went 8-4 on the season and tied for second place in the MAC West Division with a 6-2 mark. The 'Chips' have won five straight games coming into this match-up.
UW head coach Craig Bohl said in a release from the University of Wyoming,
"Personally, our coaching staff and our players are excited about the opportunity to play in the Famous Idaho Potato Bowl. We want to thank the Bowl Committee for this opportunity. We can't wait to see Cowboy fans in Boise on Dec. 22. We're excited about being in a bowl game for the second year in a row. I think it is another indication of us building a program for long-term success here at the University of Wyoming. I know it's been many years since Wyoming has gone to back-to-back bowl games, and we are proud of our players for achieving consecutive bowl appearances."
Wyoming Athletics Director Tom Burman added, "It is a great accomplishment by our football program to earn its second consecutive bowl bid. We are proud of the football program that Coach (Craig) Bohl and his staff have built as they conclude their fourth season here at Wyoming. We appreciate the Famous Idaho Potato Bowl Committee for recognizing the outstanding season we enjoyed this year and for inviting us to play in this year's game."
Tickets are available through the University of Wyoming ticket office. They range between $20-to-$75. The game will start at 2 p.m., Mountain Time Dec. 22 and be televised on ESPN.