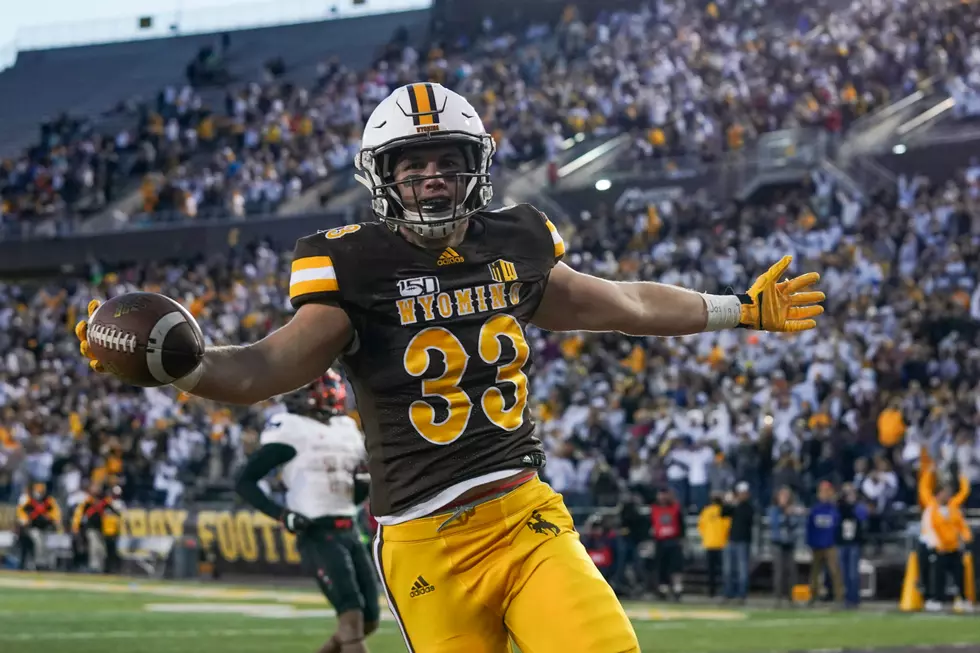 Wyoming Rolls Over UNLV in MW Opener, 53-17 [VIDEOS]
Courtesy: Troy Babbitt & Univ. of Wyoming Athletics Media Relations
Wyoming ran for a season-high 374 yards and rolled over the UNLV Rebels, 53-17, Saturday night in Laramie at War Memorial Stadium.
The Cowboys scored on six straight possessions in the first half. It helped turn 3-0 and 10-7 deficits into a 33-10 lead by halftime.
It's the most points scored in a game since UW put up 66 in the triple-overtime loss at UNLV in 2016, 69-66. This was also the most points scored in regulation since the Pokes scored 56 during regulation of a 59-56 OT win versus Hawaii in 2013.
Wyoming (4-1, 1-0) had a pair of 100-yard rushers for the sixth time in the last two seasons. Freshman Titus Swen ran for 136 yards and a touchdown. Redshirt freshman QB Sean Chambers added 102 yards and two scores on the ground. That was the first time Swen has rushed for over 100-yards in his career. It's the fifth time Chambers has surpassed the century mark in just nine career games.
UNLV (1-3, 0-1) scored on their opening possession with a field goal. The Cowboys answered with Xazavian Valladay's 7-yard TD run for a 7-3 lead. Back came the Rebels, who scored on fourth down near midfield with a 54-yard touchdown pass. That made it 10-7 UNLV.
Wyoming responded with 33 straight points, 26 of which came in the second quarter. Chambers ran it in from 17-yards out for a 13-10 lead and the Cowboys never trailed after that. Chambers found tight end Josh Harshman all alone for a 56-yard TD pass. Cooper Rothe kicked field goals of 41 and 21-yards, which made it 26-10.
Right before the half, Chambers found Jackson Marcotte for the first touchdown of his career from 20-yards out. It was 33-10 at halftime. Neither team scored in the third quarter.
The Cowboys added three TDs on the ground in the final frame. Chambers ran it in from 5-yards out. UNLV came back with a touchdown run and cut it to 40-17. A 44-yard TD by Swen made it 46-17, while Valladay added his second touchdown on the ground from 4-yards out with just over 9 minutes left for the final margin.
Chambers was 5-12 passing for 124 yards. The offense finished with 498 total yards and averaged 8.3 yards per play.
Defensively, Wyoming held the Rebels to 340 yards. UNLV had only 77 on the ground and 263 through the air. The Cowboys came up with three interceptions by Logan Wilson, Cassh Maluia, and Rome Weber. Alijah Halliburton led the way with 11 tackles. Solomon Byrd added six stops with 1.5 tackles for loss. UW had two sacks, six tackles for loss, forced a fumble and had three pass breakups.
UNLV's duo of running back Charles Williams and QB Armani Rogers, who came in averaging 210 yards rushing per game were held to 46 yards. Williams left the game in the first half with an injury and didn't return. Rogers was replaced by backup quarterback Kenyon Oblad for the second half.
Wyoming heads into its first bye week of the season. They return to action on Saturday, Oct. 12 at San Diego State. The game starts at 8:30 p.m., Mountain Time.