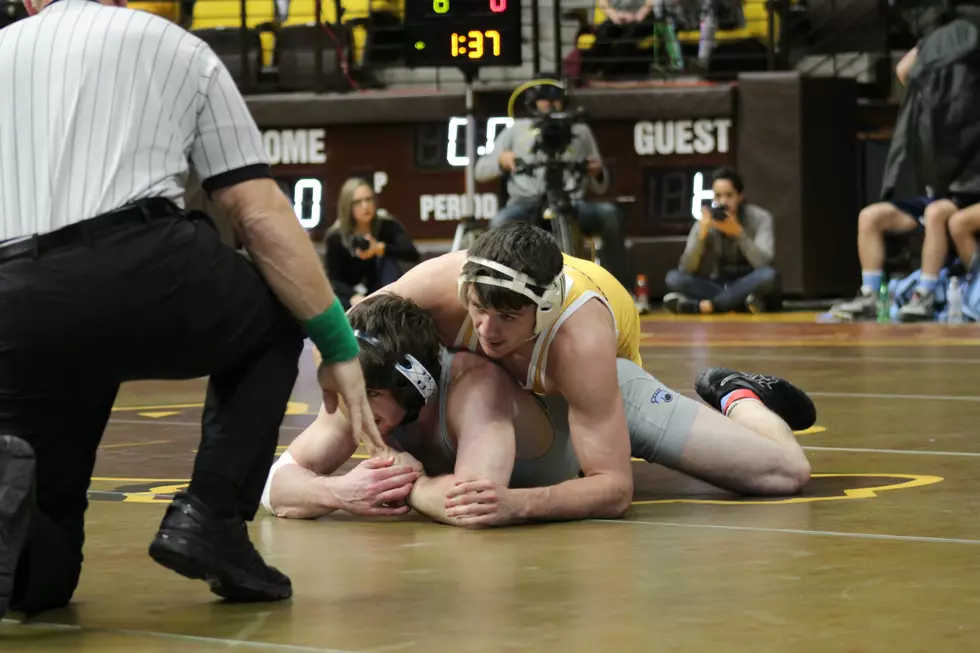 Wyoming Wrestling Sweeps Cowboy Shootout
Courtesy: Sean O'Sullivan, Univ. of Wyoming Athletics Media Relations
The 13th-ranked Wyoming Cowboy wrestling team took care of three opponents in the Cowboy Shootout last Friday in the Arena-Auditorium.
Wyoming (9-3) defeated No. 15 North Carolina, Army, and American over the course of about five hours.
UW had to rally for a victory over the Tar Heels, 20-to-15 was the final score. No. 15 North Carolina won the first two matches and built a 15-8, but the Cowboys came back with four straight wins and took the dual. Heavyweight Brian Andrews, 125-pounder Cole Verner, Montorie Bridges at 133 pounds, and Sam Turner at 141 pushed the Pokes past UNC.
Wyoming came back and won seven of 10 matches in each of the next two duals. The Cowboys topped Army 27-9 and American 25-14.
Branson Ashworth at 165 pounds and Andrews at heavyweight both finished the night 3-0.
Head coach Mark Branch shared his thoughts on completing an unbeaten night.
The Cowboys have eight members of their lineup that are in the national rankings, which are highlighted by Ashworth at No. 7 and Bridges at No. 10.
Wyoming wrestling is back on the mat Sunday versus Oregon State. The dual will be at 2 p.m. in the UniWyo Sports Complex.