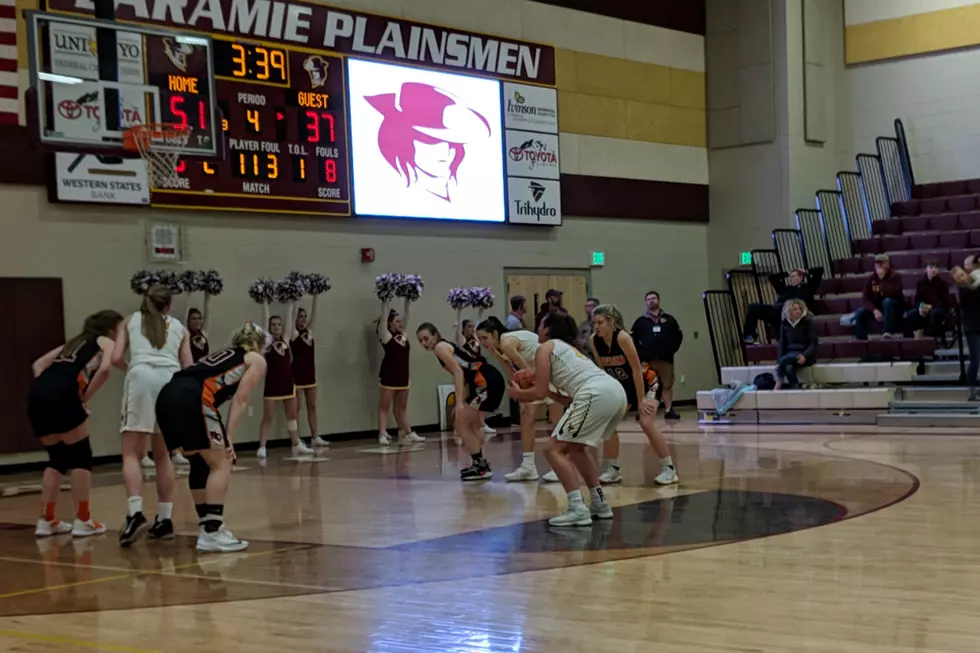 A Much Needed Win For The Lady Plainsmen
David Settle, Townsquare Media
A strong first half propelled the Laramie Lady Plainsmen basketball team to their first win in over month Friday night.
Laramie defeated Natrona County 59-40 to snap a nine-game losing streak. It was their first victory since Jan. 3.
Lady Plainsmen head coach Rod Tyson said his team did a really good job of executing their game plan.
"We worked hard this week on our '14-trap,' and what we've been doing lately is our '14-trap' and dropping back into a 3-2 (zone). Now, we're just trapping everywhere. We got a lot of steals and put them under a lot of duress. We actually converted, and they had a 1-3-1 defense and we actually knocked down some shots."
Kylee Cox scored a career-high 18 points, while Jennifer Aadland added 14 points and 9 rebounds to lead LHS. Lauren Sylvestre contributed eight points, while DaiJane Giron returned to the lineup after missing three games and finished with seven points and eight rebounds.
Tyson added, "All those girls are doing a good job, and they've been working hard in practice. The thing about it is, we were talking with Jen (Aadland), everybody's gonna double, triple (her), you've gotta look for your teammates, and they can knock down those shots. They have to confident that they can knock 'em down. We work on shooting dang near every day in practice. She (Jen) has to trust it. She sometimes wants to take over herself, she's gotta trust that those girls will knock down those shots, and when they do, it makes us really good as a team."
Laramie (4-12) jumped out early on NC. They led 12-0 early thanks to three's by Giron and Sylvestre. Cox added another triple and it was 15-3 after the first quarter. Cox knocked down two more 3-pointers, while Janey Adair also made one from deep, as Laramie pushed their lead to 39-12 in the second quarter. The Lady Plainsmen led 39-16 at halftime. Cox scored 15 in the first half. LHS shot 46 percent from the field in the half, which included 6-16, 38 percent, from beyond the arc.
Natrona (1-13) fought back in the second half. The Fillies out-scored the Lady Plainsmen 14-6 in the third quarter and eventually trimmed the Laramie lead to 12 in the fourth.
Lay-ups by Kayla Vasquez, Adair, and Cox stopped the NC rally, and LHS pulled away for the 19-point victory.
Laramie shot 36 percent for the game. They were 7-26, 27 percent, from 3-point range. The Lady Plainsmen went 20-26, 77 percent, at the free throw line.
The Fillies shot 40 percent from the field, but they took six fewer shots and made only one 3-pointer. Kate Robertson led Natrona with 18 points and 11 rebounds.
Laramie tries for back-to-back wins for just the second time all season, as they host the Sheridan Broncs Saturday at 1 p.m. Due to a conflict with Wyoming Cowgirls basketball, KOWB will not be able to the air the game on the radio, our stream, or app. Instead, the only way to listen to the game will be through www.network1sports.com/station/kowbnet. Coverage will begin shortly after the boys' game concludes.
Laramie Plainsmen
For the third straight game, the Laramie Plainsmen struggled in the second half and lost 47-37 to the Natrona County Mustangs Friday night at home.
The Plainsmen led 28-24 in the third quarter but got out-scored 23-9 the rest of the game. They shot only 27 percent in the second half. They couldn't get shots to fall late, as LHS was just 2-11, 18 percent, from the field in the fourth quarter.
Head coach Travis Brown knew it was the same story as the previous two games.
"We've got to find a way to put the ball in the hoop is what it really comes down to. Not going to win a lot of basketball games, if we can't score. We're playing good defense. You hold a team to under 60 points, and still lose by 10, we've got to find a way to remedy that."
Natrona (6-8) used a 10-2 run to end the third quarter. That gave the Mustangs a 34-30 lead they would not relinquish. NC knocked down 7-10 free throws in the fourth quarter, which helped put the game away.
Brown added, "I thought we got tired. I think what you saw is the sickness catching up to a bunch of kids. They were pretty winded."
Neither team led by more than five points in the first half. The game was close, but there were only two lead changes and it was tied three times. It was 11-11 after the first quarter. Then tied again, 21-21, at halftime.
The lead changed hands three times early in the third. Will Tyser had a couple of baskets, and Christian Mickelson knocked down a three for their biggest lead of the night, at 28-24. The Plainsmen went cold from there. Natrona took the lead on their run and pushed it out to 12 in the final period.
Laramie (7-9) dropped its third straight game. Tyser led the way with 16 points and six rebounds. For the game, the Plainsmen shot 33 percent.
The Mustangs shot 36 percent from the floor. Carson Johnson scored 18 points, while Cooper Quig followed with 17.
It doesn't get any easier for Laramie. They host No. 1 ranked Sheridan Saturday. The Plainsmen and Broncs are scheduled for an 11:30 a.m. tip-off at LHS. KOWB (AM 1290) will air this game live on the radio, online, and through the KOWB App. Coverage begins at 11 a.m.