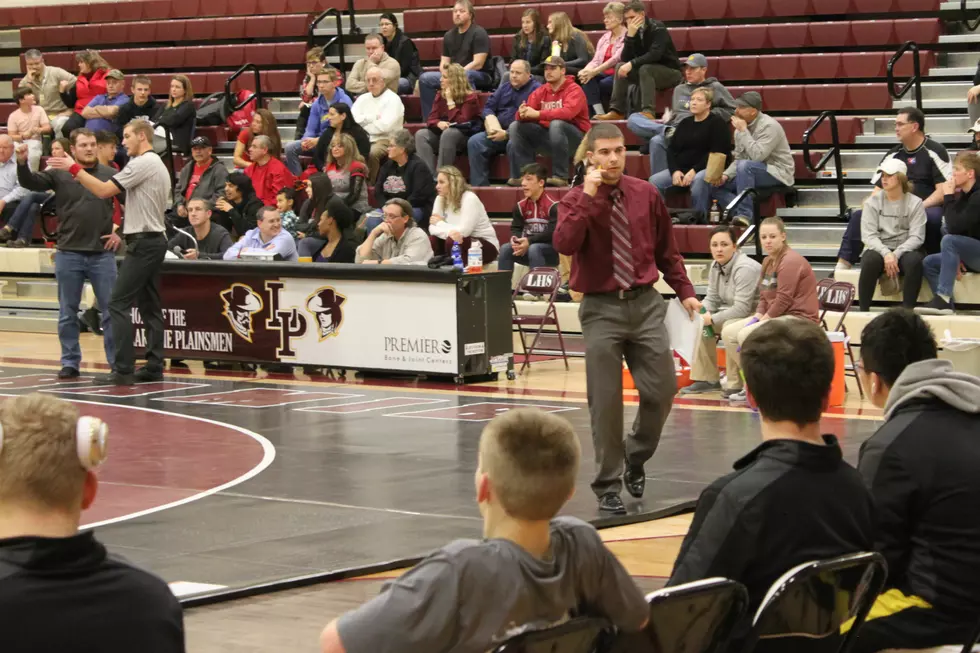 Plainsmen Wrestling Will Lean Heavily on Its Veterans [VIDEO]
David Settle, Townsquare Media
Looking to build around a state champion and two returning state placers, Laramie Plainsmen wrestling is still in rebuild mode as they enter the new season this weekend.
Under second-year head coach Stuart Brinkman, the Plainsmen begin their 2018-19 campaign at the Rapid City Invite in South Dakota Friday and Saturday.
Brinkman says from year one to year two he's already observing a difference for himself and in the practice room.
"It's not as nerve-wracking. Last year being the first year teaching and coaching, I had a lot on my plate. Now I have everything kind of down. I just noticed this year we're moving a lot quicker through our technique."
He says that's a big benefit because they move through technique and see if the kids are picking it up and understanding what they're teaching in the practice room.
Laramie finished in 10th place at the state tournament last February. They scored 67 points and had one state champion in Zech Aguilar at 220 pounds, and another returning placer is Isaac Sell, who was fifth at 113 pounds as a freshman.
Aguilar, Isaac Sell, and older brother Ethan Sell, who is missed last season due to injury, is expected to lead the team this season. Laramie has six starters and lettermen returning, while seven state qualifiers are back for this year. Due to an injury in training for a national tournament, Aguilar is out until after the first of the year.
Brinkman says we have a couple of guys that, "I expect to push through the rankings and place at some of these tougher tournaments, but we have about 9 or 10 freshmen, so it's going to be a rebuilding year. We'll definitely have some of those freshmen stepping up into some of those varsity spots."
He's got 25 kids out for the program this season led by eight seniors. Two of them, Aguilar and Ethan Sell, joined KOWB's David Settle for a conversation about the upcoming season, their training, expectations, a fun quote from Coach Stuart Brinkman, and more.
It's a tough start to their season with the Rapid City Invite, followed by a home dual against defending Class 4A State Champion Cheyenne East in their first home match. That is set for Tuesday, Dec. 11 at LHS. Then, it's off to the Northern Colorado Christmas Tournament at the Budweiser Events Center in Loveland, CO.
The Plainsmen will also wrestle at meets in Cheyenne, Douglas, Torrington, Lander, and Riverton. They have home duals versus Wheatland, Kelly Walsh, Gillette, Thunder Basin, and Sheridan. LHS will be on the road for duals at Cheyenne Central and Cheyenne South.
Laramie has been moved to the 4A West Conference for regionals but wasn't able to get their schedule switched in time. That means they'll see only one league opponent in KW for a dual. The rest will be at a select tournament or two.
Brinkman says, "I think that might hurt us. The only time we see some of those other conference teams is at the Ron Thon Tournament (in Riverton in late January 2019). That tournament's so big, that most of the time you don't see 'em, maybe your top guys will see them in the placing rounds, but that's it. It's going to hurt us when we go into regionals, and we don't have any head-to-head competition for seeding criteria."
Overall, he does like their schedule and knows how difficult of a start it is, but he says they can benefit from it.
Brinkman's mantra is all about effort and consistency for his team.
"What I want to see is everybody going as hard as they can. One thing that bothers me is just seeing people quit. I want to see people wrestling six minutes as hard as they can, not stopping. If we get caught, we get caught, but wrestling six minutes as hard as we can, and then things will take care of themselves."
He added that the team is full of hard-working teammates. He also wants to build good confidence and see that from the squad.
The regional tournament will be in Rock Springs Feb. 15 and 16. The all-class Wyoming State Wrestling Championships are in Casper Feb. 22 and 23.