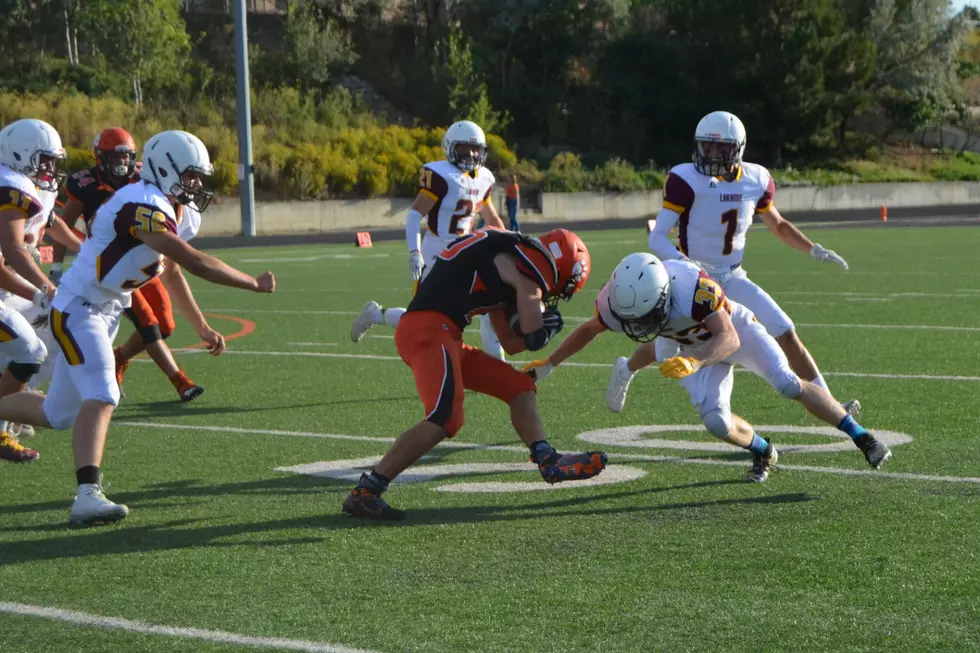 Tigers Run Over Plainsmen in Rock Springs, 40-7
Courtesy: Daniele Webb
Rock Springs scored on their first four possessions and blew out the Laramie Plainsmen, 40-7, last Friday night.
Laramie (1-1) lost for the fifth time in the last six games against the Tigers.
Seth Hymas threw for 160 yards and three touchdowns, while Collin Madsen added 125 rush yards and a touchdown run for Rock Springs. The Tigers finished with 462 yards and averaged seven yards per play.
Plainsmen head coach Clint Reed said Rock Springs took advantage of their size.
"They were pretty big upfront. We're not a very big team. I think they realized that pretty early with our size and their size. They would change personnel with their line with two different waves that would come in, a smaller group and a larger group and knew that they could pound it at us"
Laramie ran 34 fewer plays than the Tigers and gained only 120 yards on offense.
Reed added, "We didn't come out prepared to play. We didn't come out physically or emotionally ready to go from the get-go. We were kind of sitting back on our heels, and they came after us. We were struggling and struggling and struggling to get back in it, so that falls on me. I've gotta make sure I'm working with the coaches to make sure we're prepared. Make sure I'm motivating and engaging the kids in the right way. Making sure they're prepared and aligned, so I've got to do a better job at that."
Hymas, who had just one incompletion in the game, connected with Cadon Shaklee on an 8-yard touchdown pass in the first quarter for a 7-0 lead. Hymas found Justis Reese on a 29-yard TD pass with 9 minutes left in the second quarter. That made it 14-0. A Cole Petty 66-yard touchdown run extended it to 21-0. Hymas found Reese for a 3-yard TD pass with less than a minute left in the half. It was 27-0 at halftime.
Laramie's Connor Killpack blocked a 35-yard field goal attempt on the Tigers first drive of the second half. That led to the only score for the Plainsmen.
After a 35-yard Garrett Dodd to Killpack pass put LHS deep in Rock Springs territory, Dodd found Janson Adair on a 9-yard slant route for a touchdown. That made it 27-7.
Rock Springs came right back with an 80-yard touchdown drive. Madsen scored on a 3-yard run. After an interception, the Tigers scored with seven minutes left on a Dylan Christopherson 1-yard run.
Reed also said, "They just came downhill (at us), as hard as they could, and they really did. That was something that was working for them, and we couldn't stop it."
Dodd went 10-16 for 82 yards and one touchdown passing. Backup Jake Vigen finished 1-5 for eight yards and two interceptions. Laramie was held to 30 yards on the ground. Killpack had three receptions for 46 yards.
Rock Springs (1-1) controlled the clock all game. They finished with 35 minutes in time-of-possession compared to 13 minutes for the Plainsmen.
Laramie heads back on the road for their third game of the season in week two. They will play in Gillette against the Camels next Friday at 7 p.m.