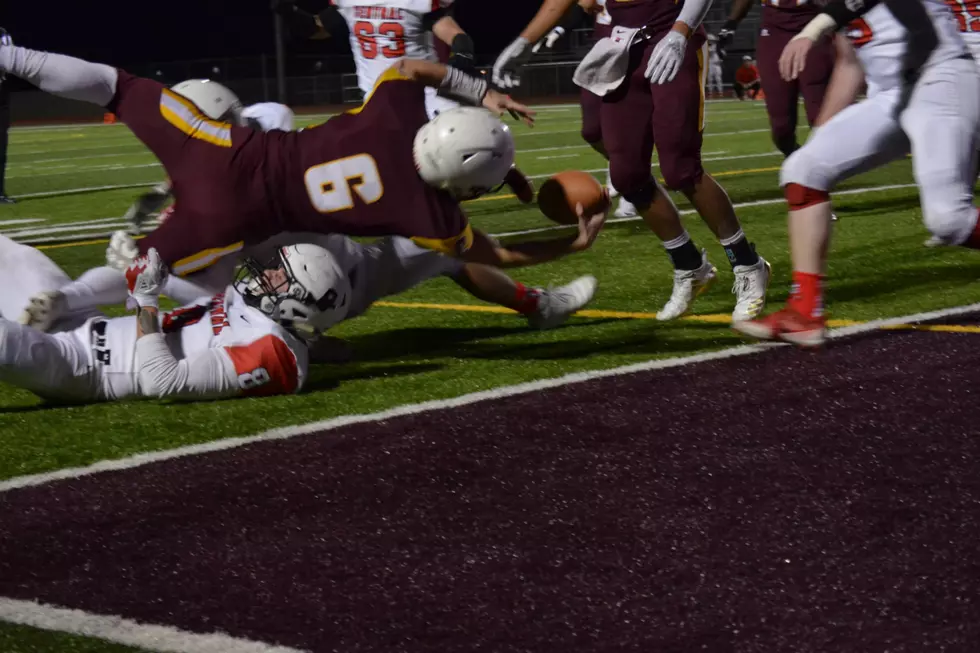 Upton Leads Plainsmen Rally Past Central
Courtesy: Daniele Webb
Jason Upton scored from four-yards out with 27 seconds left to help the Laramie Plainsmen comeback to beat the Cheyenne Central Indians 21-19 Friday night in Laramie.
Laramie (3-2) rallied from a 19-0 deficit at halftime and beat the Indians for the fourth straight meeting.
Plainsmen head coach Clint Reed said there was an attitude adjustment at halftime that led to a turnaround.
"When that front five started to put the foot in the ground, and they started to drive, move their feet, flip their hips, and start moving, that's when things started to happen for us."
Upton capped a 10-play, 37-yard drive as he rolled right to pass, but decided to keep it and dove over two Central defenders stretched out the ball and got into the end zone for a 4-yard touchdown run and the lead.
That came on the heels of a fourth down and seven conversion from the Indians 20-yard line. The snap was low, Upton fumbled it, picked it up, tried to scramble, and with pressure in his face, Upton somehow found Brady Epler for a 10-yard completion and the first down. The winning TD came three plays later after LHS spent their final timeout.
The Plainsmen got their chance to win thanks to a forced fumble on a punt. Down 19-14, Laramie stopped Central at the Plainsmen 25-yard line, but a penalty impacted the drive, so LHS had to punt. The Indians' Nico Vite fielded the punt at his 40-yard line, avoided a defender, but Laramie's Destin Gabbidon punched the ball loose. It was recovered by Epler at the Cheyenne Central 37-yard line.
Reed added about Gabbidon making that play, "I couldn't be more happier for who it was and how it happened for that young man. To come out here as a senior, and he keeps working, he keeps asking questions, sometimes he has not a clue what's going on out on the field, and he is just flying around, finding the ball, and doing the right things."
Cheyenne Central (1-4) came out the aggressor and took advantage of Plainsmen miscues. The Indians capitalized when a bouncing ball on a punt hit a Laramie player. Central took over at the 9-yard line and three plays later, Dawson Macleary hit Vite for a 4-yard touchdown pass.
Laramie drove into Central territory, but the drive stalled and they turned it over on downs. Two plays later, Macleary rolled right, avoided a rusher and heaved it deep. Vite ran underneath it and raced into the end zone for a 74-yard TD pass. The two-point play failed, which made it 12-0 late in the first quarter.
Central was pinned deep midway in the second quarter, but put together a quick four-play, 98-yard drive for a score and a 19-0 lead. The key play that set it up was a 58-yard run by Coby Goossen. The Indians utilized a trick play with a toss to Vite, who then threw a pass to a wide-open Blain Dilly for the 42-yard score.
Reed said at halftime despite the poor performance in the first half, we knew yelling wouldn't do them any good.
"We were ill (this week). We were sick. There was a lot going on. We just did not have energy or fire or discipline. We were all over the place in the first half, and to go in there and just chew them out for that wasn't going to work... It was mostly like go back to your reads, your fundamentals, do what you need to do, start playing football. It's not that you can't, we just haven't started yet, and we need to get started in this second half."
After a sluggish first half that featured three turnovers and 11 penalties for 84 yards, Laramie responded quickly in the second half. They scored on their first two drives. On their opening drive of the third quarter, Upton broke loose for a 42-yard TD run. A quick defensive stop and a short punt led to a 3-yard Upton touchdown run with 2:33 left in the third quarter.
The Plainsmen finished with 269 yards of total offense. Upton ran for 117 yards and the three TD's. He also threw for 94 yards but was intercepted twice.
Reed admitted that Upton was a game-time decision.
"He was just amazing. He just stepped up, said I'm going, and rose to the occasion... As the game went along and trying to fix some things up, he was fantastic. He just led and led, and led. There was nothing we could do, but just let him lead, let him take the ball, take the reigns and go with it."
Laramie also had five sacks defensively and forced three turnovers, but also ended with 15 total penalties for 133 yards
Central had 281 yards of total offense. Macleary threw for 136 yards, two touchdowns, and two interceptions. Vite had five catches for 91 yards, two TD's, and threw a touchdown pass.
Laramie continues their stretch of games against the Cheyenne schools. The Plainsmen play at Cheyenne East next Friday night. Kick-off is at 6 p.m.